Lily Harlem | Visit Southern Spain in HEAT OF THE DAY

January 19, 2016
Thank you for inviting me to Fresh Fiction today it's great to be here. I've brought with me my new novella HEAT OF THE DAY. It's a ménage a trois story with M/F, M/M and M/F/M scenes in it and set in beautiful Southern Spain.
I've been lucky enough to spend quite a lot of time on the Costa Del Sol in and out of the holiday season. It's a beautiful place, there's always something going on and the people watching—if that's something you enjoy doing, which I certainly do—is incredible.
You can sit in Peurto Banus and admire the super-cars crawl by as you sip on sangria and lust after the yachts in the marina. Wandering around the old town of Marbella is always a treat and I particularly love the quaint, cobbled squares which have orange trees providing shade for diners at the exquisite little restaurants - Ohh the tapas! And all the time the majestic Sierra Nevada mountain range towers in the distance.
If you're feeling flush and in the mood to party don't miss Nikki Beach. It's THE place to be seen for the young, hip and rich crowd and a day there consists of music, dancing and drinking champagne – awesome fun! I was lucky enough to get in there once by tagging along with some cool friends!
But it's the long walks along the beachfronts and promenades that I enjoy the most. The Golden Mile is strung with beautiful villas to admire, there are sand artists in Marbella to stun you as you wander with an ice-cream and if you're fortunate enough to get on a boat out to sea, you can take a trip to Morocco or Gibraltar. Look out for dolphins too, there's plenty about.
It's my love of this area that brought my decision to set HEAT OF THE DAY here. My threesome aren't rich by any means and certainly wouldn't have the funds to hit Nikki Beach. They are bar workers who have fallen into a wonderful summer of threesome love, until that is, they are forced apart. But you know what they say, absence makes the heart grow fonder and when they reunite, phew, the heat of Costa Del Sol is nothing compared to the heat these three feel for each other.
I'm looking forward to a return trip to Southern Spain, I hope perhaps next year, but until then, I'll keep my heart and thoughts there by using it as a place to set my stories.
Thanks for reading
Lily x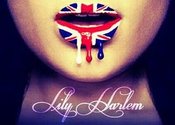 Lily Harlem llives in the UK with a workaholic hunk and a crazy cat. With a desk overlooking rolling hills her over active imagination has been allowed to run wild and free and she revels in using the written word as an outlet for her creativity.
Lily's stories are made up of colourful characters exploring their sexuality and sensuality in a safe, consensual way. With the bedroom door left wide open the reader can hang on for the ride and Lily hopes by reading sensual romance people will be brave enough to try something new themselves? After all, life's too short to be anything other than fully satisfied.
WEBSITE | GOOGLEPLUS | GOODREADS | TWITTER | FACEBOOK | PINTEREST | BLOG | Raw Talent | BritBabes | Newsletter Subscription | Harlem Dae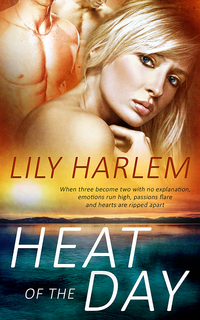 When three become two with no explanation, emotions run high, passions flare and hearts are ripped apart.
Everyone can remember a perfect summer—one with endless blue skies, a heart brimming with true love and nights full of hot, sweaty lust. Well, we've just had a summer like that, Piper and I, and it was spent in Spain with a man who had that certain je ne sais quoi that we couldn't resist.
Seraphim came into our lives and blinded us with his beauty, his charisma and his exotic charm. His generosity with his mind, his affection and his body blew us away and the three of us became a joyously tangled trio who needed nothing more than to be together.
So when he left, when we had no way of tracing him, the despair was black, the pain raw and our only comfort was each other. But why did Sera leave? What would make a man walk away from his lovers? And if he showed up again on the doorstep, what the hell would happen after so much angst? One thing's for sure, it would be an explosive reunion in many ways. Absence might make the heart grow fonder, but it can make the rest of the body highly volatile as need wars with hurt, and pain collides with desire.
Reader Advisory: This book contains M/M and M/F scenes.
Buy HEAT OF THE DAY: Kindle | BN.com | iTunes/iBooks | Kobo | Google Play
General Release Date: 19th January 2016
Or get your copy now from Pride Publishing.
Comments
No comments posted.

Registered users may leave comments.
Log in or register now!