After writing 34 mysteries (Cackleberry Club, Tea Shop, and Scrapbooking Mysteries) my readers always assume that I've developed some magical mystery template or foolproof system.
The truth of the matter is, I haven't. The closest I come to a workable process is jumpstarting each new mystery with a "what if" factor. You know what I mean – What if somebody whacked Crazy Aunt Bertha with a candlestick? From there I try to come up with an offbeat circumstance or plot device (haunted house, jewel heist, horse race, chase through the swamp) that I can spring on readers in the very first chapter.
From there I move on to the most fun of all – spinning tales of interesting characters. My female protagonists are always drawn as independent, free-spirited, and highly creative entrepreneurs. That way they can be driven to seek out justice (i.e. solving a murder), tend to be feisty (sometimes nasty!) toward law enforcement, and are generally offbeat characters in their everyday lives.
Plotting always comes easy to me as well. The truth of the matter is, I usually have so many ideas (murder, fire, car crashes, burglaries, chases!) that the hard part is fitting it all in.
I'm always cognizant of the fact that my readers only have so much time in their busy lives, so they enjoy (almost demand!) a very fast pace. When I started writing cozies 15 years ago, the whole genre seemed a bit plodding, so I set out to raise the bar. I kicked up my pace, added in lots more physical danger, peppered in lots more turning points, and created a kind of hybrid between a cozy and thriller – basically a thrillzy!
I always love rip-roaring endings, as well. One of my favorite books had a frying-pan-into-the-fire ending with my protagonist chasing through a nasty swamp, trying to rescue a kidnap victim from a shack. But instead of rescuing the victim, a huge fight ensued, the shack caught fire, and everyone had to jump into the swamp where an alligator rose to the surface and attacked them! Seriously, who needs a sweet little ending when you can thrill readers with a heart-stopping ending like that!
Thank you and blessings to all.
Laura Childs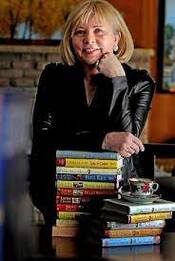 Halfway between a cozy
and a thriller – a thrillzy!
Laura Childs is the author of the Scrapbooking Mysteries, Tea Shop Mysteries, and Cackleberry Club Mysteries. Her books have been named to the USA Today and New York Times bestseller lists and been featured selections of the Mystery Guild's Mystery Book Club.
Cackleberry Club Mysteries
|
Tea Shop Mysteries
|
Scrapbook Mysteries
In Laura Childs's New York Times bestselling mystery series, Suzanne, Petra, and Toni—co-owners of the Cackleberry Club Café—are equally good at serving up breakfast and serving up justice. This time they turn up the heat on a deadly firebug

As Suzanne is getting her hair colored at Root 66, she's stunned to witness the County Services office next door suddenly go up in flames. Concerned neighbors throng the streets, and the fire department does their best. Unfortunately, their best isn't enough to save longtime civil service worker—and friend to the Cackleberry Club—Hannah Venable.

Soon enough, it's discovered that an accelerant was used to fan the flames. Someone set the fire on purpose—was Hannah the intended victim? Suzanne, Petra, and Toni vow to smoke out the culprit.

Unfortunately, the list of suspects is as varied as the Cackleberry Club's menu. When Suzanne finds a possible connection between the fire and the nearby Prairie Star Casino, she comes to realize that the arsonist wanted something very big and bad kept secret. And if the ladies aren't careful, they may be the ones gambling with their lives…
Buy
SCORCHED EGGS
:
Amazon.com
|
Kindle
|
BN.com
|
iTunes/iBooks
|
Kobo
|
Google Play
|
Powell's Books
|
Books-A-Million
|
Indiebound
1 comment posted.