Funny how you can enjoy reading about things you'd never want to experience in real life. I mean, GONE GIRL, anything by Thomas Harris, and seventy-five percent of went down in the red room of pain, (okay, twenty-five percent). Luckily, I've never been married to a sociopath, tasked with tracking down a serial killer, or entered into a contract to become the sexual plaything of a hot, kinky billionaire. Um, maybe "luckily" doesn't quite fit all the scenarios, but you get what I'm saying.
I'm not throwing stones at other people's houses, here. I write funny, sexy romances, but there are plenty of situations I engineer between my heroes and heroines that I wouldn't ever want to find myself in. In my novel PRIVATE PRACTICE, my hero shows up on my heroine's doorstep at 2:00 a.m. with a jealous drunk's bullet in his ass. Don't worry. It's a small bullet, and presents no danger to life or limb. I loved the scene, but obviously, in reality, I don't want to get shot. Not even with a small bullet. I also don't want anyone waking me up at 2:00 a.m. In LOVER UNDERCOVER, my heroine reluctantly switches places with her identical twin and ends up performing a lap dance for my hero—an undercover LAPD detective. Fun to write, but in real life? Hell to the no. I can think of nothing more mortifying...
Oh, wait. Yes I can! In my latest Brazen, COMPROMISING HER POSITION, my heroine shoves the wrong Santa into a supply closet at the company holiday party and wishes him a Merry Christmas that is, well…#NSFW.
I'm pleased to report I've never done such a thing, and that little disclaimer in the front of the book about the story being a work of fiction remains in full force and effect. Any resemblance to actual people or events is completely coincidental.
But.
Years ago I worked at a software company that must remain nameless. This was back in the late 1990's when the tech bubble was expanding and everyone toiled endless hours. I walked into a conference room at, like, 10:00 p.m., thinking I could grab a nap on the sofa before going back to my desk to spend more quality time with my computer. I should have knocked before entering. The room was…ahem…occupado, and the sofa already spoken for. Let's just say I would not want to nap on it—or sit on it— ever again. I wish I could tell you I got an eyeful of romance-novel inspiring office hook-up. Not so much.
Some experiences should remain strictly fictional. For comparison, I offer up this short tease from COMPROMISING HER POSITION…
"Hurry," she whispered. "There's not much time."

Spurred on by her own warning, she twisted away and bent over the stack of tables to scramble for the little packet of condoms in her purse. Dammit, she couldn't reach it. She leaned over as far as she dared, and stretched. Her fingertips grazed the bag, and… "Ohmigod!"

Swift fists yanked her skirt up around her waist. Bare hands clamped on her hips, and a hot mouth trailed over her backside. Her leg muscles dissolved. What was he doing to her?



Not bestowing gentle little kisses. Uh-uh. Whatever he was up to involved lips, tongue, and—sweet mercy—teeth. The faux beard tickled her, but she couldn't blame her restlessness on the props. He was the one making her squirm. Him.
Happy holidays, and happy reading!

xoxo
Samanthe
Wine lover, sleep fanatic, and USA Today Bestselling Author of sexy contemporary romance novels, Samanthe Beck lives in Malibu, California, with her long-suffering but extremely adorable husband and their turbo-son. Throw in a furry ninja named Kitty and Bebe the trash talking Chihuahua and you get the whole, chaotic picture.
When not dreaming up fun, fan-your-cheeks sexy ways to get her characters to happily-ever-after, she searches for the perfect cabernet to pair with Ambien.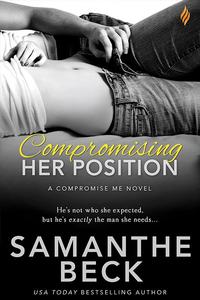 He's not who she expected, but he's exactly the man she needs…
When Chelsea Wayne drags Santa into a supply closet for a little office party nookie, she assumes the man in the suit is her on-again/off-again coworker boyfriend. Instead, it's Rafe St. Sebastian, a man known for his hard-driving ways in business as well as the bedroom--and, kill her now, the brand spanking new owner of Las Ventanas--who grants her naughtiest Christmas wishes.
So much for her reputation, not to mention her career.
Rafe needs to close three acquisitions to prove to his father he's ready to take the helm of St. Sebastian Enterprises. A hot interlude in a supply closet after deal number two seems like the perfect illicit Christmas bonus. Unfortunately, when that "bonus" becomes the key to the final deal, he finds himself back in bed--so to speak--with Chelsea, and after their steamy tryst, he's not interested in keeping things professional…
1 comment posted.