Samanthe Beck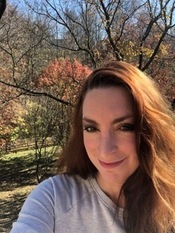 Blogging at Fresh Fiction
Samanthe Beck | Exclusive Excerpt: PLAYING DIRTY IN ALASKA
January 14, 2022
Exclusive Sneak Peek of Playing Dirty in Alaska for Fresh Fiction Bridget and Archer's first kiss Read More...
Samanthe Beck | 20 Questions: WILD IN CAPTIVITY
October 19, 2021
1--What is the title of your latest release? WILD IN CAPTIVITY Read More...
Samanthe Beck | Exclusive Excerpt: UNDERCOVER ENGAGEMENT
July 30, 2021
Hi! Thanks so much to Fresh Fiction for inviting me to share a scene from my upcoming release, UNDERCOVER ENGAGEMENT. In terms of setting Read More...
Samanthe Beck | Author-Reader Match: WET AND RECKLESS
May 11, 2021
Instead of trying to find your perfect match in a dating app, we bring you the "Author-Reader Match" where Read More...
Samanthe Beck | Emergency Responses
April 20, 2017
This might be a strange confession coming from a woman who just finished the third book in a series featuring emergency responders, but I am Read More...
Samanthe Beck | Compromising Positions
November 17, 2015
Funny how you can enjoy reading about things you'd never want to experience in real life. I mean, Read More...
Samanthe Beck | It's in the Bag
October 21, 2014
My wardrobe doesn't get a lot of attention. Being a writer barely requires me to wear clothes at all, much less nice ones, but Read More...
Wine lover, sleep fanatic, and USA Today Bestselling Author of sexy contemporary romance novels, Samanthe Beck lives in Cincinnati, Ohio with her long-suffering husband, Charles, and their turbo-son, Hud. Throw in a furry ninja assassin named Gander, a few hundred Nerf blasters, one electric guitar, (with amp!), and…well…you get the picture.

When not dreaming up fun, fan-your-cheeks ways to get her characters to happy-ever-after, she searches for the perfect cabernet to pair with ASMR podcasts.
Log In to see more information about Samanthe Beck
Log in or register now!
Series
Wedding Dare | Compromise Me | Love Emergency | Private Pleasures | Captivity Alaska
Books:
Playing Dirty in Alaska, January 2022
Captivity, Alaska #2
e-Book
Wild in Captivity, October 2021
Captivity Alaska #1
e-Book
Undercover Engagement, August 2021
Private Pleasures Book 5
e-Book
Wet and Reckless, May 2021
Private Pleasures #4
e-Book
Promise Me, April 2019
e-Book
Emergency Attraction, April 2017
e-Book
Emergency Attraction, April 2017
Love Emergency #3
e-Book
Emergency Delivery, March 2016
Love Emergency #2
e-Book
Emergency Engagement, February 2016
Love Emergency #1
e-Book
Compromising Her Position, November 2015
Compromise Me #1
e-Book
Falling for the Enemy, December 2014
Private Pleasures #3
Paperback / e-Book
Light Her Fire, October 2014
Private Pleasure
e-Book
Best Man with Benefits, June 2014
A Wedding Dare Novel #4
e-Book
Wicked Games, April 2014
e-Book
Lovers Unmasked, October 2013
e-Book
Falling for the Marine, October 2013
A McCade Brothers novel
e-Book
Lover Undercover, April 2013
Hardcover / e-Book
Private Practice, March 2013
Private Pleasures #1
e-Book