Monica Campbell used to be a wild child—as in practically feral—that kind of wild. But she's changed her ways. She works for the cancer foundation named after her mother, she wears serious clothes, and dates normal men with steady paychecks. And most of all, she steers clear of bad boys like Calum Hughes.
Normally, that wouldn't be a problem. Cal's a nomad by nature, unless he's restoring a vintage car. Then he's off again, tearing through the jungles of Peru or walking the streets of Prague. But by some sick twist of fate, Cal's shown up in Vegas, when Monica's resistance to inappropriate men is at its weakest.
Cal decides to take full advantage of that. He met Monica five years ago, when she used to be fun. Now she's all serious and stodgy. Determined to set her straight, Cal maps out a campaign to tempt Monica into embracing her wild side once more. Does that include sneaking off in public for a quick snog? Oh, absolutely.
Excerpt From HIS KIND OF TROUBLE
Just then, the waiter started heading their way. He set the dishes before them and gave a few more details about dessert. "Can I get you anything else?"
Cal stood and removed his wallet. He shoved a couple of bills in the man's hand. "We both need to make a phone call. Is there a room around here we can use, an office or a private loo?"
Looking down at the cash, the waiter nodded. "There's a supply closet in the bathroom hallway." He looked around as he slipped a key out of his pocket. "Don't get caught."
"Thanks, mate." Cal patted the man's shoulder and grabbed Monica's hand. Pulling her from the table, he ignored her expression of horror as he strode through the restaurant, hauling her behind him.
In the darkened hallway, past the loos, he found the narrow door. Without giving her time to make a dash, he slipped the key into the lock and had them inside in mere seconds.
"Cal, this is ridiculous."
He flipped on the light and glanced around at the rolls of paper products. Monica stood with her back to the door, staring at him with wide eyes.
Flattening both hands on either side of her head, he hemmed her in with his arms. "Tell me your heart's not racing right now. Tell me this isn't fun."
She opened her mouth, but nothing came out. Then she stuck her chin in the air and stared at his nose. "This isn't fun."
"If you want to go, I won't stop you. But if you stay, I intend to kiss you thoroughly. And I'm going to touch you. Here." He moved one hand and placed it over her breast.
Monica glanced around the room. "I can't believe you're doing this. We're too old to make out in a supply closet."
"We can't very well do it at the table. The other diners wouldn't be able to concentrate on their entrees. So what do you want to do, Monica?" He swept his lips over her cheek. "Stay?" He trailed tiny kisses up to those four freckles scattered above her eyebrow. "Or go?"
She placed her hands on his chest, her fingers restless as they turned inward, like talons, and skittered down to his waist. "Stay." It was barely a whisper, and her lips hardly moved. But it was enough.
Before she could say anything else, Cal placed his hands around her waist. The fabric of her jacket was stiff and unyielding. He very slowly slanted his body over hers, and angling his head, began to nibble the side of her neck above her collar. She smelled heavenly—sweet, yet spicy. Her skin was silk against his lips. A strand of her hair tickled his forehead.
Monica's body remained tense for a few moments, but gradually, as Cal ran his lips across her jaw, she relaxed and slid her hands up to his shoulders. Letting out a soft sigh, she tilted her head, giving his lips better access.
Yes. He'd been waiting five long years for this. Another go at Monica Campbell. Not his top pick for locale, but he'd take it. That girl in the garden had been eager and out of control. He wanted to make her that way again.
As a girl, Terri L. Austin thought she'd outgrow dreaming up stories and creating imaginary friends. Instead, she's made a career of it. Now she writes steamy contemporary romance and mysteries. She met her own Prince Charming and together they live in Independence, Missouri.
Website | Facebook | Twitter | Goodreads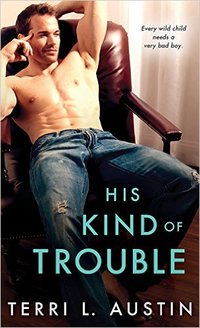 Monica Campbell may have a history as a wild child, but she's changed her ways. She's respectable, responsible-and, most importantly, she's sworn off bad boys. That is, until Callum Hughes roars back into her life with his sexy British accent and killer smile.
Cal remembers every steamy moment he shared with Monica, but he barely recognizes the straight-laced woman she's become. Determined to lure Monica into letting go of her inhibitions, Cal will use every trick he knows to fire her blood and tempt her body...reminding her just how good it can feel to be bad-and his.
1 comment posted.