Hey all! I'm so excited to be here at Fresh Fiction celebrating the release of WICKED EDGE! The hero in WICKED EDGE is Daire Dunne, who's a tough witch enforcer on a Harley…and is totally grumpy. The heroine is a bit of a surprise. Cee Cee is a wild card who drugs Daire, steals from him, and then likes to rob banks. Of course, they're the perfect match! They just don't know it right away.
I thought I'd share five internet searches probably conducted by Cee Cee Jones that have led to Homeland Security no doubt monitoring her:
1. How to blow up an island: Let's just say that when Cee Cee has an enemy, she truly sees no reason for taking things slow. If you're an enemy of hers, definitely do not live on an island.
2. How to drug a male witch: This one is a little self-explanatory, but let's just say she does it right with poor Daire Dunne, who's one of the deadliest Enforcers in the history of the world. Let me tell you…he is not happy when he wakes up.
3. How to rob a bank: Again, like I said, you don't want to be one of Cee Cee's enemies. She has a family to avenge, and taking away somebody's money is a good way to wage a war. Believe me, Daire isn't set on the bank robbing way of life, but what's a guy to do?
4. How to decapitate a monster: So this one is also a bit obvious, until you realize that the monster is an immortal twice Cee Cee's size and about a hundred times stronger. But, a girl likes to plan, so that's what she does.
5. Who is Daire Dunne? Yeah, like modern women, Cee Cee took to the net to check out her new man. Who knew what she'd find, right? Those dangerous witch enforcers don't really leave a trail, even on the dark web. Good thing, too.
Thanks again for having me over! I was asked what's next for me. I'm working on a new series called Scorpius Syndrome. The first book is MERCURY STRIKING, and it releases in January. The series is post-apocalyptic, gritty, and very sexy. The hero is Jax Mercury, who's a former L.A. gang member turned soldier, who has taken over LA to protect his small group of survivors from a bacterial infection. The heroine is Lynne Harmony, the former head of the CDC's Infectious Disease Department. Oh, and she has a blue heart now.
New York Times and USA Today Bestselling author Rebecca Zanetti is the author of over twenty-five dark paranormals, romantic suspense, and contemporary romances, including the Dark Protectors, Realm Enforcers, Sin Brothers, and Scorpius Syndrome series. She lives in the wilds of the Pacific Northwest with her own Alpha hero, two kids, a couple of dogs, a crazy cat…and a huge extended family. She believes strongly in luck, karma, and working her butt off…and she thinks one of the best things about being an author, unlike the lawyer she used to be, is that she can let the crazy out.
Website | Facebook | Twitter | Newsletter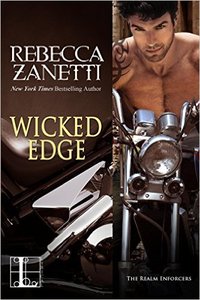 If you love the Dark Protectors, these wicked hot Realm Enforcers are for you!
Daire Dunne is more than ready to take a quick break from his duties as a Coven Nine Enforcer. When he spots a sexy blonde across a Titan's of Fire party, it's not long before she's on the back of his Harley on the fast track to his apartment. Unfortunately, one overheated kiss in, the woman drugs Daire and steals valuable files that can't fall into enemy hands. The second he comes to, the hunt is on...
Now that Cee Cee has the information to take down an enemy that destroyed her family, she can implement her perfect plan for revenge. Nothing will stop her, not even a shockingly sexy enforcer barging into her life. Not even the spectacular, fire-branding sex engulfing them. But if Daire ever figures out who her family really is, all bets are off...
1 comment posted.