Hello Wonderful Readers!
I've got some exciting news! Guess what it is.
A. New book coming out! Yes, this one is called The Great Adventures of a Really Hot Girl as the Guys go Nuts for Her. It's my autobiography of the life I wish I'd had.
B. 50 WAYS TO RUIN A RAKE is on SALE all this month! Get it while it's hot!
C. I'm getting a total body makeover so I'll look like Priyanka Chopra, the lead in the new show Quantico.
D. New Website LAUNCH!

Answer: B and D – 50 WAYS TO RUIN A RAKE is indeed on sale. Grab a copy now. But the really awesome thing is that I'm launching a NEW WEBSITE! Come visit www.JadeLeeAuthor.com and check out my contest plus cool videos and stuff! I've got an awesome prize for some lucky visitor and other cool stuff coming. As for the other two – well, I wish I could find a way to look like Priyanka, but I can't see even modern medicine making that happen. Though I do enjoy the show. And my fake autobiography is as yet only a figment of my imagination. Maybe I'll write it down someday.
Next, guess where I'm APPEARING soon.
A. I'm guest starring on Quantico as the best friend who has the clue that saves the day! (Think I'd promote a show that I just enjoyed?) B. In the night sky, a Greek God is making a new constellation out of me. My navel will be the new North Star. C. My local mall fashion show as a runway model. Yup, I'm their size 12 and 50+ year old girl. D. Readers and 'Ritas in Dallas. I think Damon Suede and I will be MCing a Friday night erotica party! Stay tuned. Who knows what could happen?
Answer: D (though I wish it was A). Yup, I'll be at Readers and 'Ritas all weekend at the Hilton in Allen. I don't know yet what panels I'll be on or if I'm actually MCing the Friday night party, but I will be there and kicking back with my friends and fans. So come on by and become my newest, bestest friend!
That's all the fun news from me this month. Don't forget to visit my blog, too, and see pictures from Italy and cool videos from me and Damon Suede.
A USA Today Bestseller, Jade Lee has been scripting love stories since she first picked up a set of paper dolls. Ball gowns and rakish lords caught her attention early (thank you Georgette Heyer), and her fascination with the Regency began. And as a Taurus, she lives to pit a headstrong woman against a tortured hero just to watch them butt heads on the way to true love. Flesh wounds are rare, but the healing and laughter are real.
Now an author of more than 30 romance novels, she finally gets to set these couples in the best girl-heaven of all: a Bridal Salon! This way she gets to live out all her wedding fantasies, one by one. (Let's be honest, what girl has only one idea for her dream wedding?)
And don't forget Jade's other name, Kathy Lyons. That's Jade's lighter, contemporary side. She writes for Harlequin Blaze merging hawt sex and funny relationships into really great reads.
Website | Facebook | Twitter | Goodreads | Blog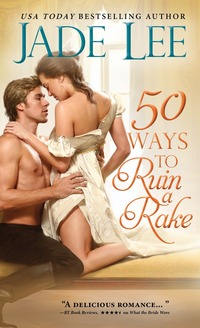 Mellie has a plan
Mellie Smithson is trapped in the country with no suitors and no prospects on the horizon except, perhaps, the exasperating—although admittedly handsome—guest of her father. She's looking for any excuse to go to London to meet more eligible men.
Trevor has a problem Trevor Anaedsley's grandfather has cut off his funds until such time as he gets engaged. Trevor escapes to the country—ostensibly to visit his old tutor Mr. Smithson but actually to duck his creditors—where he meets Smithson's lovely daughter Mellie. The obvious solution is suddenly before him—but the lady has ideas of her own, and Trevor's going to have to measure up...
1 comment posted.