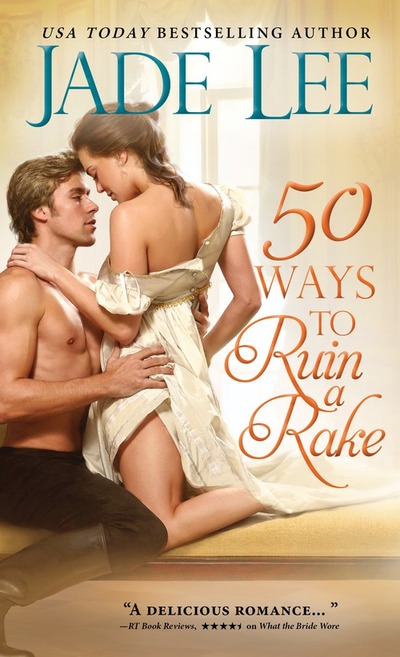 50 Ways to Ruin a Rake
Jade Lee
AVAILABLE
Rakes and Rogues #1

May 2015
On Sale: May 5, 2015
Featuring: Trevor Anaedsley; Mellie Smithson
384 pages
ISBN: 1492604992
EAN: 9781492604990
Kindle: B00R37SQQS
Paperback / e-Book
Add to Wish List

Also by Jade Lee:
Lady Scot, April 2022
Add to review list
Lord Scot, November 2021
Lyon Hearted, October 2021
Lord Ares, June 2021

My trip to Italy was amazing. Sadly, I caught a bug there, and I'm still recovering. But the good news is that I have some fun pictures to share. First, the fun video. This was taken in Murano, one of the islands that make up Venice. It's at an amazing glass factory and I could not believe what he made in just two minutes. Here's the video.
Next was Florence. Now, I would never encourage the defacement of public property, but these were so much fun I had to take pictures. To explain, the first one of these pictures (which I did NOT get a photo of) was so crisp that I didn't understand it was graffiti. Well, not at the beginning. It was a no entry sign where the bar was dropped on the little guy's shoulders and he had a big question mark above his head. But after a few of these altered signs, I figured out what was going on. Hey, I was on vacation. My brain was not fully engaged. Anyway, here are a few of the signs in no particular order. I guess it'll be a game to see which explanation fits up with which sign!
Sign: Bumpy road ahead. – The nipples are added.
Sign: No entrance. – The crushing fist is the graffiti
Sign: No entrance – the guy toting the heavy bar is graffiti
Sign: Uh, I've never seen this sign before. Blue sign, red bar at the top of the T. It looks like a different type of no entrance sign. The hanged man is graffiti
Sign: No entrance – to go with the previous capitol punishment sign, this is poor guy in the stocks is added.
Sign: Pedestrian crossway – Toro, Toro! The bullfighter is added.
Sign: No entrance – This is my favorite one. Guy passed out on at a bar right next to the i' Vinaino.
| | | |
| --- | --- | --- |
| | | |