In retrospect, I should have seen it coming. It's probably happened to most writers who've chosen first-person narration, that moment when they realize with a jolt—at least my moment of realization included a jolt—that a reader has come to believe their story to be true, and I'm not talking about that hot, clean stab of universal-truth that all writers work to achieve, but the other kind of truth, the oozing, true-confessions variety.
It happened to me when my book was out on submission. There was interest from a few publishers and my agent set up phone calls with editors during which I was to be charming and agreeable and reasonably sane—you know, the sort of person to whom they'd consider sending a fat check. The calls were equal parts exciting and nerve-wracking, but there's one thing I remember very clearly: every editor asked me the same question in a similarly careful tone of voice, "So…what made you decide to write this book?" The first two times I was asked the question, I answered it in a writerly fashion about how the novel started off as a short story, but the narrator felt like she had more to say…blah blah blah. Both times I gave this answer, there was a pause before the conversation moved on, and I couldn't escape the nagging sensation that I hadn't responded correctly even though my answer had been honest.
It was the third call that did it. Maybe the question was worded slightly differently, or maybe I was just tired by that point, and I'd lowered my guard enough to finally hear the questions behind the question, which were, "Is this you on these pages? Was your life this troubled?"
Oh. Oh dear.
I quickly assured that editor that my novel was in no way autobiographical, and she laughed, relieved, and said something along the lines of, "I was so worried!" which of course made me wish I could call back the other editors and put their minds at ease. "For heaven's sake," I later complained to anyone who would listen, "It's a novel. It's fiction. What's so hard to understand about that?" After all, everyone knows that fiction isn't true.
And yet…
The more I've thought about that, the less certain I've become. There are scraps of my childhood all over my novel. From descriptions of the mobile home park where we used to stay during family beach vacations, to my pet guinea pig, I populated the nooks and crannies of my protagonist's life with random detritus from my own past. And even the larger, more painful aspects of the book— dysfunctional families, alcoholism, guilt, redemption—if I'm honest with myself those came from somewhere, didn't they?
Mattie, my book's protagonist, was an only child of an alcoholic single mother. My family consisted of two loving parents, three kids and a dog. Mattie spent her childhood moving every six months from one crappy apartment to another. I lived in the same little red brick house in a middle-class neighborhood from the age of four until I moved out at twenty.
And yet…
Addiction, dysfunction and guilt thrive even in neighborhoods with carefully manicured lawns. I didn't have an alcoholic parent, but I had friends who weren't so lucky, and I will never forget the nights I spent at their houses, the drunken shouting coming from the kitchen, the mixture of fear and shame in my friends' eyes. Not that things were a Norman Rockwell painting at my house. I mostly stayed out of trouble, as did my sister, but we had an older brother who transitioned from burgeoning juvenile delinquent to heroin addict via two tours in Vietnam. His struggles with addiction permanently torqued the dynamics of our quiet family, and when he went to prison for armed robbery—he sawed off my father's shotgun and used it to hold up a drugstore—it broke my parents' hearts.
At thirty, Mattie is a hot-mess, immature and struggling with how to deal with her mother's death. When I was thirty, I was married with a family of my own, and my struggles were mostly about sleep deprivation and trying to get my kids to eat broccoli. But by the time I wrote THE ART OF CRASH LANDING, I'd suffered my share of losses. My mother died when I was thirty-three, and although I mostly blame her death on cigarettes, there's a little blame left over for me. I was the one who didn't double check with her internist before I took the prescription from her pulmonologist to the pharmacy. Those antibiotics sent her back to the hospital where, less than a week later, she died. Fast-forward eight years, and I was out town when my father died alone in a hospital bed, and not five years later the same thing happened when my sister passed away. For a while I joked that all my friends and family had better hope I didn't go on any more vacations. It wasn't a very funny joke.
My point is: there is nothing about my life in my novel. Or maybe it's all there.
There's a quote commonly attributed to Mark Twain that goes something like, "History does not repeat itself, but it often rhymes." That's a smart way to think about history, and I'm wondering if it might work for literature too. I can honestly say that all the people and events in my novel are fictional. I am not Mattie, and nothing that happens to her in my book has ever happened to me.
And yet…
If someone were to ask me again, "What made you decide to write this book?" I don't know if I'd be quite as quick to put that person's mind at ease. No, my childhood was not a nomadic, chaotic mess, and as a young adult I never made the same reckless and terrible decisions my book's protagonist seems determined to make. Yet, as poor Mattie stumbles from one misadventure to another, I can't help but notice that she's a little bit goofy, and that she uses humor to keep people at a distance, and that she's all too willing to shoulder guilt for things not entirely her fault.
Well, what do you know? There I am.
If everything I write is filtered through my life experiences, how could my work not be colored by my past? So, if we're talking about truth in fiction—and I think we are—the best I can do is this: my novel is completely fabricated and frequently true. Not one time does it repeat my life, but every word surely rhymes.
Melissa DeCarlo was born and raised in Oklahoma City, and has worked as an artist, graphic designer, grant writer, and even (back when computers were the size of refrigerators) a computer programmer. Melissa now lives in East Texas with her husband and a motley crew of rescue animals.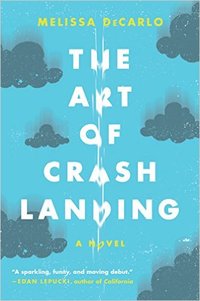 From a bright new talent comes this debut novel about a young woman who travels for the first time to her mother's hometown, and gets sucked into the mystery that changed her family forever
Mattie Wallace has really screwed up this time. Broke and knocked up, she's got all her worldly possessions crammed into six giant trash bags, and nowhere to go. Try as she might, Mattie can no longer deny that she really is turning into her mother, a broken alcoholic who never met a bad choice she didn't make.
When Mattie gets news of a possible inheritance left by a grandmother she's never met, she jumps at this one last chance to turn things around. Leaving the Florida Panhandle, she drives eight hundred miles to her mother's birthplace—the tiny town of Gandy, Oklahoma. There, she soon learns that her mother remains a local mystery—a happy, talented teenager who inexplicably skipped town thirty-five years ago with nothing but the clothes on her back. But the girl they describe bears little resemblance to the damaged woman Mattie knew, and before long it becomes clear that something terrible happened to her mother, and it happened here. The harder Mattie digs for answers, the more obstacles she encounters. Giving up, however, isn't an option. Uncovering what started her mother's downward spiral might be the only way to stop her own.
Hilarious, gripping, and unexpectedly wise, The Art of Crash Landing is a poignant novel from an assured new voice.
2 comments posted.