Hey, I know what you're thinking but that's not even close to where I'm headed. Duncan Jamieson, hero in SHARE THE MOON, is an American of Scottish decent. So ladies, you won't find kilts in this man's closets.
But I am of Scottish decent and love thinking about my family's traditions brought to us from other countries. My grandmother's life changed in 1928 when, at the young age of twenty-one, she made a decision to board a steamer from Glasgow, Scotland. After twenty-one days at sea, she arrived in the Back Bay area of Boston.
I have such fond memories of my dear Nana, with her wonderful brogue and scrumptious scotch shortbread. While writing SHARE THE MOON, I had a little fun with my own ancestry and incorporated my Scottish heritage into both my main character's lives. In real life, I've enjoyed making sure my daughters feel ties to the roots from all our family that came to this country from places far away. From my father-in-law's early years spent in Germany to my grandfather's Swedish immigrant parents.
Tapping into our pasts is like a map to who we are today.
What are your ethic roots? Do you follow any traditions from the old country?
I've included an excerpt, where we learn a little about the Scottish heritage for both my hero and heroine in SHARE THE MOON.
Exclusive Excerpt from SHARE THE MOON
For half a second he considered telling her the real reason the land mattered to his brother, but he didn'Äôt want to violate any confidences. 'ÄúI have my reasons.'ÄĚ

'ÄúDid you ever stop to consider how some of the things you love about the lake could be lost by your business proposition?'ÄĚ

'ÄúI don'Äôt think they will.'ÄĚ

'ÄúPerhaps you'Äôre not seeing the big picture.'ÄĚ

'ÄúI'Äôll address the environmental impact. I don'Äôt want to hurt the lake, but this will boost the Northbridge economy and create jobs.'ÄĚ

'ÄúThe area may suffer too. If Zoning passes those changes, they'Äôll lead to additional development along the shoreline.'ÄĚ

He shrugged. 'ÄúI can'Äôt control everything.'ÄĚ

'ÄúNo. You can control what you do now, though.'ÄĚ

'ÄúCommunities are often resistant to change.'ÄĚ Duncan tried to sound convincing but felt weakened by her demanding gaze. 'ÄúThings seem to work out.'ÄĚ

She cocked a confident brow, like someone about to yell the word checkmate. 'ÄúWon'Äôt this be the first time you'Äôve stuck around long enough to find out?'ÄĚ

'ÄúI visit my sites.'ÄĚ

Sophie twisted her mouth, not even bothering to hide her skepticism. Idealistic. Yes, that described her. This woman preached high standards for everyone, including herself. Duncan considered her perseverance as appealing as it was annoying.

She lowered the pad to her lap. 'ÄúLiving there is different. I'Äôd go so far to say you'Äôre'Ķ'ÄĚ She pressed her lips together.

'ÄúNever mind.'ÄĚ

'ÄúWhat?'ÄĚ

'ÄúListen, I don'Äôt wish to end up apologizing twice in one day.'ÄĚ

He opened his arms to each side. 'ÄúCome on. Hit me with your best shot.'ÄĚ

She gave him a you-might-be-sorry grin. 'ÄúWell, Jamieson is Scottish, right?'ÄĚ

He nodded.

'ÄúMy Nana was born in Scotland. She once told me a story about a Scotsman who was asked to express an opinion about the pyramids who replied, 'ÄėA lot of masonry work and no rent coming in.'Äô'ÄĚ

He snorted. 'ÄúThen you think I only care about money?'ÄĚ

'ÄúNo, but you'Äôre approaching this purely from a practical, business- like viewpoint. Stop. Think about why you love the lake.'ÄĚ Her potent gaze settled on him, saying more than her words. 'ÄúI'Äôll bet one thing is the simplicity.'ÄĚ

Her honesty was unexpected and refreshing, so unlike his wife's.
Sharon Struth is an award-winning author who believes it's never too late for a second chance in love or life. When she's not writing, she and her husband happily sip their way through the scenic towns of the Connecticut Wine Trail. Sharon writes from the small town of Bethel, Connecticut, the friendliest place she's ever lived.
SHARE THE MOON, book one in the Blue Moon Lake Romances, is a finalist for a RONE Award and a Chatelaine Award for Romantic Fiction!
Website | Facebook | Twitter | Blog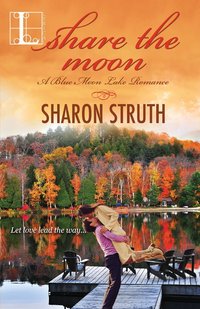 Sometimes trust is the toughest lesson to learn.
Sophie Shaw is days away from signing a contract that will fulfill her dream of owning a vineyard. For her, it's a chance to restart her life and put past tragedies to rest. But Duncan Jamieson's counter offer blows hers out to sea.
Duncan still finds Sophie as appealing as he had during boyhood vacations to the lake. Older and wiser now, he has his own reasons for wanting the land. His offer, however, hinges on a zoning change approval.
Bribery rumors threaten the deal and make Sophie wary of Duncan, yet she cannot deny his appeal. When her journalistic research uncovers a Jamieson family secret, trust becomes the hardest lesson for them both.
No comments posted.