I've had a twenty year career as a writer-producer on a number of popular television series. When I wrote my debut novel, PLANTATION SHUDDERS. A Cajun Country Mystery, and segued from writing scripts to writing fiction, I reveled in creating finely crafted prose and poetic metaphors. But there was one problem.
My dialogue stank.
This came as a shock to me. Not because I'm so brilliant, but because most of my career has been spent writing almost nothing but dialogue – first as a playwright, then for the characters on Wings, Just Shoot Me, Still Standing, and a bunch of shows that disappeared after a season. I've written pilots for major networks where I had to create original characters, and each had to have his or her own unique voice. So why wasn't I bringing that to my manuscript? After pondering this dilemma, I finally landed on the answer. I hadn't written prose since a creative writing class in high school, and I was having so much fun doing it that writing dialogue felt, well… boring.
I began to think about all the television shows I'd written for, both the hits and misses. Each show's creators laid the groundwork for enjoyable viewing by populating their shows with well-drawn characters. Once we went into production, talented actors fleshed out the characters with unique choices and dashes of their own personalities. On Wings, there was the deadpan humor of Steven Weber and the dry wit of Tim Daly.
Just Shoot Me's David Spade somehow tapped into a snarky delivery that was all his own, yet nothing like his very nice real self.
I harkened back to the number one rule of playwriting – each character's voice should be so distinctive that you know who's talking without ever having to check for their name in the script.
I started to apply what I'd learned writing for other mediums to my book. My protagonist, Magnolia "Maggie" Crozat, is feisty and passionate, but also insecure and self-effacing. Her beloved Grandmere seems like a "Glossy" – a Gracious Lady of the South – on the surface, but beneath that, she's sharp, sophisticated, and has a great sense of humor about herself. Maggie's arch- enemy, Police Chief Rufus Durand, is arrogant and often seems totally clueless. He barely made it through high school, but he'll have a sudden attack of street- smarts that throws anyone who underestimated him off balance.
As I developed the rest of my characters, I began having fun writing dialogue again.
Perhaps my life will come full circle, and someday I'll create a television series inspired by my Cajun Country mysteries. But for now, having found my characters' voices, the quirky residents of Pelican, Louisiana, are as alive for me on paper as they would ever be on the big or small screen.
Ellen Byron is a television writer, playwright, and freelance journalist. She's also an author; Her debut novel, PLANTATION SHUDDERS: A CAJUN COUNTRY MYSTERY, was chosen as the Debut Mystery of the Month by the Library Journal. She is also a recipient of a William F. Deeck-Malice Domestic Grant from the Malice Domestic Conference.
TV credits include Wings, Still Standing, and Just Shoot Me, as well as network and cable pilots. As a journalist, she's written over 200 magazine articles for national publications. She recently served on the Editorial Board for the UCLA Writers Program's books, CUT TO THE CHASE and INSIDE THE ROOM. Her plays, published by Dramatists Play Service, include the popular Graceland and Asleep on the Wind.
A graduate of Tulane University, Ellen lives in the Los Angeles area with her husband, daughter, and the family's spoiled rescue dogs, which they describe as a "corgi-jack-huahua" and a "cherrier." A native New Yorker, Ellen still misses her hometown… and still drives like a New York cabbie.
Website | Twitter | Facebook | Blog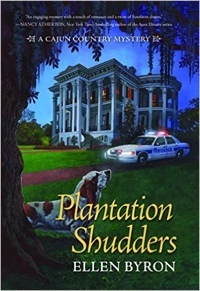 Check in for some Southern hospitality in PLANTATION SHUDDERS, the Cajun Country series debut from Ellen Byron.
It's the end of the summer and Prodigal Daughter Maggie Crozat has returned home to her family's plantation- turned-bed-and-breakfast in Louisiana. The Crozats have an inn full of guests for the local food festival— elderly honeymooners, the Cajun Cuties, a mysterious stranger from Texas, a couple of hipster lovebirds, and a trio of Georgia frat boys. But when the elderly couple keels over dead within minutes of each other - one from very unnatural causes - Maggie and her family suddenly become suspects in a murder.
With the help of Bo Durand, the town's handsome new detective, Maggie must investigate to clear her name while holding the family business together at the same time. And the deeper she digs, the more she wonders: are all of the guests really there for a vacation or do they have ulterior motives? Decades-old secrets and stunning revelations abound in Ellen Byron's charming cozy debut, PLANTATION SHUDDERS.
1 comment posted.
I'm sure that going from one writing medium to another was quite a change for you, but I'm thrilled to learn about your book!! It sounds like the perfect read to shake up my TBR list, and I'm looking forward to reading it. Your book has all of the elements that I adore, from the setting on down, and it sounds like quite a read!! Congratulations on your book, and I'm sure it's going to do quite well!!
(Peggy Roberson 9:42am August 17, 2015)