As I sit here, looking at the blank page and thinking of what words of wisdom I want to impart to readers on Fresh Fiction, I receive a happy reminder. From outside the window, I hear a very familiar sound. To some, it might herald thoughts of a more somber, even terrifying sort. To me, the sound brings a smile to my face and an uplifting to my heart. It's the sound of the familiar red air-evac helicopter zooming over my house. We seem to be on its favored glide path to the two major hospitals in our town.
This helicopter has become a symbol of something very special to me. The first time I noticed it, I was seated at the window of Barnes and Noble and it flew across the parking lot outside. Immediately, a story flashed through my brain and I ended up jotting quick notes into the journal on the table which I had not even purchased at the time. But when the story hits you…you can't ignore it! As the story became a manuscript and then found a home with Sandie Bricker as the launch book for LPC's new imprint, Bling! Romance, that helicopter reminded me daily to look upward and find happy thoughts, not sad ones. There is always hope and that little red craft became a symbol of such for me.
Ideas for books come from all places, in all forms, and at any time. The key is to not ignore them. A writer has to take the rough stone that plops in front of them onto the page, and polish it and trim it, and form it into a real gem. It's not a speedy process…nothing about getting your book published can remotely resemble that. It takes patience and diligence and tenacity. I have discovered on this journey that I have developed those three attributes in spades. Your hide has to be tough also. You're going to hear some things from your editor(s) that you might not want to hear. But you'll listen, because believe it or not, they are on your side and on your team. And writing a book is nothing if it isn't a learning process.
Put your words down on paper. Read and reread them. You have to fall in love with your characters and story before anyone else can. Trust your instincts. Sometimes you will need to fight for your baby. Sometimes you will need to know when to step away and allow it to take flight. That red helicopter is a daily reminder to me of my hopes and dreams. I hope it and the characters, Mercy and Josh, will put smiles on your faces also as you read MERCY'S RESCUE. Hopefully, its message of love and faith renewed will touch your heart. Happy reading!
Born and raised in the Lone Star state of Texas, Debra grew up among horses, cowboys, wide open spaces, and real Texas Rangers. Pride in her state and ancestry knows no bounds and it is these heroes and heroines she loves to write about the most. She also draws upon a variety of life experiences including working with abused children, caring for baby animals at a major zoo, and planning high-end weddings (ah, romance!).
Debra's real pride and joys, however, are her son, an aspiring film actor, and a daughter with aspirations to join the Federal Bureau of Investigation. (more story ideas!) When she isn't busy writing about tall Texans and feisty heroines, she can be found cheering on her Texas Tech Red Raiders, or heading off on another cruise adventure. She read her first romance...Janet Dailey's Fiesta San Antonio, over thirty years ago and became hooked on the genre. Writing contemporary western romances, is both her passion and dream come true, and she hopes her books will bring smiles...and sighs...to all who believe in happily-ever-after's.
Nicole Resciniti of The Seymour Agency represents Debra. Her first book, UNDER TEXAS BLUE SKIES, was published by Clean Reads. Her second book, HIS COUNTRY BRIDE, will be forthcoming from Spencer Hill/Tulip Romance. MERCY'S RESCUE, her third book, will launch a new romance line, Bling!Romance, in August, for Lighthouse Publishing of the Carolinas. Debra invites you to visit her website at http://www.debraholtbooks.com/ She loves to hear from other aspiring authors or readers via email at debraholtbooks@gmail.com or follow her on twitter @debraholtbooks.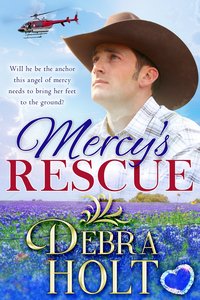 Finding himself fighting for his life after an ambush, Sheriff Josh Wellman awakens to find himself looking into the eyes of a real-life angel of mercy.
When their hands touch, he knows his life has changed in that instant.
But devastating heartbreak has left Mercy Smith's faith in tatters, her heart guarded against more loss. Her dedication to the air evac trauma team she leads has insulated her from the realities of the earth below, so now Josh faces the biggest challenge of his life.
Can he find a way to get past the walls around Mercy and convince this angel to stay on the ground with him? Can Mercy open her heart to life again and find a way to restore her faith in God…as well as love?
4 comments posted.
After reading the synopsis of the book, I could literally feel the emotion that you put into it!! I'm really looking forward to reading it, but have to put it on my TBR list for now. It's going to make such a great read for early Fall. Thank you so much for coming here and letting us in on not only a little snippet of your life, but to let us know about your book. Congratulations!!
(Peggy Roberson 11:02am August 12, 2015)
Thanks for the article. I'll definitely find time for Mercy's Rescue. I must find out what happened to her. Once I also had a heartbreak because of my professor, but BuyThesis saved me.
(Anna Vaughan 11:09am August 12, 2015)
Peggy and Anna....Thank you so much for your comments! Mercy is a special lady and I think you will enjoy her story and of course, Josh is pretty amazing also. Happy Reading!
(Debra Holt 5:27pm August 12, 2015)
Fresh Fiction is always AMAZING and awesome to my books and I thank each of you from the bottom of my heart for all you do for authors and readers!
(Debra Holt 5:29pm August 12, 2015)