Premier Paranormal Romance author Sherrilyn Kenyon has had so much success with her Dark- Hunter series. DRAGONBANE, which hits bookshelves on August 4th, marks another return to this complex world. Annie Tegelan, Fresh Fiction's Into the Night columnist chats with her about tortured heroes, writing advice and her upcoming series, Deadman's Cross.
Annie: You possess the astonishing ability to create such epic worlds in your stories. DRAGONBANE is just one book in the span of many others in the same universe. How on earth do you manage to keep track of all the details?
Sherrilyn: I have no idea, except to say if you went through my house and saw the trail of "Sherri droppings," you'd realize that I keep track of very little else. My mind is so cluttered and consumed by my worlds that I tend to forget where I've put my keys, shoes, and most days, my mind. I guess it's the same part of the brain that stores where we keep data on our families and friends. Since I think of my fictional people as real, they inhabit the same part of my mind and I don't differentiate them from my blood family and friends. So just as I remember that my youngest hates spiders and loves broccoli or that my oldest speaks Japanese and is an Imperial Rome buff, and which Japanese manga and anime my middle son reads and watches, I can remember that Acheron prefers chocolate ice cream not that Tory won him over or that Styxx likes to stay up late at night and stare at the stars.
Annie: Some readers consider your heroes as some of the most tortured in the genre. Can you tell us a bit more about Maxis Drago? Do you think he's the most tortured hero you've written?
Sherrilyn: I don't believe in qualifying pain. Everyone has a hard battle they fight and we are all warriors in life. And I don't believe in trivializing anyone's pain by saying someone else has had it harder or easier than someone else. You don't know the "truth" until you've seen inside that person's heart. What is bravely shown to the world in an effort to protect a shattered dignity may not be the truth of a battered soul. When a three year-old drops his or her cookie, that can be traumatic for the child, even though it seems "silly" to an adult. Pain is pain, regardless of cause, and it is real and deserves understanding and empathy. Max's past is different and he deals with things differently than other heroes, that's really the best description of it. He wasn't born human; he was born a dragon so he's lacking a human upbringing. That alone means he views the world and human behavior very differently from other types of characters.
He and Illarion are two of the originators of the Were-Hunter drakos and that's all I can really say without spoilers. Through them, you see how the Were-Hunters were created and why Savitar set up the Omegrion.
Annie: You've mentioned before that you've been a storyteller all your life. But if you weren't writing, what would you likely find yourself doing?
Sherrilyn: A hired assassin. Oh wait, you're serious. I'd go back to being a historian or archaeologist, which is just another way of telling other people's stories.
Annie: Inspired by the fact that your son was writing his own book earlier this year, what inspirational words or advice would you give to aspiring writers who look up to you, your books and the success you've had?
Sherrilyn: Don't look up to me. No one wants my career. You want one that's a lot easier and smoother. I wouldn't wish my career on my worst enemy. The success, yes. The journey, NEVER. That being said, follow your dream. Write from your heart and don't pay attention to anyone's career but your own. Remember the only career that matters is yours. Never let anyone tell you how to write your stories, except your characters. Believe in them and they'll never steer you wrong.
Annie: Excellent advice! One last question before you go – What's next for Sherrilyn Kenyon? I hear you have a new series on the horizon!
Sherrilyn: It's not a "new" series. It's a trilogy from inside the world of Dark- Hunter called Deadman's Cross and is about Thorn and his Hellchasers. Set on the High Seas during the Golden Age of Piracy, it's about Captain Devyl Bane and his crewmen of the damned who are called Deadmen. And it's where Deadmen tell their tales . . . and save their souls and humanity along the way.
Aside from that, I've heard from the producer that they are shooting to start filming the first movie this coming February. So hopefully we'll have more news on that front very soon! I'm really excited!
Annie: So exciting! I cannot wait to see the movie! Thanks so much for chatting with me today, Sherrilyn!
#1 New York Times bestselling author, Sherrilyn Kenyon lives a life of extraordinary danger... as does any woman with three sons, a husband, a menagerie of pets and a collection of swords that all of the above have a major fixation with. But when not running interference (or dashing off to the emergency room), she's found chained to her computer where she likes to play with all her imaginary friends. With more than seventeen million copies of her books in print, in over thirty countries, she certainly has a lot of friends to play with too.
Kenyon is an international phenomenon and the leading pioneer of the current paranormal craze (her first paranormal novel was published in 1994—obviously when she was just a small child). She's the author of several series including: The Dark- Hunters, The League, Brotherhood of the Sword, Lords of Avalon and the forthcoming Nevermore and Chronicles of Nick. Her Lords of Avalon novels have been adapted by Marvel and her Dark-Hunter novels are now manga published by St. Martins and packaged by the talented Dabel Brothers.
Website | Pinterest | Facebook | Twitter | YouTube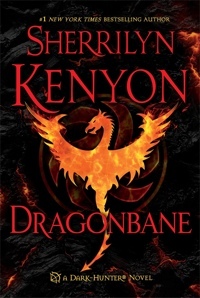 Out of all the mysterious boarders who call Sanctuary home, no one is more antisocial or withdrawn than Maxis Drago. But then, it's hard to blend in with the modern world when you have a fifty foot wingspan.
Centuries ago, he was cursed by an enemy who swore to see him fall. An enemy who took everything from him and left him forever secluded.
But Fate is a bitch, with a wicked sense of humor. And when she throws old enemies together and threatens the wife he thought had died centuries ago, he comes back with a vengeance. Modern day New Orleans has become a battleground for the oldest of evils. And two dragons will hold the line, or go down in flames, in DRAGONBANE, the next explosive Dark-Hunter novel from #1 New York Times bestselling author Sherrilyn Kenyon.
1 comment posted.