The family business is a small-town mainstay—alive if not always well. Those devilish statistics say about 30% of family-owned companies survive into the second generation and 12% into the third. Researchers say the biggest challenge is planning, but I suspect it's really personality.
In my Food Lovers' Village Mysteries, Erin and Fresca Murphy are determined to beat the odds and keep Murphy's Mercantile going for yet another generation. Once the heart of Jewel Bay, Montana, the Merc still occupies the century-old sandstone building Erin's great-grandfather built in 1910 when he opened the town's first grocery.
Francesca "Fresca" Conti Murphy has been running the Merc since her husband's death in a hit-and- run accident fifteen years ago. A woman of great taste and culinary talent, she'd rather focus on making pastas and sauces that locals and visitors alike drool over than on the business itself. So she entices Erin—the youngest of her three children, and the only one as obsessed with food as she is— to return home and run the Merc.
Thirty-two and single, Erin returns to Jewel Bay from Seattle. She brings with her a decade of experience in the grocery biz, a boatload of ideas about retail and marketing, a chic urban wardrobe, and Mr. Sandburg, a sable Burmese cat.
But times have changed, and to keep the business going, Erin turns it into a market specializing in local fare. Challenging as it is to find the right product mix, keep her vendors and staff happy, and sell enough pasta, jam, and fresh produce in the 90 days of summer to keep the doors open through the long, lean winter, Erin's biggest challenge is managing her mother. Though she invited her daughter home and loves what she's doing with the shop, Fresca can't quite keep her graceful, tomato-stained fingers out of the business.
In thirty years as a lawyer, I've watched plenty of families struggle with joint decision-making, with tensions between tradition—"But we've always done it this way"—and change—"We've got to keep up." Often, the older generation has trouble giving up control, and the younger wants too much change too soon. Trust and communication, and a willingness to talk over the inevitable problems, are the keys to long-term success.
That, and Sunday dinner. The Murphy family's weekly gatherings give Erin and Fresca a chance to work out their differences in the comfort of tradition—and pasta. When Fresca is accused of murder in DEATH AL DENTE (2013), Erin investigates, to keep both her mother and the business out of hot water. Fresca sees that her youngest is smart and capable, and that both business and building are safe in her hands. But Fresca is a mother, after all, and she'll always find a way to make her opinions known!
In CRIME RIB (2014), the TV show Food Preneurs comes to town to film the 35th Annual Jewel Bay Summer Art and Food Festival and the annual steak grill-off. Erin is content to help from the sidelines, freeing her to focus on the Merc, and to scout the festival vendors for new products. When the show's producer is killed in a hit-and-run, Festival organizers beg her to step in and help out, to give Jewel Bay a shot at national publicity. How can a local girl say no? But when the host shows her a less than camera- ready side of himself, and a contestant is attacked and killed, Erin worries that the town's reputation as a family-friendly, food-loving, vacation village will go up in flames. And when the sheriff runs out of leads, it's up to her to smoke out the truth.
Another family member steps into danger in the third installment, BUTTER OFF DEAD (July 2015). Erin and her painter pal, Christine, try to heat up chilly winter business with a new film festival. It's all about food, of course, with classic foodie flicks and favorite movie treats. But when Christine is found dead only days before the curtain rises, her brother Nick — a wolf biologist hot on the trail of a new pack, and Christine's former fiance—gets top billing on the list of suspects. As the anniversary of Erin's father Tom's death in a still-unsolved hit-and- run approaches, family tensions run high. Nick pushes Erin away, Fresca throws an uncharacteristic fit, and even Tracy, the Merc's reliable sales clerk, looks to make a move. Even the building itself —a century-old "pile of bricks"—seems to conspire against her.
But Erin and the rest of the Murphy clan beat the odds to free Nick from suspicion, solve both Christine's murder and Tom's death, and keep the Merc—the heart of Jewel Bay—alive and well.
Does your family run a business? What's been the greatest joy—and the greatest challenge?
Leslie Budewitz is the author of the Food Lovers' Village Mysteries and the Spice Shop Mysteries—and the first author to win Agatha Awards for both fiction and nonfiction. She lives in northwest Montana with her husband, a musician and doctor of natural medicine, and their cat Ruff, a cover model and avid bird-watcher.
For more tales of life in the wilds of northwest Montana, and bonus recipes, visit her website and subscribe to her newsletter.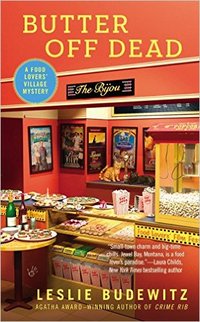 As the national bestselling Food Lovers' Village Mysteries continue, the merchants of Jewel Bay, Montana, try to heat up chilly winter business with a new film festival. But their plans are sent reeling when a dangerous killer dims the lights on a local vendor
In an attempt to woo tourists to Jewel Bay and cheer up the townies, Erin Murphy, manager of the specialty local foods market known as the Merc, is organizing the First Annual Food Lovers' Film Festival, filled with classic foodie flicks and local twists on favorite movie treats. But when her partner in planning, painter Christine Vandeberg, is found dead only days before the curtain rises, Erin suspects someone is attempting to stop the films from rolling.
To make matters worse, Nick—Erin's brother and Christine's beau—has top billing on the suspect list. Convinced her brother is innocent and determined that the show must go on, Erin has to find who's really to blame before Nick gets arrested or the festival gets shut down. But the closer she gets to the killer, the more likely it becomes that she'll be the next person cut from the program...
No comments posted.