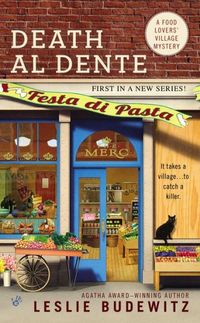 Purchase
Food Lovers' Village Series #1
Berkley Prime Crime
August 2013
On Sale: August 6, 2013
Featuring: Erin Murphy
304 pages
ISBN: 0425259544
EAN: 9780425259542
Kindle: B009RYS0HA
Paperback / e-Book
Add to Wish List

The town of Jewel Bay, Montana—known as a Food Lovers' Village—is obsessed with homegrown and homemade Montana fare. So when Erin Murphy takes over her family's century–old general store, she turns it into a boutique market filled with local delicacies. But Erin's freshly booming business might go rotten when a former employee turns up dead?
Murphy's Mercantile, known as the Merc, has been a staple in Jewel Bay for over a hundred years. To celebrate their recent makeover as a gourmet food market, Erin has organized a town festival, Festa di Pasta, featuring the culinary goods of Jewel Bay's finest—including her mother Fresca's delicious Italian specialties.
But Erin's sweet success is soured when the shop's former manager, Claudette, is found dead behind the Merc on the Festa's opening night. With rival chef James Angelo stirring up rumors that Fresca's sauce recipes were stolen from Claudette, Erin's mother is under close scrutiny. Now Erin will have to hunt down some new suspects, or both her family and her store might wind up in hot water?
INCLUDES FRESH, DELICIOUS RECIPES!
Food Lovers' Village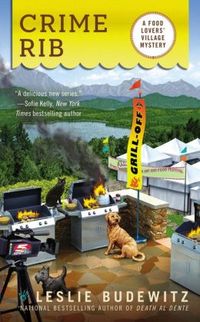 Crime Rib
#2.0
Amazon.com | BN.com | Apple Books | Kobo | Google Play
Comments
43 comments posted.
Re: Death Al Dente

I would love to win the book!!!
(Bonnie Lujan 12:36pm August 2, 2013)
I've not left home. I sometimes dream about what could have
been...
(Sandie White 12:43pm August 2, 2013)
I did leave home but I never went back. I think that no one will know me now. Maybe someday....
(Kathleen Yohanna 12:55pm August 2, 2013)
I moved away and had to go back home for a month and
everything seemed so different. It had been 4-5 years since I
had been home.
(Krysten Hager 1:31am August 2, 2013)
I only moved about a town away. Hometown is a busy city so wouldn't move back. I would just tell them to go with their feelings. Pretty book cover. Sounds like a great story. Thanks for the giveaway.
(Sue Brandes 6:59am August 2, 2013)
Your book sounds great. I didn't move away until I was in my 30's, and I've never been back. Actually, I'm ready to move on again - and try a new state. Thanks for the chance to win. Best of luck with this book - and the entire series.
(Nancy Reynolds 9:10am August 2, 2013)
I moved a few towns away and eventually moved home to help my Mom out.
(Sandy Giden 10:21am August 2, 2013)
No... never left home. But it's hard to move, I think!
(May Pau 10:23am August 2, 2013)
I moved away and never regretted it. Better life and climate.
Your book is special and unique.
(Sharon Berger 10:31am August 2, 2013)
I left home a few years ago, but have no intention of going back!! I'm out in the country now, and love the area too much to think about going back to the city!! Wild horses couldn't drag me away now!! I've put down new roots with my Husband, and this is where we've decided to stay - at least for now. I'd love to read your book, and see how your story plays out, however. I can relate to the story line, even though my Mother passed away 11 years ago. I know how strong the bond is between a Mother and Daughter. The cover to your book is very well-done as well. It's very colorful, too!! Congratulations!!
(Peggy Roberson 11:08am August 2, 2013)
My husband and I moved away for a few years because of job opportunities, but were thankful when it was possible to move back home.
(Anna Speed 11:14am August 2, 2013)
sounds like fun!
(Doris Losey 11:30am August 2, 2013)
Love the title of the book! I moved cross country and never regretted it. We still visit my family frequently and I love Florida!!
(Bonnie Capuano 11:34am August 2, 2013)
Have never moved back to my home town, nothing left there for me. Enjoyed your blog,
(Sheila True 11:37am August 2, 2013)
Thanks so much for all your comments -- love hearing different perspectives on "home." Ultimately, we make it ourselves, don't we?
(Leslie Budewitz 12:06pm August 2, 2013)
I haven't moved my place of residence in over 30 years except for college. I had a cousin we would tease because she moved so often. We would joke with her about moving house instead of spring cleaning.
(Laura Gullickson 2:23pm August 2, 2013)
Growing up I never thought it would happen, but it did! My husband and I moved back to my hometown shortly after we married to manage our family business.
(Britney Adams 2:54pm August 2, 2013)
I left home to marry and start my life in a new location. The hometown that I
grew up in is always in my heart.
(Melanie Backus 3:07pm August 2, 2013)
I have not been back to my hometown in many years but I still think about it.
(Maureen Emmons 3:29pm August 2, 2013)
I grew up in the suburbs and moved to the city after I turned 18. I moved to
the suburbs again with my husband and after a few years we moved back
to the city for good. I don't ever want to move again! Congratulations and
thanks for the giveaway!
(Linda Brennan 3:42pm August 2, 2013)
I did leave my home of Dallas, Texas to go to college in a small town in
Arkansas. I have sonce come back. But as i have heard many times
"Home is where the heart is." Thanks for the giveaway!
(Sarah Bauman 4:32pm August 2, 2013)
I never left my hometown ~ well, I did move to suburb, but my dream is to move to Sanibel Island...
(Susan Coster 4:55pm August 2, 2013)
I have never left my hometown. In fact, I'm still living where my parents has lived.
(Kai Wong 6:20pm August 2, 2013)
I miss my hometown and the people I knew there. Returning for a visit was bittersweet - so many changes, it's like a different place.
(Mary C 6:27pm August 2, 2013)
I have not left home, I've lived in the same area all my life.
(Shirley Younger 6:53pm August 2, 2013)
i have lived in the same town and around the same area my
entire life
(Denise Smith 9:56pm August 2, 2013)
I have moved away from my home town and would love to move back LOL However, I am certain nothing will ever be the same as my fond memories. Thank you for sharing with us today!
(Denise Zaky 9:57pm August 2, 2013)
i would love to move bck too.
(Debbi Shaw 10:05pm August 2, 2013)
I didn't leave my hometown like Erin did. When my parents divorced I went with my mother to her home state of California, I was 14 years old. I have only been back to my hometown in Massachusetts for visits. Thank you for this chance to win your book, it sounds great and I hope to read it. The Best To You.
(Esther Somorai 10:51pm August 2, 2013)
I've been here or close by all my life. Born across the street from where I
lived the first did months. Thought about moving a couple of times after
school, but talked out of it by family. Then after kids just stayed. :)
(Penny Mettert 10:53pm August 2, 2013)
Left, came back, left again.
(Lynn Anderson 11:02pm August 2, 2013)
I left as a child, but came back to the area now in retirement.
(Sue Farrell 11:15pm August 2, 2013)
I moved and refuse to move back.
(Alyn Yang 12:20pm August 3, 2013)
I haven't moved back to my hometown. There's no family left
there now, but I do like to visit to do family research.
(Linda Kleback 11:48am August 3, 2013)
I have lived near my hometown all my life and think
everything is smaller now, except for the number of people
which has gone up. Not realizing our town was 13,000 I
loved the small town vibes and the friendly feel. If I
moved back, I would explore all my old places and see what's
new plus check out the woods across the street from my old
house which includes a creek and a long hill.
(Alyson Widen 1:42pm August 3, 2013)
No, I didn't move back. The book sounds like a good read.
(Rita Wray 5:09pm August 3, 2013)
I moved from my hometown over 30 yrs. ago. I have gone back to visit a few times since I have family members there. I often think I'd enjoy living back there, again, in MN., but then, I remember those below zero freezing winter days and having to warm up our cars for ten minutes, just to go anywhere (and that makes me not miss it)! Not to mention, because the small city is located in the valley, along the Mississippi, it's extremely humid during the summer (like being in a sauna)! I, then, appreciate where I'm living even more, when I think back on that. It would be nice to see all the familiar faces and places I used to love going to. This sounds like a great book I'd enjoy very much!
(Linda Luinstra 5:24pm August 3, 2013)
Thanks for all the varied perspectives on home. What is "home" is as varied as we are! Thanks for commenting, and for your interest in Death al Dente.

Leslie
(Leslie Budewitz 9:31pm August 3, 2013)
I left, returned, left, returned, and left again. I
am thinking of going back, due to my
grandmother being ill, but I love where I am
now. Although I am 1000 miles from where I
grew up I think I still carry it with me. When the
time comes I will do as needed, but I know now
that I have gotten out and explored, I won't
stop. I am even thinking Europe now.
(Carla Carlson 2:31am August 4, 2013)
We moved around a lot, so no home town to speak of. Home was
where ever my parents happened to be.
(Mary Preston 6:47am August 4, 2013)
I left for 20 years and then went back for 2...big mistake for
me "You can't go home again" was so true.
(Theresa Norris 3:45pm August 4, 2013)
Death al Dente sounds like a great read. I never heard of Huckleberry Chocolate..sounds mmm-mmmm good.
Moved when the house we lived in was to be sold by my grandparents when they moved to FL. I never looked back.
(Patricia (Pat) Pascale 9:27am August 5, 2013)
I've always lived in Dublin, but my husband is from Glasgow and we occasionally visit Scotland. He's made his home with me however...
(Clare O'Beara 9:53am August 5, 2013)
Registered users may leave comments.
Log in or register now!