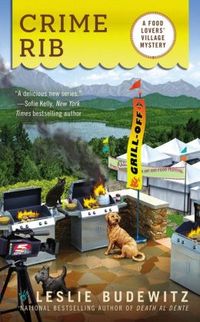 Purchase
Food Lovers' Village #2
Berkley
July 2014
On Sale: July 1, 2014
Featuring: Erin Murphy
304 pages
ISBN: 0425259552
EAN: 9780425259559
Kindle: B00HDMMJH0
Paperback / e-Book
Add to Wish List

Mystery Woman Sleuth | Mystery Cozy
Gourmet food market owner Erin Murphy is determined to get Jewel Bay, Montana's, scrumptious local fare some national attention. But her scheme for culinary celebrity goes up in flames when the town's big break is interrupted by murder . . .
Food Preneurs, one of the hottest cooking shows on TV, has decided to feature Jewel Bay in an upcoming episode, and everyone in town is preparing for their close-ups, including the crew at the Glacier Mercantile, aka the Merc. Not only is Erin busy remodeling her courtyard into a relaxing dining area, she's organizing a steak-cooking competition between three of Jewel Bay's hottest chefs to be featured on the program.
But Erin's plans get scorched when one of the contending cooks is found dead. With all the drama going on behind the scenes, it's hard to figure out who didn't have a motive to off the saucy contestant. Now, to keep the town's reputation from crashing and burning on national television, Erin will have to grill some suspects to smoke out the killer . . .
INCLUDES DELICIOUS RECIPES!
Food Lovers' Village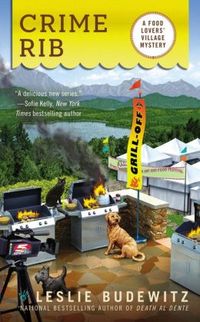 Crime Rib
#2.0
Amazon.com | BN.com | Apple Books | Kobo | Google Play
Comments
30 comments posted.
Re: Crime Rib

Looks like a great cozy mystery . Can't wait to read it.
(Kiki Winn 8:53am July 1, 2014)
Sounds like a great book. And since I haven't read the first one yet, I now have two to add to my TBR list. Thanks for this chance to win.
(Nancy Reynolds 9:43am July 1, 2014)
I enjoy reading mystery books and solve who did it by the clues.
(Maria Pucko 10:48am July 1, 2014)
Haha! Crime Rib! Sounds awesome!
(Hannah Brown 12:50pm July 1, 2014)
I think writers must not only have a great imagination, but also great writing talents----I have the imagination, but can't write a lick---I sure glad there are people like you that can.
(Sue Farrell 3:45pm July 1, 2014)
I'm really interested in a Montana based cozy. Never read any from that
area before and think it would be a fascinating place for a foodie mystery!!
(Ronna Lord 3:51pm July 1, 2014)
Thanks to you all! I wish I could take credit for the
brilliant title -- the publisher came up with it, and I think
it's perfect!
(Leslie Budewitz 4:11pm July 1, 2014)
Very clever book title since a neighboring suburb is having a RibFest this very weekend! Count me in to win!
(Susan Coster 6:25pm July 1, 2014)
I love hearing about how authors are inspired regarding
characters and situations for their stories.
(G. Bisbjerg 7:54pm July 1, 2014)
Can't wait to give it a read, sounds like a fun book. :)
(Leslie Davis 8:01pm July 1, 2014)
Sounds like a fun read
(Judy van Ryn 9:37pm July 1, 2014)
Enjoyed your blog, sounds like a great book.
(Sheila True 10:19pm July 1, 2014)
Thanks to you all for stopping by! It's a beautiful day out
here in Montana and I hope you can all visit soon -- in person
or on the page!
(Leslie Budewitz 11:07pm July 1, 2014)
Would love to win this book!
(Marie Messa 11:10pm July 1, 2014)
It looks like a good read. I like finding out how people get their ideas and it's good to know that there is some real life people who trigger ideas/characters. Anything that includes food or anything related to it sounds good to me. Thanks for the chance to win.
(Sally Hannoush 1:09am July 2, 2014)
Loving the title & story line.
(Mary Preston 6:52am July 2, 2014)
I love the cozy mysteries with recipes. Always adds to the
book and characters. Thanks for the giveaway.
(Leona Olson 7:52am July 2, 2014)
Wow, sounds like a great book to read. It seems that the
characters are great, and they will keep you questioning which
one did it, still the end. Can't wait to read it.
(Teresa Harrell 8:29am July 2, 2014)
Seems like a great book and makes me want to check for other books by this author.
(Brianna Herrera 10:35am July 2, 2014)
First of all, I wanted to say that I think the cover of your
book is absolutely adorable!! That alone makes you want to
pick up a copy of your book!! The story line sounds like
the perfect Summer read. When you add cooking to the mix,
it automatically screams cookout, even if your book doesn't
revolve around one, but the story is interesting
nonetheless. I'm looking forward to reading it, and seeing
if I can't come up with any ideas that I can send off to you
for future books. Congratulations on your book!!
(Peggy Roberson 10:44am July 2, 2014)
I am interested on how ideas come to people as well. Looks
like an interesting book. Always looking for a new to me
mystery.
(Gayle Cochrane 11:21am July 2, 2014)
Thanks for all the wonderful comments! Peggy, there is
indeed a cookout -- for two hundred people! And another on a
smaller scale, with recipes you can make to recreate the
festivities yourself -- without that pesky murder....

Happy reading -- and happy eating!
(Leslie Budewitz 11:34am July 2, 2014)
I love cozies andf this one sounds really good!
(Vennie Martinisi 12:57pm July 2, 2014)
Sounds like a great book. Your a new author to me and can't
wait to read this my favorite genre.
(Denise Austin 2:34pm July 2, 2014)
Sounds like a great cozy! Added to my TBR list!
(Amanda Ray 3:19pm July 2, 2014)
Have you ever had "Writer's Block"? If so, how did you overcome it?
(Maureen Glynn 4:55pm July 2, 2014)
I cannot believe you actually addressed that age old question
of "Where do you get your ideas?" Only a writer can be in a
God awful situation and think, "I can use this!" At any rate,
I appreciated the glimpse into the artistic process!
(Marcia Berbeza 9:19pm July 2, 2014)
This sounds like a nice little mystery. I would enjoy it with a glass of tea.
(Cindy Olp 10:16pm July 2, 2014)
Cozy Mystery are the best to cuddle with a throw blanket and tea.
(Kai Wong 1:28am July 3, 2014)
Can't wait to read this one.
(Karen Hansen 5:56pm July 31, 2014)
Registered users may leave comments.
Log in or register now!