Growing up, I was an Air Force brat. My dad retired from the Air Force when I was 3 years old, but I still had lots of time spent on Air Force bases throughout Texas for most of my childhood.
So when I learned about Sara Rosettā€™s cozy mystery series which featured an Air Force wife who was an amateur sleuth, well, I was very intrigued.
An Air Force wife herself, Sara captures the unique lifestyle of a military wife right down to the tiniest detail in her "Ellie Avery" mystery series. Her latest book, Mint Juleps, Mayhem, and Murder, is full of excitement, intrigue and Southern charm as were her previous four books. The character of Ellie is also a professional organizer, and throughout the book, Sara includes dozens of nifty tips throughout the book for busy moms.
Sara recently took time out of her busy schedule to answer a few questions about her writing!
Sharon: At what age did you know that you wanted to be a writer?
Sara: I canā€™t remember a time when I didnā€™t want to be a writer! Iā€™ve always loved books and reading. When I was a kid my favorite place was the library. I read constantly and was always making up stories and trying to think of how Iā€™d describe a scene or a person, so being a writer has been a life-long dream.
Sharon: How did you get interested in writing "cozy" mysteries?
Sara: Mysteries are my favorite type of book to read. Many years, ago I found a book by Carolyn Hart about a bookstore owner who got mixed up in a murder, the Death on Demand series. I loved the story and set out to find all the books in the series. I was hooked on cozy mysteries from then on and was thrilled to find many great authors writing cozy mysteries. I figured if I was going to try and write a mystery, I should write the kind of mystery I loved to read.
Sharon: What inspired the professional organizer theme of your series?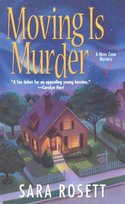 Sara: When I was putting together ideas for the first book in the series, MOVING IS MURDER, I saw a feature on a news magazine show about a professional organizer. I thought it was interesting and wanted to incorporate it into the book. I knew I wanted Ellie, my main character, to be a mom and an Air Force spouse (aspects I drew from my own life) but I didnā€™t want her to be exactly like me and Iā€™m not very organized! I do have my moments when I sort and organize, but overall I donā€™t have Ellieā€™s gift of organizing. Also, having Ellie be an organizer is a great way to give her a reason to snoop in closets and get involved in peopleā€™s lives in a very intimate way, which is a real bonus when Iā€™m plotting the books.
Sharon: What appealed to you about the genre of cozy mysteries as opposed to hardcore mysteries or suspense stories?
Sara: I enjoy reading cozies because I get a little window into another world that I usually donā€™t know anything about. It might be archeology, bookselling, or a hobby. I like these slice-of-life aspects that I get to read about in cozies. I hope that as I write about a family with a military lifestyle I can show readers a bit of what that type of life is like. The fact that most cozies are part of a series is another reason I love cozies. I want to go back and visit the characters and settings again and again!
Sharon: Your main character is an Air Force wife/mom - where did you gather your inspiration for this character?
Sara: Iā€™m an Air Force wife and mom, so I drew those details from my life. I love writing about motherhood. There are so many funny and touching things that happen to me as a mom and like being able to include small ā€˜mom momentsā€ in the books. As for the military spouse part, Iā€™ve been a military spouse for years and weā€™ve experienced both active duty and reserve. I didnā€™t know anything about the military when I married my husband, so it was a new world to me and Iā€™ve always found some things funny, some things ridiculous, and some things difficult. Like writing about motherhood, writing about being a military spouse is very therapeutic! Chronicling what it feels like to send your spouse on a deployment or welcome him home again, helps me deal with the stresses and strains of military life. And, I get to write about the great friendships you form with other military families.
Sharon: With more and more series coming out in the cozy genre, do you see the competition for readership becoming more fierce? What do you do to keep your readers coming back for more?
Sara: I try to be aware of trends in publishing, but I donā€™t try and track other series and how they are doing verses my books. Cozy readers are very loyal and are always looking for a good read, so I focus on writing the best books I can. I hope that readers enjoy reading about Ellie & Co. so much that they canā€™t wait for the next book in the series. I try to include small arcs in the booksā€"one was Ellieā€™s pregnancyā€"to keep readers coming back for the next books, but I also want each book to stand alone, so I donā€™t have a lot of complex storylines that carry from book to book. I want to give readers a fun, entertaining ride that lets them escape into Ellieā€™s world for awhile.
Sharon: The cover art on your books is just gorgeous - very eye- catching! Who does the artwork for each book, and are you consulted as to how it will look?
Sara: The publisher hires different artists for the covers. My editor always wants to know what ideas I have for the cover. I usually include some options when I turn in my manuscript. Sometimes those ideas show up on the cover and sometimes they donā€™t, but I have to say that Iā€™ve been thrilled with all my covers. I think they capture the homey feel of the Ellie books and in the last few books, which are set in the South, the covers have a Southern flair that immediately clues in readers to the setting.
Sharon: Who are some of your favorite authors? Who inspires you?
Sara: I grew up reading Nancy Drew and Trixie Beldon, then graduated to Phyllis A. Whitney and Elizabeth Peters. My favorite childrenā€™s book was THE SECRET GARDEN and I still re-read Mary Stewartā€™s books. Iā€™ve already mentioned Carolyn Hartā€"she was an inspiration to me when I attempted to write a cozyā€"and sheā€™s been so supportive.
Sharon: What do you have coming up in the future?
Sara: MINT JULEPS, MAYHEM, AND MURDER will be out in paperback next March and then the sixth book in the series, MIMOASAS, MALICE, AND MURDER will come out in April 2011.
Sharon: What advice would you have for anyone wanting to break into the "cozy mystery" genre?
Sara: Read, read, read! Know what is being published in the genre. Go to writerā€™s conferences. Look for local conferences in your area and enter your writing in contests associated with the conferences for feedback, which is what I did and it was a huge help. Also, educate yourself about the publishing business and donā€™t give up!
Many thanks to Sara Rosett for stopping by the Cozy Corner and sharing her love of writing and cozy mysteries with us! Be sure to check out her website at www.sararosett.com for more information on her books.
No comments posted.