Not very often, thankfully, life tosses in a time of great challenge to you on many levels. I am sure that many of you are nodding your head in agreement. Such has been the case in my real life this past few weeks. My mind is only just today slowing down from the whir to be able to grasp something as "normal" as writing this blog. But in the greater picture of life, it is also these moments of great challenge that can provide a clearer perspective on your life. Maybe get you to slow down a bit, or reassess your time and goals, maybe organize things a bit better to make life less stressful. There is no way of finding the magic cure-all for such moments in life--they are going to happen and it is in how I handle these times, what blessings I find, or lesson I learn, that will make the difference.
Interestingly--and perhaps it touches a part of me that has before experienced these moments--it is why I like to write about heroes and heroines, who for the most part (depending on the era) may have ordinary lives that are similar to yours or mine. Granted , we may not be experiencing firsthand ,what they are experiencing in the story, but perhaps there is a scene or a thought that the character has that you might find a kinship to. I enjoy reading about characters who seem ordinary, until something prompts them (internally or externally ) to step out of the ordinary and deal with life in an extraordinary way. The everyday hero/heroine--who may not wear a cape, who may not be totally alpha male or female, but--who when faced with a challenge or obstacle--suddenly becomes the designer of their own fate.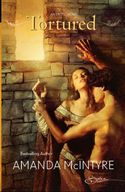 In DIARY OF COZETTE (Harlequin Spice, Oct. '08) my heroine is a homeless woman in Victorian England faced with surviving the best that she can, experiencing the harshness of life in matters of romance, lust, and greed. In my upcoming medieval historical, TORTURED (Harlequin Spice, Aug. '09) my heroine is faced at a young age with losing everything--forced into slavery, she faces mortality daily and is given choice of the same fate or remain as a slave. She has nearly given up hope when one day a prisoner arrives who may be the link to her past and her door to the future.
The man or woman who when faced with life's challenges meets them head-on. I'm not saying that because I faced the challenges in my life that I am a hero of sorts. But it does give me hope that maybe I can help someone else through a similar difficult time, or be slightly more prepared for the next time when the blender goes into high in my life! What kind of characters do you find kinship with when you read? Or do you look for the polar opposite in characters to read for enjoyment?
Amanda McIntyre Timeless Passion!
www.amandamcintyre.net
4 comments posted.
I love reading about alpha males and females - and I agree with you, I like when they make their own destiny!
(Kelli Jo Calvert 4:34pm February 2, 2009)
I enjoy all types of characters. I enjoy reading about others lives that wear a different shoe than I. This helps me to walk in theirs when I meet them in life.
(Darby Lohrding 12:22pm February 3, 2009)
I think generally I feel kinship to characters who are ordinary enough to relate to, yet placed in extraordinary circumstances. They don't have to be 'like me' for me to enjoy reading about them (for instance, Scarlett O'Hara is pretty much my polar opposite--I'm much more of a Melanie Wilkes type myself!), but I do have to know and understand where they're coming from to appreciate them.
(Kristina Cook 5:04pm February 3, 2009)