SLAY EXCLUSIVE EXCERPT
"Well, speak up, Fredrick, we are all waiting to hear your secrets."
He stood up straight like he hadn't realized he was hunching forward. "I didn't call Anita and tell her that my mother was coming because I knew Anita would have said no."
"No to what?" Grandma Blake said.
"To you coming with us, Momma."
"She has no say in this, she is a child, you are her father."
"I'm over thirty, Grandma; I have a say in my own life."
"Both you girls over thirty and no great-grandchildren yet."
I glanced at Andria, who sighed and rolled her eyes like this was a long-standing complaint. I hadn't spoken to Grandma in so long I hadn't heard it before. Both Andria and I had still been on the why-aren't-you-married-yet list for Grandma back then.
"You don't want us to have children out of wedlock, do you, Grandma?" Andria said.
"Of course not!" She sounded outraged.
"Then you have to wait for Anita and me to actually get married before there's a chance for great-grandchildren."
Grandma glared at Andria, then turned to me. "Though there will be no children from your marriage. Your demon lover is too old to beget children."
"Mother Blake!" Judith said, then turned to me. "I'm so sorry, Anita, she had no right to say that about your fiancé."
"Don't apologize for me, Judith. I meant what I said, he is a demon lover. He's an incubus, it's all over the internet."
"You can't believe everything you read on the internet, Grandma," Josh said. "We've had this talk before."
I kept my face both blank and suitably outraged because she wasn't exactly wrong. Jean-Claude was a vampire, not a demon, but his bloodline could inherit the ability to feed on lust, which was the definition of an incubus or succubus. If my grandmother had called him an incubus to his face he wouldn't have denied it, just been shocked that she knew, like I was shocked. It was supposed to be a deep, dark secret even from most of the supernatural community. So how did my grandmother know it?
I heard Jean-Claude whisper through my mind, How indeed? My reaction to my grandmother's comment combined with thinking about him too hard had opened me to him, but I didn't mind since he needed to know if our real secrets were out on the internet.
"What was that?" Grandma Blake asked.
"What was what?" I asked, looking at her.
She shivered, then glared at Nicky. "You did something just now, didn't you?"
"I didn't do anything," he said.
Had she felt Jean-Claude's power inside me? The thought was enough; Jean-Claude breathed power through me again. She rubbed her arms as if she was cold.
I stared at her and felt myself smile. It wasn't a happy smile. It was the smile I got when bad things were happening and I was ready to do something even worse to serve and protect.
"Ever seen a ghost, Grandma?" I asked.
"What are you babbling about, Anita?"
Jean-Claude was in my head thinking, You didn't know?
Grandma turned to Nicky. "You are doing something to me with your unholy powers."
Nicky almost laughed. "It's not me."
I stepped closer to her, invading her personal space. "Are ghosts all you can see, Grandma?"
"I do not see evil spirits."
"Swear to God," I said.
"What?" she asked, taking a step back from me.
"Swear before God and all his saints that you have never seen or felt the presence of a ghost."
"Anita, why would you ask her that?" Dad said, coming to stand by his mother.
I didn't use my ties to Jean-Claude; this time I called my own power. The psychic ability that let me raise zombies, sense ghosts, and be on the brink of becoming queen of the vampires, all while still being alive.
I watched the hairs on my grandmother's arms stand to attention. I felt something inside her pulse like a faint, answering heartbeat, almost lost. She wasn't a necromancer, but she was something, had always been something. While she told me I was evil and a monster because of my gifts, she'd been hiding her own.
Excerpted from SLAY by Laurell K. Hamilton Copyright © 2023 by Laurell K. Hamilton. Excerpted by permission of Berkley. All rights reserved. No part of this excerpt may be reproduced or reprinted without permission in writing from the publisher.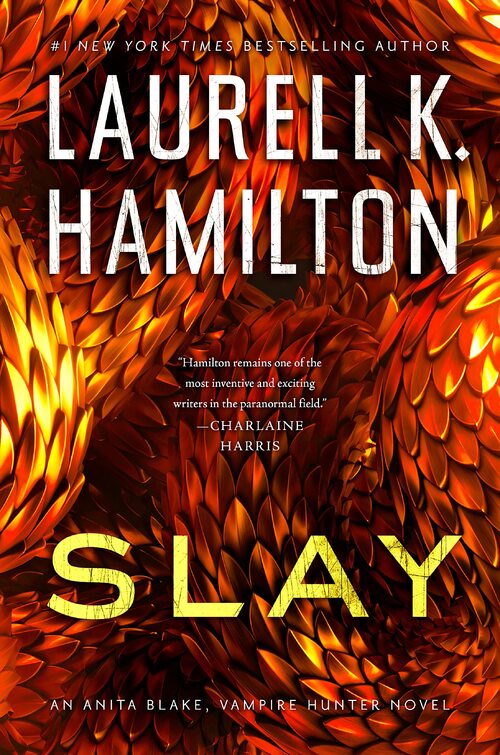 Laurell K. Hamilton has captivated readers with her gritty, seductive tales of vampire hunter Anita Blake for thirty bloody fantastic years. Now, in the thirtieth novel in the #1 New York Times bestselling series, wedding bells are ringing. But before Anita can make it to the altar, she must face an obstacle more daunting than any supernatural threat....
Necromancer Anita Blake is small, dark, and dangerous. Her turf is the city of St. Louis. Her job: U.S. Marshal—Preternatural Branch. She's faced horrifying monsters and brutal killers and come out the other side still standing.
Considering how things in her life tend to go, Anita never expected her walk down the aisle with Jean-Claude to go smoothly. They've already been confronted with naysayers and a power-hungry ancient evil, but now Anita has to do the one thing that actually scares her: introduce her very religious, very human relatives to her fiancé—the newly crowned vampire king of America.
As Anita tries to keep the peace between the family she left behind and the family she's chosen, dark forces jump at the chance to take advantage of the chaos. With her happy-ever-after at risk and everyone's immortal souls hanging in the balance, Anita grapples with a hard truth: Blood makes you related, but loyalty makes you family.
Fantasy Urban | Romance Paranormal [Berkley, On Sale: November 7, 2023, Hardcover / e-Book, ISBN: 9780593637845 / eISBN: 9780593637852]
This wedding may be the death of her or someone she loves!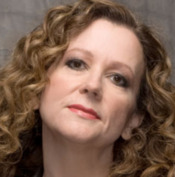 Laurell K. Hamilton is the author of the #1 New York Times bestselling Anita Blake, Vampire Hunter series and the Merry Gentry, Fey Detective series. With more than 40 novels published and 20 million books sold, Laurell continues to create groundbreaking fiction inspired by her lifelong love of monster movies, ghost stories, mythology, folklore, and things that go bump in the night. She lives in St. Louis with her family. In her free time, Laurell trains in Filipino martial arts with a specialization in blade work.
No comments posted.