1--What is the title of your latest release?
2--What's the "elevator pitch" for your new book?
When a radio relationship expert's own marriage falls apart, she invites four heartbroken strangers to join her in Italy, for a holiday of hope, fun and healing.
3--How did you decide where your book was going to take place?
I wanted to set the story somewhere I've personally been to and gorgeous Italy fitted the bill. I loved spending time in Venice, Bologna and Florence this time around, even if it was on paper rather than in real life.
4--Would you hang out with your protagonist in real life?
Absolutely. Ginny Splinter is the radio host of Just Ask Ginny, a show where she solves listeners' problems live on air. She's very caring and kind, if a little too hooked on helping others, but I'd love to share a glass of wine with her.
5--What are three words that describe your protagonist?
Caring, helpful, organized
6--What's something you learned while writing this book?
I leaned that Italians don't use the letter "x" to represent a kiss at the end of a letter or message. We do this in the UK and I believe that USA folk use 'xo' to represent a hug and a kiss. However, the letter x doesn't exist in the Italian language.
7--Do you edit as you draft or wait until you are totally done?
I edit as I draft, especially the first few chapters which I will revise many times over, to finetune the beginning of the story and my character's personality and motivations. My later chapters focus more on the action, so I will edit those ones less. I also edit throughout to make sure the story all hangs together well.
8--What's your favorite foodie indulgence?
I love hot crusty bread with real butter and a nice strong cheddar cheese. If I can add a glass of wine, that's even better
9--Describe your writing space/office!
My main space is a shed in my garden. It's a tiny little building with just enough space for a small desk, chair and bookshelves. It has a lovely view of the canal at the end of my lawn. It's really lovely to write in summer with my shed door open and watching canal boats sail past.
10--Who is an author you admire?
Taylor Jenkins-Reid writes such exciting, unashamedly commercial fiction, and I really admire author Colleen Hoover, because she's reached superstar status and her books are amazing, yet she seems very down to earth and funny.
11--Is there a book that changed your life?
A friend at work (my old job was in marketing and communications) recommended StrengthsFinder 2.0 by Tom Rath. The book helps you to discover and develop your key strengths. I've always been equally practical and creative and struggled to understand how these two very different qualities fitted together. My five key strengths are strategizing, maximizing ideas, relating to other people, collecting ideas, and being a high achiever. The book helped me to apply these strengths to my previous role and to my writing.
12--Tell us about when you got "the call." (when you found out your book was going to be published)/Or, for indie authors, when you decided to self-publish.
It was an exciting and strange moment. My debut novel, The Curious Charms of Arthur Pepper, sold to twenty-six territories, however Italy was the first one to make an offer. I remember I was going out for a meal with my family that evening and felt in a daze, trying to eat while allowing myself to believe I was finally going to be a published author, after many years of trying!
13--What's your favorite genre to read?
I like to read feel-good, uplifting novels.
14--What's your favorite movie?
I love The Secret Life of Walter Mitty, starring Ben Stiller. I think it's a wonderful and underrated film. I also love Iron Man with Robert Downey Jnr, especially the action and the character arc of a philanthropist, billionaire playboy rediscovering his ethics.
15--What is your favorite season?
Summer. I am only truly happy when the sun it out and the weather is hot. I spend all year waiting for June to arrive.
16--How do you like to celebrate your birthday?
I used to go on holiday each year, so have spent various birthdays in Ibiza, Dubrovnik and Spain. In recent years (due to the pandemic) they've been lower key. I enjoy going for a nice meal and drinks with my friends and family.
17--What's a recent tv show/movie/book/podcast you highly recommend?
I need to find time to watch the TV series of Daisy Jones and the Six. I downloaded it weeks ago and know I'm going to love it. A film I watched recently and would recommend is Last Night in Soho, directed by Edgar Wright. It was like nothing I'd ever seen before, equally interesting, intriguing, and heartbreaking.
18--What's your favorite type of cuisine?
I love food with a bit of spice or heat, so my favorite would be Mexican, closely followed by Italian.
19--What do you do when you have free time?
I enjoy walking my dog. She's a very lively terrier and likes to run everywhere, so it helps me to keep fit. I'm quite creative, so I enjoy making or altering clothes, and painting. I love going to charity shops and really need to kick my Vinted habit. I also love going out with friends, especially if there's food and fun involved.
20--What can readers expect from you next?
I'm currently writing my seventh novel. It tells of a woman who visits a fortune teller six weeks before she gets married and receives a startling prediction that re-writes her future.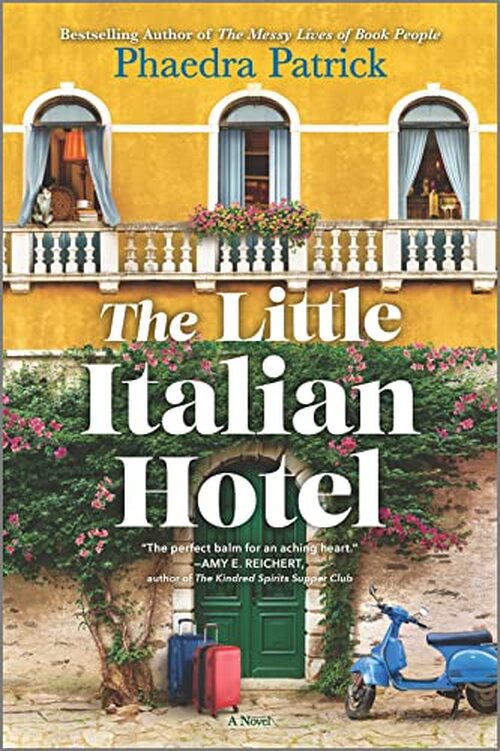 When a relationship expert's own marriage falls apart, she invites four strangers to Italy for a vacation of healing and second chances in this uplifting new novel from the author of The Messy Lives of Book People.
Ginny Splinter, acclaimed radio host and advice expert, prides herself on knowing what's best for others. So she's sure her husband, Adrian, will love the special trip to Italy she's planned for their twenty-fifth wedding anniversary. But when Ginny presents the gift to Adrian, he surprises her with his own very different plan—a divorce.
Beside herself with heartache, Ginny impulsively invites four heartbroken listeners to join her in Italy instead while live on air. From hiking the hills of Bologna to riding a gondola in Venice to sharing stories around the dining table of the little Italian hotel, Ginny and her newfound company embark on a vacation of healing.
However, when Adrian starts to rethink their relationship, Ginny must decide whether to commit to her marriage or start afresh, alone. And an unexpected stranger may hold the key to a very different future… Sunny, tender and brimming with charm, The Little Italian Hotel explores marriage, identity and reclaiming the present moment—even if it means leaving the past behind.
Women's Fiction Contemporary [Park Row, On Sale: June 6, 2023, Trade Paperback / e-Book, ISBN: 9780778387121 / eISBN: 9780369726025]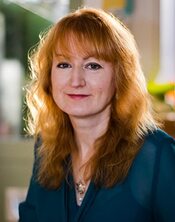 PHAEDRA PATRICK is the author of Rise and Shine, Benedict Stone and The Curious Charms of Arthur Pepper, which has been published in over twenty countries around the world. She studied art and marketing, and has worked as a stained-glass artist, film festival organizer and communications manager. An award-winning short story writer, she now writes full-time. She lives in Saddleworth, UK, with her husband and son.
1 comment posted.