1--What is the title of your latest release?
2--What's the "elevator pitch" for your new book?
Three very different sisters and their charismatic mother Margo tackle life and long-held family secrets. Set on the beautiful beaches of the Isle of Wight, The Sunday Times best-selling debut novel by Georgina Moore explores whether children can ever truly be free of the mistakes their parents make.
3--How did you decide where your book was going to take place?
We are lucky enough to own a houseboat in the sea on the Isle of Wight. We use it when we can and also rent it out as a holiday rental. It's our happy place as a family and we have many lovely memories of the children when they were little on the beautiful island beaches. One day when we were there, I saw a huge family coming out of an old, ramshackle house on the beach. They were all going sailing together. As a Londoner born & bred the close community on the island – the way everyone knows your business – fascinated me. It was so different to the anonymity of London, and I wondered what it would be like to grow up in a community like that. That was when the penny dropped, and I realized I should set my novel on the island.
4--Would you hang out with your protagonist in real life?
Oh yes, the Garnetts have amazing parties. I wrote the novel in lockdown and so I was vicariously living through those parties at a time when none of us could go anywhere. Also, they get to live in an old house, Sandcove, right on a sandy beach which is a dream of mine.
5--What are three words that describe your protagonist?
I have four strong female protagonists. A lot of people would say that Margo, the matriarch, is at the centre of The Garnett Girls. She is eternally youthful, charismatic, manipulative, and controlling. Basically, a piece of work!
6--What's something you learned while writing this book?
How hard dialogue is! The Garnett family are very close, they speak a lot on the phone, and the women all sound very similar. They pick up old strands of conversations, in jokes, that the reader is trying to understand. The reader is trying to infiltrate the intense closeness of the family, and the dialogue needs to show that closeness. I got excellent advice when editing one of the drafts of the Garnett Girls which was to make sure that each voice had its own unique cadence and rhythm but also to strip out all grammar. But to never try to imitate real speech too closely as it would be too hard to understand on the page.
7--Do you edit as you draft or wait until you are totally done?
Wait until I have the first draft all done so I can feel the flow and the arc of the story.
8--What's your favorite foodie indulgence?
Fresh Bembridge crab on the Isle of Wight or a plate of oysters.
9--Describe your writing space/office!
We live on a large two-story floating home on Taggs Island, which is an island in the River Thames. When I got my two-book deal with HarperCollins, I bought a tiny Wilderness canal boat and moored her up on the terrace at the back of our houseboat. Then I turned her in to my office/writing boat. My daughter named her Betsy, and she is perfect, one of my most prized possessions and a total haven.
10--Who is an author you admire?
I love authors like Anne Tyler who write about big, complicated families. Two favorite novels of mine in the last few years have been The Most Fun We Ever Had by Clare Lombardo and The Paper Palace by Miranda Cowley Heller.
11--Is there a book that changed your life?
Probably Anne of Green Gables. I still re-read it regularly. One of the most brilliantly depicted characters ever, so adorable yet frustrating, so flawed and real. It made me fall even more in love with reading and writing. Realising that a character in a book could become a lifelong friend.
12--Tell us about when you got "the call." (when you found out your book was going to be published)/Or, for indie authors, when you decided to self-publish.
It all went a little crazy! There was a battle as two big publishers wanted to pre-empt, and I had to choose between them. I had to speak to each editor and hear their pitch for the book. It was an exciting time; I was very lucky with the response. I just remember the kids running around all feral and wanting their dinner, and my agent ringing and ringing and having to make this momentous decision.
13--What's your favorite genre to read?
Literary fiction but the kind that is on the crossover sweet spot with commercial fiction. Good commercial fiction. I love character-driven fiction most of all.
14--What's your favorite movie?
I adore old 40s screwball comedies starring Cary Grant and Katherine Hepburn and other amazing costars - so Philadelphia Story, Bringing Up Baby, His Girl Friday.
15--What is your favorite season?
It is so hard to choose. But in the end, the long summer days win out.
16--How do you like to celebrate your birthday?
A party with champagne. Sometimes we get a warm September, and if we do, a swim in the ocean is in the cards.
17--What's a recent tv show/movie/book/podcast you highly recommend?
Daisy Jones and The Six, I loved it. Also, there is a novel coming this Summer that I loved – Bad Summer People by Emma Rosenblum.
18--What's your favorite type of cuisine?
Italian, but it has to be eaten in Italy!
19--What do you do when you have free time?
Read, read, read! Walk our dog Bomber somewhere by water. Watch the kids play sports. Get everyone to sit down together and watch a family movie.
20--What can readers expect from you next?
I have a first draft of my next novel which is set on a houseboat island. It's about two families, The Greenwoods and The Stars, the history they share on the island, and the famous history of the island's hotel, which was a mecca and haven for teenage music fans and which as a venue hosted some of the most famous bands in its rundown ballroom.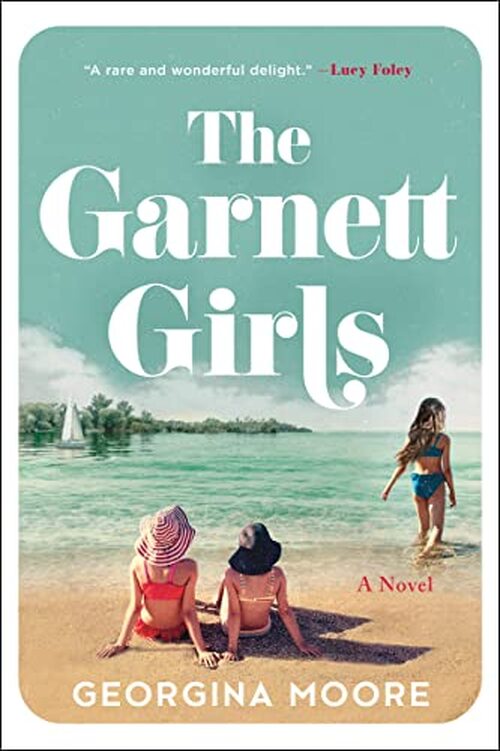 Love makes you do things you never thought you were capable of…
Forbidden, passionate and all-encompassing, Margo and Richard's love affair was the stuff of legend—but, ultimately, doomed.
When Richard walked out, Margo locked herself away, leaving her three daughters, Rachel, Imogen, and Sasha, to run wild.
Years later, charismatic Margo entertains lovers and friends in her cottage on the Isle of Wight, refusing to ever speak of Richard and her painful past. But her silence is keeping each of the Garnett girls from finding true happiness.
Rachel is desperate to return to London but is held hostage by responsibility for Sandcove, their beloved but crumbling family home.
Dreamy Imogen feels the pressure to marry her kind, considerate fiancé, even when life is taking an unexpected turn.
And wild, passionate Sasha, trapped between her fractured family and controlling husband, is weighed down by a secret that could shake the family to its core…
The Garnett Girls, the captivating debut novel from Georgina Moore, asks whether children can ever be free of the mistakes of their parents.
Women's Fiction [Avon, On Sale: May 9, 2023, Hardcover / e-Book, ISBN: 9780063293557 / eISBN: 9780063293564]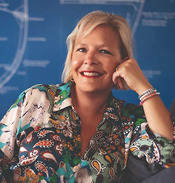 Georgina Moore grew up in London and lives on a houseboat on the Thames with her partner, two children, and Bomber, the Border terrier. The Garnett Girls is her first novel and is set on the Isle of Wight, where Georgina and her family have a holiday houseboat called Sturdy.
No comments posted.