1--What is the title of your latest release?
EXPOSED. Book 1 in the Circle of the Red Lily romantic suspense series.
2--What's the "elevator pitch" for your new book?
A distrustful Hollywood photographer and cop's reluctant partnership threatens to expose the truth about a decades-old murder and the secret society that will do anything to stop them.
3--How did you decide where your book was going to take place?
The question I asked myself at the beginning of the story was what pictures could my heroine come across that would put her in mortal danger? I knew the pictures would be old, from maybe the 40s or 50s, and for me, that era of Hollywood has always been fascinating. From then, I knew there was only one place this story could happen: Hollywood.
4--Would you hang out with your heroine in real life?
Absolutely! She's (almost) filterless which also makes her borderline hysterical in the humor department. Honest (perhaps too honest?), snappy, and quick-witted. That doesn't mean she's without fault, though. She also acts before she thinks things through, but she's also a very loyal friend who will do anything to protect the people she cares about.
5--What are three words that describe your hero?
Honorable. Dedicated. Tenacious. He earns a certain nickname in the book (from my heroine's great-aunt and he's a good sport about it).
6--What's something you learned while writing this book?
How to develop old 35mm film. I watched tons of YouTube videos that said what chemicals and supplies you need to do it relatively easily.
7--Do you edit as you draft or wait until you are totally done?
I always edit as I go. It's just easier for me than making notes and going back. Sometimes it slows the process down, but by the time I get to the end, it's a pretty clean file.
8--What's your favorite foodie indulgence?
Oh, so many, but honestly? I'd be happy with a loaf of sourdough bread and butter.
9--Describe your writing space/office!
I write in my kitchen on a laptop without virus protection (so I can't go online and procrastinate!). I've got my desk that's accented with all kinds of bee paraphernalia (I collect bees and butterflies), Tinkerbell and Wonder Woman representations, and also a selection of Barbie dolls that stand in for some of my heroines (of books I haven't yet published). I have all my reference books on a wheelie cart that doubles as a table for my notes and fan. You can always tell when I'm getting close to the deadline because the entire space gets messier as I go.
10--Who is an author you admire?
I have a lot of them. Jayne Anne Krentz. Stephen King. Dean Koontz. And of course, Nora Roberts. I've been lucky to become friends with some truly amazing writers who inspire me so much: Kilby Blades, Abigail Owen, Tara Taylor Quinn, Brenda Novak…
11--Is there a book that changed your life?
Partners, by Nora Roberts. It was a Silhouette Intimate Moments #96, I think. It was the first romance I ever read, and it made me want to become a writer. How that book made me feel? I needed to know how to do that.
12--Tell us about when you got "the call." (when you found out your book was going to be published)
I was so lucky that the call came from one of my best friends, author Melinda Curtis. She'd pitched an anthology idea to Harlequin Heartwarming and asked me to contribute a story. Harlequin bought it and Melinda called me shortly before Christmas Eve and said, "Congratulations. You're a Harlequin author."
13--What's your favorite genre to read?
Romance, hands down. But I also love thrillers and also horror.
14--What's your favorite movie?
Of all time? The Adventures of Robin Hood. Second, would be The Harvey Girls with Judy Garland. Modern-day movie? It would either be Ocean's 11 or the 2009 Star Trek with Chris Pine. I think I've watched all these at least 100 times each.
15--What is your favorite season?
Fall or spring. Anytime I don't need a jacket, but the sun is shining.
16--How do you like to celebrate your birthday?
I love to cook, so trying out new recipes or baking something is just fun for me. As long as I'm with my friends and family, I'm happy.
17--What's a recent tv show/movie/book/podcast you highly recommend?
I'm a Disney podcast junkie—especially if it's about Disneyland. My favorite is DL Weekly. Tage and Theresa just make me smile. It's my happy place.
18--What's your favorite type of cuisine?
I love Thai. And sushi. Okay, I love everything mostly, but if I'm splurging, those are my go tos.
19--What do you do when you have free time?
I read. Or binge-watch some of my favorite shows. I'm hoping to start going to writing and reader conventions again soon. And fan conventions - maybe ComicCon is in my future!
20--What can readers expect from you next?
Book 2 in this series, VANISHED, will be out in July (I'll start writing that in November). In February, I have THE PI'S DEADLY CHARADE from Harlequin Romantic Suspense and in May, the first in my new Hawai'i-set Heartwarming series will begin with HER ISLAND HOMECOMING. I should have at least 3 other releases, I think? Titles are to be determined, LOL.
Circle of the Red Lily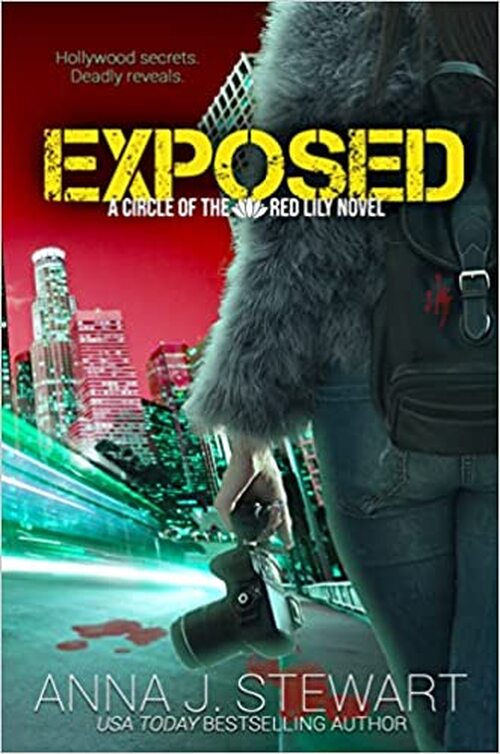 Some secrets should stay buried...
Working as a Hollywood photographer means Riley Temple has seen it all, but that theory is put to the test when she finds herself staring at the chilling image of a dead woman. When her questions about the film's origin results in an assault, a murder, and an attack on Riley herself, she finds herself reluctantly turning to the only person who assures her he can help: Detective Quinn Burton. Her history with the LAPD is complicated, but to find those responsible for harming her friends and to protect those closest to her, she's willing to do anything. Even trust a cop.
After more than a decade on the job, Quinn Burton knows a dangerous situation when he sees it and Riley Temple is neck deep in trouble. But not for the reason she thinks. Those pictures she stumbled onto could very well overturn a notorious murder conviction--a conviction partially secured by Quinn's own police commissioner father. Quinn has always prided himself on being loyal, but seeing this case through means he'll have to betray someone: his job, his family, or the woman he's falling in love with.
As Quinn and Riley's relationship deepens, their investigation reveals the false conviction is only a small part of a much bigger conspiracy. They soon find themselves targeted by The Circle of the Red Lily, a secret society that for decades has maintained influence and violent control over Hollywood's powerful elite. A group that, until now, has remained hidden in the shadows.
A group that will stop at nothing to keep their secrets buried.
Romance Suspense [CAEZIK Romance, On Sale: November 15, 2022, Paperback, ISBN: 9781647100674 / ]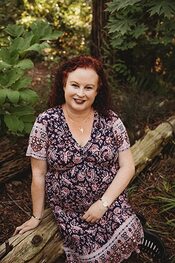 Anna J Stewart is the USA Today bestselling author of more than fifty sweet to spicy romances. Primarily writing for Harlequin's Heartwarming (sweet romance) and Romantic Suspense (spicy) lines, she also writes for Arc Manor's Caezik Romance. Her first single title romantic suspense, EXPOSED, releases November of 2022 and will launch the Circle of the Red Lily romantic suspense series.
In addition to being a Daphne duMaurier, National Readers' Choice, and Holt Medallion finalist, in 2019 one of her books (RECIPE FOR REDEMPTION) was optioned for a TV movie by Brain Power Studios and aired as a Christmas move that same year. No matter the genre, Anna's books are always about the family—both the ones we're born to and the ones we create on this crazy life journey we're all on. Anna lives in Northern California where she loves going to the movies, attending fan conventions, and heading to Disneyland, her favorite place on earth. When she's not writing, she is usually cooking, baking, binge-watching her newest TV addiction, re-watching her all-time favorite show, Supernatural, and wrangling two monstrous cats named Rosie and Sherlock. You can read more about Anna, her books, and her workshops for authors at her website.
No comments posted.