1--What is the title of your latest release?
2--What's the "elevator pitch" for your new book?
Lilly Jayne visits the town cemetery and decides things don't look quite right. Asking some questions unearths scandals, graft, and murder.
3--How did you decide where your book was going to take place?
My series is about gardening, and I was thinking about a new location and decided that having Lilly and the Garden Squad decide to clean up some old graves and plant flowers would be an interesting way to explore what might happen in a historic cemetery. What would happen if someone decided to start making more space to make some money? What else could happen there?
4--Would you hang out with your sleuth in real life?
Absolutely! She's got an interesting backstory, great friends, and a wonderful house for entertaining.
5--What are three words that describe your sleuth?
Kind, loyal, fierce
6--What's something you learned while writing this book?
I did some research on small towns and committees that help run the cemeteries. Two friends shared recent experiences with town cemetery plots as well - having to use their "space" for an aunt, so they'd need to make other arrangements, or the family plot running out of space and siblings vying for the spots. Some internet research pointed me to stories where a family went to bury one parent next to another, and someone else was there. All of that mashed up in my brain, and I made up what could happen in Goosebush, Massachusetts in the town cemetery.
7--Do you edit as you draft or wait until you are totally done?
I plot, so my first draft is thought through. I've found if I edit while I write I break the book. I need to trust my plotting, get that first draft done, and then edit.
8--What's your favorite foodie indulgence?
What a great question! A foodie indulgence would be figs stuffed with blue cheese or fresh tomatoes and mozzarella drizzled with good olive oil and balsamic vinegar. A non-foodie indulgence is all-dressed Humpty Dumpty potato chips.
9--Describe your writing space/office!
I live in a one-bedroom apartment with a large living space. I've carved out a part of the room for my office. That said, for writing, I'm usually on my couch with my laptop or standing at the bar.
10--Who is an author you admire?
There are so many. Barbara Mertz, who wrote as Elizabeth Peters, and Barbara Michaels, is one. As a reader, I love her Amelia Peabody, Vicky Bliss, and Jacqueline Kirby series. I also like her standalones. She had a long career, and as a writer, I like to see how she evolved, how she handled long-running series, and what she did to continue to challenge herself. As a reader, I can reread or listen to her books and still enjoy them.
11--Is there a book that changed your life?
That's a tough question! There are a few. THE CARIBBEAN MYSTERY is the first Agatha Christie I read, and though not her best, that started me on a journey into the Golden Age authors that led me here. But I remember reading FLOWERS FOR ALGERNON by Daniel Keyes and being very moved. Other books opened up what was possible. I'm not sure if there was one book or a series of books along the way.
12--Tell us about when you got "the call." (when you found out your book was going to be published)
My first series was written as Julianne Holmes, and it was the Clock Shop mystery series. I'd written a proposal for the series and got the call on my birthday. I was beyond thrilled. After many years of trying, I was going to get published. Honestly, THE PLOT THICKETS is my tenth published novel and it's still a thrill.
13--What's your favorite genre to read?
Crime fiction. Mysteries and thrillers. I read what I write. When I need a break, I may reach for a romance or pick up a book that's getting some buzz. But I love a good mystery.
14--What's your favorite movie?
THE BAND WAGON. I know, that's random, isn't it? I adore Fred Astaire, and THE BAND WAGON has Fred, Cyd Charise, Nanette Fabray, Oscar Levant, and Jack Buchanan. It's a movie about theater, and I worked in theater for many years. The movie makes me happy.
15--What is your favorite season?
I live in New England, and I love all the seasons except for the dead of winter—mid-January through mid-March. But I'd have to say that my favorite season is summer. Sitting on the beach and taking a dip in the cold ocean, cookouts with family and friends, wonderful seasonal fruits and vegetables, and taking walks without having to layer clothes. Summer in New England is wonderful.
16--How do you like to celebrate your birthday?
I don't love my birthday, but spending it with my sister, brother-in-law and my nieces has become my routine, and I couldn't ask for a better day. This past birthday we went to a King Tut virtual exhibition and then had a wonderful dinner. A perfect day with the people I love.
17--What's a recent tv show/movie/book/podcast you highly recommend?
THE THURSDAY MURDER CLUB series is wonderful. I usually read like a writer, and pay attention to how someone puts it together, but I enjoyed my first read of those books and forgot to pay attention to structure. I enjoyed THE AFTER PARTY on Apple TV and MOON KNIGHT on Disney very much.
18--What's your favorite type of cuisine?
I am very fortunate to live in a place where I can get all sorts of great food. I love Indian food, am very fond of sushi, and enjoy good Italian food. My favorite meal is breakfast, so having brunch is always a delight. There's a German restaurant near me that makes an apple pancake I think about a lot.
19--What do you do when you have free time?
I love going to museums or the theater with friends. I also knit and do cross-stitch. I work full-time and write, so my free time is precious, and I try to do things that recharge me.
20--What can readers expect from you next?
I'm working on a mystery centered on three women in their fifties. Stay tuned!
A Garden Squad Mystery #5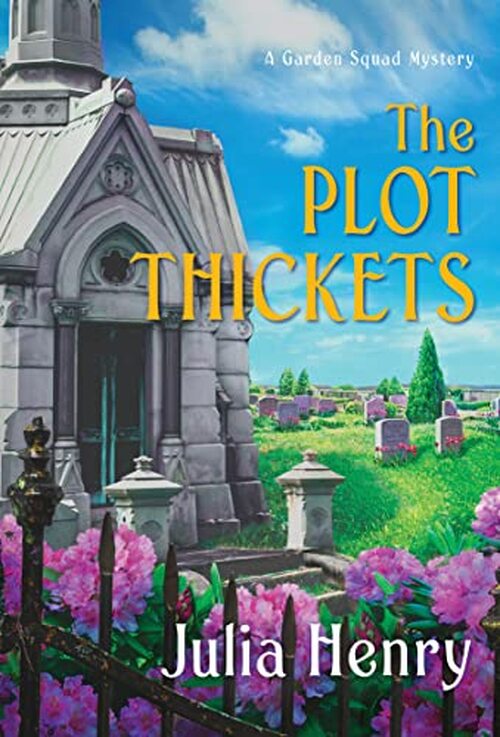 Springtime—and another murder case—comes to Goosebush, Massachusetts, in Julia Henry's latest installment in the Garden Squad Mystery cozy series featuring sixty-something gardener Lilly Jayne!
With spring's arrival in Goosebush, Lilly and the Beautification Committee turn their eyes to new projects. A cleanup of the historic Goosebush Cemetery may be in order, after Lilly and Delia find the plots there sorely neglected and inexplicably rearranged. Lilly soon discovers that Whitney Dunne-Bradford snapped up custodianship of the graveyard once she inherited Bradford Funeral Homes. But before Lilly can get to the bottom of the tombstone tampering, she stumbles upon Whitney's body at the Jayne family mausoleum . . .
Though at first it appears Whitney died by suicide, Lilly has doubts, and apparently, so does Chief of Police Bash Haywood, who quickly opens a murder investigation. Plenty of folks in town had bones to pick with Whitney, including her stepdaughter, Sasha, and funeral home employee, Dewey Marsh—all three recently charged with illegal business practices. But when the homicide inquiry suddenly targets an old friend, Lilly and the Garden Squad must rally to exhume the truth before the real killer buries it forever . . .
Mystery Amateur Sleuth | Mystery Cozy [Kensington Cozies, On Sale: October 25, 2022, Mass Market Paperback / e-Book, ISBN: 9781496733108 / eISBN: 9781496733122]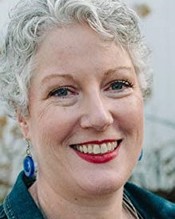 Julia Henry is thrilled to be writing the Garden Squad series for Kensington. The Garden Squad are four friends--Lilly, Delia, Tamara, Ernie--who are clandestine gardeners in their town of Goosebush, MA, solving gardening problems that the red tape of the town is tying up. They also solve mysteries that pop up.
She also writes the Theater Cop series as J.A. Hennrikus, and the Clock Shop series as Julianne Holmes.
No comments posted.