1--What is the title of your latest release?
HOT SET, Book 1 in the "Behind the Scenes" contemporary romance series
2--What's the "elevator pitch" for your new book?
When Gilly Bettencourt, a U.S. catalog copywriter, lands a writing gig on an OUTLANDER-esque TV drama that films in Ireland, she must keep her relationship with its star Jack O'Leary, the most-Googled man on the planet, a secret to preserve his public status as an available heartthrob.
3--How did you decide where your book was going to take place?
There's a wee part of me that's Irish. When I finally had the joy to visit Ireland, I fell in love with the beauty of the land and the wonderful Irish people. I visited the O'Sullivan family castles in Cork. Fixer-uppers, to be sure, but it was super cool to see where the ancestors came from. I even "borrowed" the name of Donal Cam, the lead in book's fictional TV show,"The Chieftain's Son," from an ancestor. It's a special thrill to connect with your roots. I can't think of a more perfect place for an American girl to go find the love of her life.
4--Would you hang out with your heroine in real life?
I'd absolutely hang out with Gilly. She could give me some great pointers on my golf game. Her storytelling talent and wit would make for some great pub nights.
5--What are three words that describe your hero?
Jack O'Leary is generous, devoted, and Swoon-worthy. (Capital S on purpose.)
6--What's something you learned while writing this book?
The trust and belief others have in you can override your own insecurities.
7--Do you edit as you draft or wait until you are totally done?
I go through many, many drafts, but the first one is pure storytelling, no editing allowed. I do adore shaping and tuning the story during the revision process.
8--What's your favorite foodie indulgence?
Love the cheese and onion pastie and sticky toffee pudding with ice cream at our local pub.
9--Describe your writing space/office!
It's a small cozy nook filled with Star Wars memorabilia (including a personally autographed picture of Mark Hamill- love him) and a wall for sticky note plotting. I have a gigantic monitor and ergonomic keyboard so I can write in marathon sessions comfortably without driving my eyes and hands bonkers.
10--Who is an author you admire?
I'm in awe of Diana Gabaldon. I'm an Outlander fan through and through. Every book in the series is a new delight. Her flawless attention to historic detail blended with character journeys that paint amazing portraits of the human condition is a huge artistic inspiration for me. The historical romantic TV drama, "The Chieftain's Son," in HOT SET is an homage to Outlander.
11--Is there a book that changed your life?
The Lord of the Rings trilogy. The world-building and complexity of all the moving parts and characters astounded me and deepened my perception of storytelling.
12--Tell us about when you got "the call." (when you found out your book was going to be published)
There was much nail-biting and ice cream eating as the manuscript jumped through the hurtle of an interested editor to the acquisition meeting. When the email came that HOT SET and its sequels had been accepted for publication, I cried happy tears. I love Jack and Gilly's story so much and was aching to share it with readers. Did I mention there was more ice cream eating after the happy tears? Technically, it was a kona coffee ice cream mud pie.
13--What's your favorite genre to read?
Romance in all its lovely forms, period romance, genre romance, rom-com, you name it. I'm also a sci-fi nut.
14--What's your favorite movie?
The original Star Wars trilogy – I count them as one. My boyfriend at the time dragged me to see the original Star Wars film. I had no interest in a "War" movie and was unhappy to stand in line for two hours. By the end of the movie, I was attacking the Death Star with Luke Skywalker and cheering my lungs out at the final awards ceremony. The boyfriend hated the movie. I dumped him.
15--What is your favorite season?
I'm all in for fall after the summer heat finally leaves. Bring on the pumpkin-flavored everything and candy corn. Those candy corny pumpkin-shaped candies are delicious too.
16--How do you like to celebrate your birthday?
Two words…ice cream. Okay, five words…ice cream and a vacay. I use the b-day as an excuse to travel.
17--What's a recent tv show/movie/book/podcast you highly recommend?
Resident Alien – Alan Tudyk is a national treasure. I'm also a huge fan of the Outlander, Good Place, and Office Ladies podcasts. Wil Wheaton's book, STILL JUST A GEEK, blew me away.
18--What's your favorite type of cuisine?
I love Mexican food. Bring on shrimp Dionysia and table side guacamole. Deep fried ice cream for dessert – yes please.
19--What do you do when you have free time?
I love quick getaways to the beach or mountains, especially if there's a casino nearby. The slots are calling me. I get a rush when I win $5 on a bonus.
20--What can readers expect from you next?
Book 3 in my "Rockin' Fairy Tales" adult romantasy series of Fairy Tale/Shakespeare mashups, WILD AZURE WAVES will be out in February. It's a combo of The Little Mermaid and The Tempest set against the backdrop of a fictional Hollywood music scene. Book 1, PINK GUITARS AND FALLING STARS is a Rapunzel/Romeo & Juliet retelling, and Book 2, GILDED BUTTERFLY, is a King Midas and the Golden Touch/King Lear story. Books 1 & 2 are available now.
Book 2, PRESS RELEASE, in the "Behind the Scenes" series of adult rom-coms will be out in the spring. The characters from HOT SET hit California for a Comic-Con like popular arts convention.
Behind the Scenes #1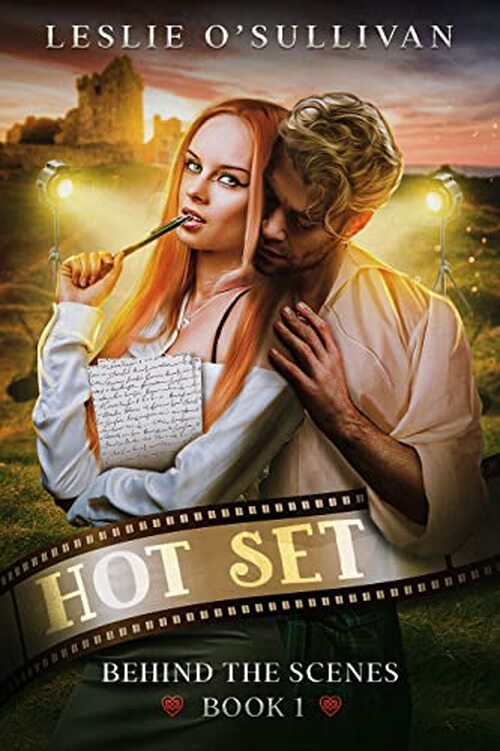 Gilly Bettencourt is almost as fed up with writing witty descriptors for a sportswear catalog as she is with her on-the-sly workplace relationship with the CEO's son that makes her feel like a dirty little secret.
After catching her boyfriend with another woman, Gilly leaps at the opportunity to head to Ireland as a writer's assistant on the much-anticipated TV show, The Chieftain's Son, an Irish historical drama based on an insanely best-selling series of romance novels.
When Gilly meets Jack O'Leary, star of the series, passion blazes between them. Unfortunately, the show insists on branding Jack as an available heartthrob—landing Gilly in the type of hush hush relationship she crossed an ocean to forget.
Can their love affair survive the demands of the show's PR machine, or is Gilly doomed to be typecast as the girl behind the scenes?
Romance Comedy [City Owl Press, On Sale: September 6, 2022, e-Book, ISBN: 9781648981852 / ]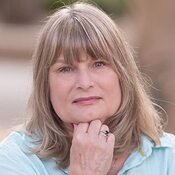 Leslie O'Sullivan is the author of Rockin' Fairy Tales, an adult romance series of Shakespeare/fairy tale mash ups set against the backdrop of Hollywood's music scene. Coming soon is her Behind the Scenes contemporary romance series that peeks into the off-camera secrets of a wildly popular television drama. She's a UCLA Bruin with a BA and MFA from their Department of Theater where she also taught for years on the design faculty. Her tenure in the world of television was as the assistant art director on "It's Garry Shandling's Show." Leslie loves to indulge her fangirl side each year at San Diego Comic Con.
No comments posted.