1--What is the title of your latest release?
2--What's the "elevator pitch" for your new book?
Death stalks the streets of Edinburgh at the birth of the NHS. In this city of lawyers, who will risk a scandal in the name of justice?
3--How did you decide where your book was going to take place?
Easy – my home city.
4--Would you hang out with your sleuth in real life?
Oh, in a heartbeat. I love her. But I wasn't alive in 1948.
5--What are three words that describe your sleuth?
Upstart, bewildered, determined
6--What's something you learned while writing this book?
From contemporary accounts: of all the odorous places in this district of the city – tanning sheds, brewery, distillery, stables, slaughterhouse – the confectionary factory was the stinkiest of all.
7--Do you edit as you draft or wait until you are totally done?
Answer: I wait till I'm done. I don't even read as I go along.
8--What's your favorite foodie indulgence?
See's Candy.
9--Describe your writing space/office!
The color scheme is seafoam and terra cotta (my favorite) and it's full of books – both mine and other people's – and full of the tchotchkes that are too kitsch/creepy for my husband to endure elsewhere in the house. There are clown pictures.
10--Who is an author you admire?
Soooo many, but I'll try. I just read Xochitl Gonzalez's debut, Olga Dies Dreaming, and couldn't believe it was a debut. It was so accomplished.
11--Is there a book that changed your life?
Hmmmmm, Delia Smith's How To Cook. Less practically, Annie Proulx's The Shipping News was the first book I remember wishing I had written.
12--Tell us about when you got "the call." (when you found out your book was going to be published)
My agent was so laidback about it. She said we'd had a fairly decent offer from a respected publisher, and she was inclined to accept. I was so speechless she thought we'd been cut off.
13--What's your favorite genre to read?
Crime fiction (despite the fact that I haven't mentioned any so far!) Inside that, psychological thrillers. I'm reading Rachel Howzell Hall's These Toxic Things right now. Great title, eh?
14--What's your favorite movie?
Ooft. North-by-Northwest (except for the last shot – eww). Or Moonstruck. I love that film.
15--What is your favorite season?
Winter. It's got Christmas and no wildfires.
16--How do you like to celebrate your birthday?
With a really unoriginal steak dinner and birthday cake. And a trip to a bookshop to spend my birthday money. It never takes long.
17--What's a recent tv show/movie/book/podcast you highly recommend?
Everyone's looking for comfort viewing at the moment. My recommendation is Detectorists. If you loved Schitt's Creek, Kim's Convenience and Ted Lasso, this is for you. Ooh – or Derry Girls.
18--What's your favorite type of cuisine?
I love all food – this body doesn't just happen! – but if I'm pressed, I'd say UK gastropub. That might be cheating.
19--What do you do when you have free time?
I read (big twist!), I garden, I like going to the pictures, cycling, cooking, baking. I don't really have "a hobby" as such.
20--What can readers expect from you next?
I always write in the crime-fiction genre, but I do get around it. As well as this historical set in the tenements in the 1940s, I write a historical series set in the 1930s, about an aristocratic sleuth. And I write modern standalone suspense (like my favorite reading!). Finally, I write comic capers about a Scot in California, called the Last Ditch Motel series. One of them – SCOT IN A TRAP – is out next.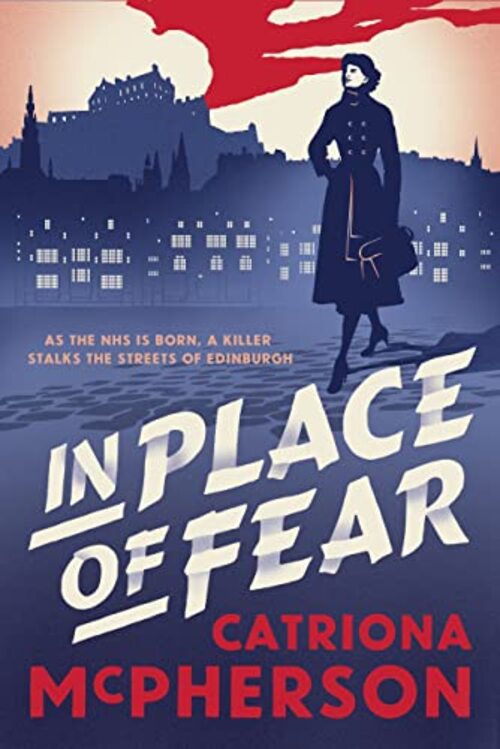 Helen leaned close enough to fog the mirror with her breath and whispered, 'You, my girl, are a qualified medical almoner and at eight o'clock tomorrow morning you will be on the front line of the National Health Service of Scotland.' Her eyes looked huge and scared. 'So take a shake to yourself!''
Edinburgh, 1948. Helen Crowther leaves a crowded tenement home for her very own office in a doctor's surgery. Upstart, ungrateful, out of your depth - the words of disapproval come at her from everywhere but she's determined to take her chance and play her part.
She's barely begun when she stumbles over a murder and learns that, in this most respectable of cities, no one will fight for justice at the risk of scandal. As Helen resolves to find a killer, she's propelled into a darker world than she knew existed, hardscrabble as her own can be. Disapproval is the least of her worries now.
IN PLACE OF FEAR is a gripping new historical crime novel that is both enthralling and entertaining, and perfect for fans of AJ Pearce and Nicola Upson.
Mystery Woman Sleuth | Mystery Historical [Mobius, On Sale: June 28, 2022, Hardcover / e-Book, ISBN: 9781529337969 / ]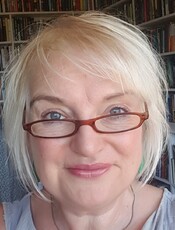 Catriona McPherson (she/her) writes preposterous 1930s detective stories about an aristocratic sleuth, darker (not difficult) contemporary psychological thrillers, and comedies set in the Last Ditch Motel in fictional (yeah, sure) California. She has just introduced a fresh character in June's 1948-set IN PLACE OF FEAR, which finally marries her love of historicals with her own working-class roots.
Catriona is a proud lifetime member and former national president of Sisters in Crime.
No comments posted.