Danielle: Hi, Roan! Welcome back to Fresh Fiction. For readers who might not be familiar, can you give us a little rundown about your Garnet Run series?
Roan: Totally! The Garnet Run series is what I'd call cozy romance. It's set in the small town of Garnet Run, Wyoming where (in my head canon, at least) everyone is queer unless explicitly stated. We start with Better Than People, in which Jack, a grouchy and antisocial artist, breaks his leg and can no longer walk his pack of rescue animals. Enter Simon, a super-shy, virgin animal lover who takes over the task. As they get to know each other, Simon falls in love with Jack's menagerie—and then with Jack himself. Jack, of course, is already smitten.
We also meet Jack's older brother, Charlie, who raised him after their parents died when they were teenagers. The second book, Best Laid Plans, is Charlie's love story. Forced to grow up at 18, when he had to raise Jack, run the family business, and pay the rent, Charlie missed out on the whole self-discovery part of being young. Now in his thirties, he's never had a relationship—he doesn't even know if he has any interest in one. He runs, snuggles with his cat, Jane, and runs the family hardware store. That's enough, right? Enter Rye, a glaring, tattooed Seattle transplant who's just inherited a house from a family member he never knew. Since Rye didn't have anything keeping him in Seattle, he was relieved for the chance to at least have a roof over his head. But when he gets to Garnet Run, he finds the house a complete shambles and decides he has no choice but to go to the hardware store and buy materials to try and rebuild it—you can learn anything on YouTube, right? Wrong.
Charlie's never been good at letting someone do things wrong right in front of him, so he offers to help Rye with the construction, and let him stay at his house in the meantime—snarly cat Marmot and all. As they share space and Charlie begins to open up to Rye about his past, he realizes that feelings for Rye have begun to stir … unfamiliar feelings he might want to explore. Rye has never really had a stable home before, so being with Charlie is a dream come true. As they fall for one another, and their cats fall for each other too, they dream up a future together—one neither ever thought was possible.
I've noticed over the course of this series, you (very generally speaking) take someone who is more introverted and pair them with someone is more extroverted. Was this something that happened organically or was it something you had planned on from the start?
Ha, you're right! Mostly, I think it's because as an introvert myself I know that it can be hard to read two POVs where someone dreads human contact, overthinks social obligations, and wishes everyone would leave them alone—hard to move the story forward, ya know?!
Of course, we must chat about the fact that THE LIGHTS ON KNOCKBRIDGE LANE is the first Harlequin category romance to have a same-sex couple as the central love story. How does this accomplishment feel for you? What kind of advice do you have for authors who want to write category romance?
It's really exciting that Harlequin category romances have made the choice to acknowledge the huge diversity of people out here falling in love! Category romance is about creating a love story where the reader can rest secure in the knowledge that no matter the twist, they will get a story that feels emotionally fulfilling in the way they desire. Of course, that should include queer characters and queer authors. As a queer person, I'm so glad that we are now included in Harlequin's vision of a happily ever after. And it's my dearest hope that The Lights on Knockbridge Lane will be successful enough that ALL the queer authors will have the same opportunity to tell our stories.
All right, on to the book! All Adam wants to do is give his daughter a wonderful holiday season after a chaotic time in both of their lives. He returns home to Garnet Run and isn't sure where to start, until he meets his quiet neighbor… What do you think Adams' return home reveals to us about his character? Does it change him?
Adam has spent his whole life taking care of other people—his family, his partner, and his daughter. He returns to his hometown of Garnet Run after his divorce because he knows it's what's right for Gus, his daughter, even though it's not his first choice. So his initial return is in the same vein as that caretaking. But once he realizes that contemporary Garnet Run is not the town he left years ago—that there are lots of other queer people now, and that downtown has woken up to the times—he begins to dream of things for himself … and meeting Wes is a catalyst for that.
Wes Mobray normally keeps to himself, but he can't deny the joy the holiday season brings to the daughter of his new neighbor, nor can he resist the allure of Adam. Wes has his reasons for keeping people at a distance, but something about Adam brings down his walls. What was your favorite part about helping Wes shed some layers?
I love Wes! The only thing I love more than an antisocial obsessoid who just wants to be left to do his own thing is when that person finds himself smitten with someone who changes his desire to be left alone. I think really it's Gus—Adam's daughter—who models the bravery and honesty that both Adam and Wes need to embrace to overcome their defenses and find each other. Gus is at an age when the world has not beaten out of her the truth of her preferences or the impetus of her desires. She wants what she wants and she likes what she likes. And, truly, her ability to express those desires is a big part of showing Adam and Wes what it would look like to express their honest desires to one another.
Earlier this year, you participated in our Valentine's Day Recipe Roundup and you shared the BEST Vanilla Crème Truffles (I know this because I made them!). I know it's still a bit early, but what's a recipe you always turn to for the holiday season? Feel free to share it with us if you'd like!
Oh, I'm so glad you made them! Gah, I'm obsessed with them. Ooh, I love gingerbread and I make it all winter long—gingerbread cookies, gingerbread cake, soft ginger loaf, just everything. It's warm and sweet but not too sweet, and just makes me feel like I'm sitting in front of a warm fire in a snow-draped cabin somewhere. I wrote a whole article about gingerbread in In the Middle of Somewhere, since Daniel loves it and Rex makes it for him—check it out HERE.
What can readers expect from you next?
Next up for me is the fourth Garnet Run novel, The Unhaunting of Casper Road, which is about a Halloween decorating contest that leads to a prank war that leads to love :D. It will be out next September.
Also out next September is my very first romcom, The Holiday Trap. I'm super excited about it. It's a double house swap romance. Greta lives on a small island off the coast of Maine with her well-meaning but very over-involved family. All she wants after a public mortification is the get out of town for a while, but she needs someone to house sit for her because her carnivorous plants can't be left unattended. Truman lives in New Orleans, and when he goes to drop of a holiday gift for his boyfriend, he finds out that the man has a whole other family that Truman knew nothing about. Horrified, he is desperate to get out of town for a while and lick his wounds, but he has a dog that he can't leave. So when a mutual friend of Greta and Truman's suggests that they swap places, they decide to do it!
Greta goes to New Orleans where she meets Carys, a grad student who does math in Jackson Square for tourists to make extra cash. They hit it off immediately and Greta finds herself welcomed into the queer community of Carys' housemates and friends. Truman goes to Maine, where he meets local florist, Ash, who is harried from dealing with his struggling business and his ailing mother. While Truman helps him get his business booming, they fall for each other. Come Christmas and Chanukah, both Truman and Greta must have reckonings to see where their hearts lie, and decide if they'll make the swap permanent.
Rapid Fire Random Questions
Summer or Winter?: Omigod winter, a thousand times winter, I loathe the sun.
A favorite bookish memory: Once, in middle school, I read The Secret Circle series all in one night. I started the first one and read it straight through to the end of the third one, finishing just as the sun was coming up. I was so captivated and utterly ensorcelled by the story that I just put my shoes on, walked down the street, and caught the bus downtown before anyone woke up because I felt so out of my head drunk on the story that I couldn't possibly be at my home. I sat on a bench downtown for a while, then took the bus home, all before anyone woke up. I still re-read that series all the time.
If you had to be an animal, what would you be and why?: For a second I mis-read that as "if you were animated" and began to imagine myself as a cartoon. Ohhh, um, I think I would be either an octopus—because they're wicked smart and so damn cool—or a cat—because it seems so peaceful to snooze all day in a patch of sun and get pet by someone who loves you. Could I be a cat that can go underwater?
A book you wish was taught in school: The New Jim Crow: Mass Incarceration in the Age of Colorblindness by Michelle Alexander
Dusk or dawn?: Dawn. I find dusk depressing for some reason. Dawn is full of possibility but also empty of people.
A personal indulgence you'll never give up: Taking time off.
Do you believe in ghosts?: I believe that there is far more going on that we as humans have access to. It seems perfectly reasonable to me that energy from a life could echo after the physical body is gone. Certainly I've had the experience of feeling strong energy attached to places or things, and I know people who have had extensive experiences with ghosts, spirits, energy signatures, whatever you want to call it, even though I haven't personally had them.
Vanilla or chocolate?: 100% vanilla. I don't care for chocolate much.
A movie or TV show that you love but feel like no one else likes: Oh, gosh, I can't think of something I like that other people don't … probably that's not possible? Everything seems to have a pretty vocal, if small, fan group. I was a massive fan of The OA, which got cancelled, but all my friends liked it too … hmmm. I failed.
You have a totally free afternoon - no deadlines, no obligations, no Twitter notifications! What do you do?: I lie in bed with my cat for a while, reading, then make coffee and sip it leisurely in my garden. Oh, afternoon, not morning. Well, this is my fantasy so I'm making it a full day! Then I work on whatever craft I'm currently obsessed with (right now it's making homemade paper out of junk mail) while I listen to You're Wrong About (my favorite podcast). While it's drying I make my girlfriend her favorite dinner and dessert and bring it over to her. I kick her ass in Tetris, then we watch Mike Flanegan's The Haunting of Hill House. Around 11pm we decide we wanna go to the beach, so we jump in the car and drive to the shore. No one is there since it's the middle of the night, so we go skinny dipping and gather shells. Then we drive back to Philly with music playing loudly, and fall into bed exhausted with the cats. Sigh.
Garnet Run #3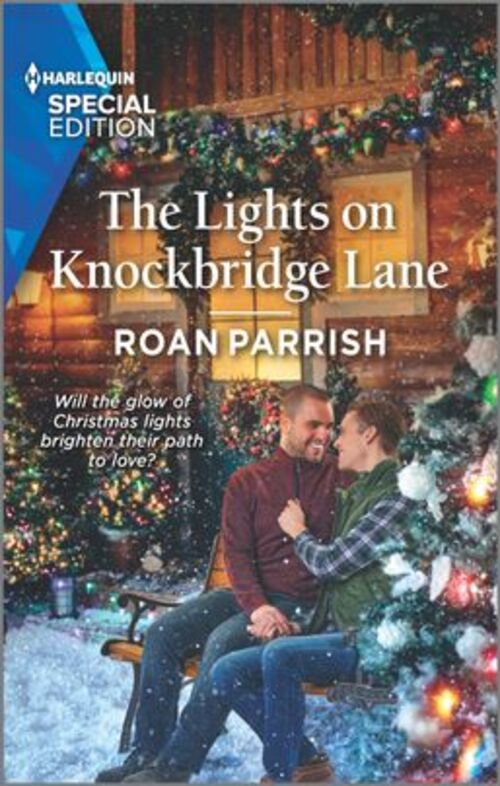 Can one man's crowded, messy life fill another man's empty heart?
Raising a family was always Adam Mills' dream, although solo parenting and moving back to tiny Garnet Run certainly were not. After a messy breakup, Adam is doing his best to give his young daughter the life she deserves—including accepting help from their new, reclusive neighbor to fulfill her Christmas wish.
Though the little house may not have "the most lights ever," the Mills home begins to brighten as handsome Wes Mobray spends more time there and slowly sheds his protective layers. But when the eye-catching house ends up in the news, Wes has to make a choice: hide from the darkness of his unusual past or embrace the light of a future—and a family—with Adam.
From Harlequin Special Edition: Believe in love. Overcome obstacles. Find happiness.
Holiday | Romance Contemporary [Harlequin Special Edition, On Sale: September 28, 2021, Paperback / e-Book, ISBN: 9781335408129 / eISBN: 9780369710284]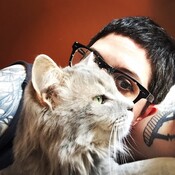 Roan Parrish lives in Philadelphia, where she is gradually attempting to write love stories in every genre.
When not writing, she can usually be found cutting her friends' hair, meandering through whatever city she's in while listening to torch songs and melodic death metal, or cooking overly elaborate meals. She loves bonfires, winter beaches, minor chord harmonies, and self-tattooing. One time she may or may not have baked a six-layer chocolate cake and then thrown it out the window in a fit of pique.
***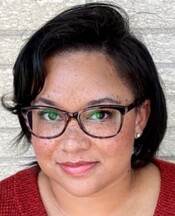 Danielle Jackson is a contemporary romance author (her debut novel with Berkley will be out in 2022!), avid reader, lackluster-yet-mighty crafter, and accomplished TV binge-watcher.
Once upon a time, she was a publisher publicist and continues to cultivate her love of books and reading by chatting with the best authors in the business as the Editorial Manager of Fresh Fiction and co-host of the Fresh Fiction podcast. Danielle is one of the Boozy Book Broads, a monthly author chat show streamed live on YouTube. She also moderates panels, interviews authors, and hosts a book club at Love's Sweet Arrow, the romance-focused independent bookstore.
Danielle lives in Chicagoland with her very own romance hero husband, darling daughter, and two tempestuous cats. Follow her on Twitter and Instagram, @DJacksonBooks.
1 comment posted.