I fell in love with mysteries at an early age. Nancy Drew, Trixie Belden, and the Hardy Boys were my first foray into the genre. Then I discovered Phyllis Whitney's young adult mysteries, Sherlock Holmes and Agatha Christie. Sir Arthur Conan Doyle's Sherlock Holmes and Agatha Christie's Hercule Poirot and Miss Marple mysteries changed my world. Hercule Poirot bragged about using "the little gray cells" while both he and Sherlock Holmes carefully observed the tiniest details and made brilliant observations around those details. Miss Marple, on the other hand, listened to town gossip and used her years of wisdom about human nature to deduce what others missed. All three of them shrewdly found the solutions to murders that stumped even the cleverest of inspectors. I devoured all sorts of mysteries and thrillers, trying to astutely deduce the murderer just as my fictional favorites of Miss Marple, Hercule Poirot, and Sherlock Holmes had done.
Recently, while driving back and forth to South Carolina, I listened to several of Agatha Christie's stories as produced by the BBC, including POIROT'S FINEST CASES and MORE FROM MISS MARPLE'S CASEBOOK. My love for all things Agatha Christie re-ignited, and what a joy for me to discover that others are feeling that same fascination with one of the greatest novelists of all time! One book, THE MYSTERY OF MRS. CHRISTIE, shines perspective on a real-life mystery I didn't even know had happened--Agatha Christie disappeared for 11 days with no one knowing a thing about where she was or if she was still alive!
Marie Benedict's THE MYSTERY OF MRS. CHRISTIE, alternates between two timelines, telling the courtship and marriage of Agatha Miller and Archie Christie through Agatha's eyes while the second timeline is of the 1926 disappearance as seen through Archie's eyes. Oh, how I want this to be the way things happened! While the storyline throws some emotional gut punches as Archie's love towards Agatha grows cold, Marie Benedict shows Agatha in the role I imagine her in when faced with her husband's infidelity. The tale is a bit like GONE GIRL but all the better because it's a very realistic scenario for a disappearance that truly occurred! One tidbit that fascinates me, particularly considering my love of Sherlock Holmes, is that Sir Arthur Conan Doyle was involved peripherally in the disappearance as he was consulted on the case and took one of Agatha Christie's gloves to a medium. How fascinating to see how their lives intertwined, albeit briefly!
Several other Agatha Christie-themed books are on the near horizon as well. THE CHRISTIE AFFAIR by Nina de Gramont, tackles the 11-day disappearance from a different angle. THE CHRISTIE AFFAIR is told from the perspective of Archie's mistress, Nancy Neele (Nancy is fictionalized as Nan O'Dea in the story). I'm looking forward to seeing how Nina de Gramont will handle Nan's character, particularly since I'm predisposed to dislike her already. After all, Nan was part of the ruination of Agatha's marriage… although Marie Benedict's book does note that Agatha Christie's career soared even higher after her marriage with Archie ended and she no longer had to cater to his whims and fancies.
In a completely different approach, Colleen Cambridge tackles a mystery at the fictional Mallowan Hall, a home she envisions Agatha Christie and her second husband, Max Mallowan, residing in. MURDER AT MALLOWAN HALL draws the reader into the lives of the staff working with Agatha and Max, as Agatha works on her mystery plotting in between hosting visitors. I love how Colleen Cambridge envisions Agatha Christie's life post-divorce and MURDER AT MALLOWAN HALL is the perfect read to follow up with after the emotions of THE MYSTERY OF MRS. CHRISTIE. Colleen Cambridge brings us back to the Agatha Christie we know through her books, even as Agatha is only a minor character. Instead, we follow the investigations and work of the housekeeper, Phyllida Bright, whose close friendship with Agatha makes her a bit more independent and daring than a typical housekeeper. And after all, wouldn't we expect Agatha Christie's housekeeper to be in the midst of the murder investigation exactly like Phyllida?
Agatha Christie's books are true treasures for all fans of the detective or cozy mystery genre, and it's thrilling to see a rekindled interest in both her and her writing. I've discovered other gems waiting to be both read and watched that tackle Agatha Christie's disappearance, and I can't wait to read them! Even more tantalizing, some of the authors, such as Andrew Wilson in his Agatha Christie series, showcase Agatha Christie solving crimes! I'm also looking forward to a not-yet-released book, MURDER ISN'T EASY, by Carla Valentine that explores the forensics of Agatha Christie's mysteries.
What's your favorite Agatha Christie story?
Debbie Wiley is a senior reviewer at FreshFiction.com
ABOUT THE BOOKS MENTIONED IN THIS ARTICLE: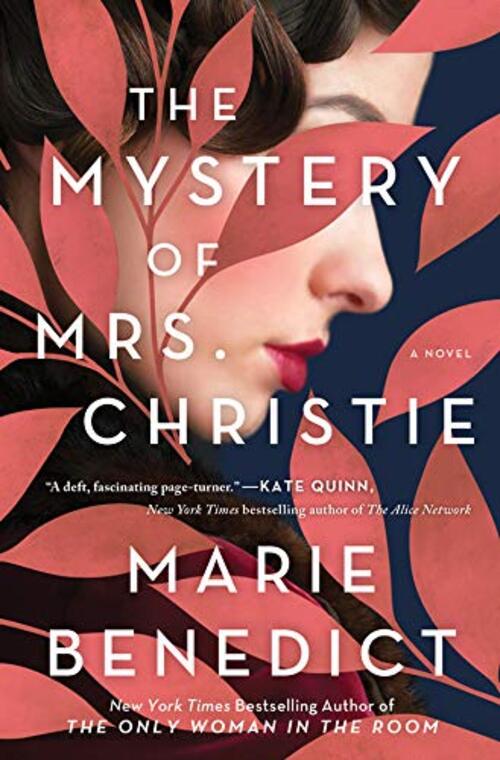 The New York Times and USA Today bestselling author of The Only Woman in the Room returns with a thrilling reconstruction of one of the most notorious events in literary history: Agatha Christie's mysterious 11-day disappearance in 1926.
In December 1926, Agatha Christie goes missing. Investigators find her empty car on the edge of a deep, gloomy pond, the only clues some tire tracks nearby and a fur coat left in the car — strange for a frigid night. Her World War I veteran husband and her daughter have no knowledge of her whereabouts, and England unleashes an unprecedented manhunt to find the up-and-coming mystery author. Eleven days later, she reappears, just as mysteriously as she disappeared, claiming amnesia and providing no explanations for her time away.
The puzzle of those missing eleven days has persisted. With her trademark historical fiction exploration into the shadows of the past, acclaimed author Marie Benedict brings us into the world of Agatha Christie, imagining why such a brilliant woman would find herself at the center of such murky historical mysteries.
What is real, and what is mystery? What role did her unfaithful husband play, and what was he not telling investigators?
Agatha Christie novels have withstood the test of time, due in no small part to Christie's masterful storytelling and clever mind that may never be matched, but Agatha Christie's untold history offers perhaps her greatest mystery of all.
Fans of The Secrets We Kept, The Lions of Fifth Avenue, and The Alice Network will enjoy this riveting saga of literary history, suspense, and love gone wrong.
Mystery Historical | Women's Fiction Historical [Sourcebooks Landmark, On Sale: December 29, 2020, Hardcover / e-Book, ISBN: 978-149268272 / eISBN: 9781492682738]
Is This the Answer to Agatha Christie's Unsolved Disappearance? I Hope So!
***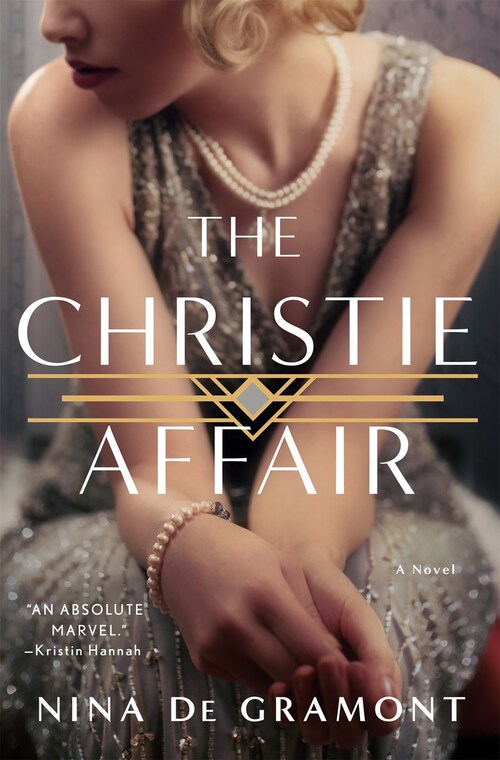 A stunning new novel that reimagines the unexplained 11-day disappearance of Agatha Christie that captivated the world.
"A long time ago, in another country, I nearly killed a woman..."

So begins The Christie Affair, told from the point of view of Miss Nan O'Dea, a fictional character but based on someone real. In 1925, she infiltrated the wealthy, rarified world of author Agatha Christie and her husband, Archie. A world of London townhomes, country houses, shooting parties, and tennis matches. Nan O'Dea became Archie's mistress, luring him away from his devoted wife. In every way, she became a part of their world--first, both Christies. Then, just Archie.
The question is, why? And what did it have to do with the mysterious eleven days that Agatha Christie went missing? The answer takes you back time, to Ireland, to a young girl in love, to a time before The Great War. To a star-crossed couple who were destined to be together--until war and pandemic and shameful secrets tore them apart. What makes a woman desperate enough to destroy another woman's marriage? What makes someone vengeful enough to hatch a plot years in the making? What drives someone to murder? These questions and more are explored in Nina de Gramont's brilliant, unforgettable, lush, and powerful novel.
Suspense Historical | Women's Fiction Historical [St. Martin's Press, On Sale: February 1, 2022, Hardcover / e-Book, ISBN: 9781250274618 / eISBN: 9781250274625]
***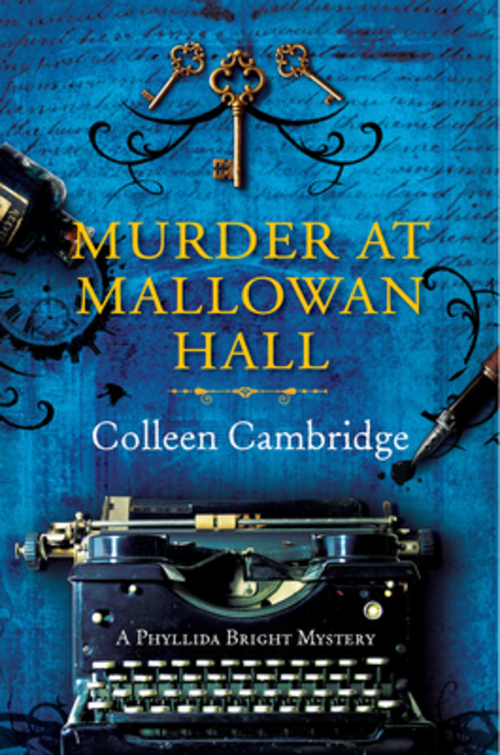 The first in an exciting new historical mystery series set in the home of Agatha Christie!
Colleen Cambridge's charming and inventive new historical series introduces an unforgettable heroine in Phyllida Bright, fictional housekeeper for none other than famed mystery novelist Agatha Christie. When a dead body is found during a house party at the home of Agatha Christie and her husband Max Mallowan, it's up to famous author's head of household, Phyllida Bright, to investigate...
Tucked away among Devon's rolling green hills, Mallowan Hall combines the best of English tradition with the modern conveniences of 1930. Housekeeper Phyllida Bright, as efficient as she is personable, manages the large household with an iron fist in her very elegant glove. In one respect, however, Mallowan Hall stands far apart from other picturesque country houses...
The manor is home to archaeologist Max Mallowan and his famous wife, Agatha Christie. Phyllida is both loyal to and protective of the crime writer, who is as much friend as employer. An aficionado of detective fiction, Phyllida has yet to find a gentleman in real life half as fascinating as Mrs. Agatha's Belgian hero, Hercule Poirot. But though accustomed to murder and its methods as frequent topics of conversation, Phyllida is unprepared for the sight of a very real, very dead body on the library floor...
A former Army nurse, Phyllida reacts with practical common sense--and a great deal of curiosity. It soon becomes clear that the victim arrived at Mallowan Hall under false pretenses during a weekend party. Now, Phyllida not only has a houseful of demanding guests on her hands--along with a distracted, anxious staff--but hordes of reporters camping outside. When another dead body is discovered--this time, one of her housemaids--Phyllida decides to follow in M. Poirot's footsteps to determine which of the Mallowans' guests is the killer. With help from the village's handsome physician, Dr. Bhatt, Mr. Dobble, the butler, along with other household staff, Phyllida assembles the clues. Yet, she is all too aware that the killer must still be close at hand and poised to strike again. And only Phyllida's wits will prevent her own story from coming to an abrupt end...
Mystery Historical | Mystery [Kensington, On Sale: October 26, 2021, Hardcover / e-Book, ISBN: 9781496732446 / eISBN: 9781496732460]
2 comments posted.