Welcome to Fresh Fiction, Janet! Congrats on your new novel, THE JUICE. Can you introduce yourself and tell us a little bit about your book?
Thank you so much for featuring me! I'm thrill-honored.
I kind of live a double life. On the one hand, I'm a longtime journalist who fell into writing about media companies a long time ago. They are constantly changing, and utterly fascinating to me. On the other hand, I have been a teller of fictional tales ever since I was a little girl in a tiny upstate New York village called Franklin. (Now I live in the Bronx, and I can pull out the attitude to prove it!)
I like to write fantasy and sci-fi stories that take conditions present in the world today and play them forward, into another space and time. That's what I did with THE JUICE, which is a cyberpunk sci-fi tale about a secret substance that makes people incredibly charismatic, with god-like abilities. They are "used" by a media company to bend public thought to its will. Three unlikely allies try to stop this: a dirt-poor, homely teen who becomes a sort of Cinderella when she takes the Juice; a rebel tech-head avenging the death of a friend, and a media executive with a secret agenda all her own.
My work as a screenwriter has been selected to be part of The Writers Lab for Women, funded by Meryl Streep, Nicole Kidman, and Oprah. And one of my short stories appeared in Asimov's magazine.
Your background is in screenwriting--was the process of writing your novel similar to that of working on a screenplay? How was it different?
I like to joke that writing a novel is like swimming across the ocean. For me, writing THE JUICE was a much longer process than writing a screenplay. Feature film scripts can usually be read in a couple of hours and involve around 100 pages. Novels can be four times as long.
As I'm sure you know, films or TV shows involve a host of people to make the world of the story come alive. A script writer's job is to create a kind of skeleton, and other people add their own unique layers--actors, directors, cinematographers, editors, set designers, costume designers, to name but a few of the hundreds of people that can be involved.
In a sense, novelists take on all of those roles. Writing THE JUICE was a creative release for me because I could really pull out all the stops in developing a complete world, including the character's internal thoughts and richer descriptions that involve all five senses.
Set in the near-ish future, THE JUICE deals with events surrounding a powerful and mysterious chemical that makes people incredibly charismatic. Where did the idea for THE JUICE come from? What influenced your story?
Over the years, I've interviewed a lot of media executives at big companies like Disney and NBCUniversal. Because I was writing for business publications, the focus was often on what they were likely to do in the future--what new content they were creating, what new technology they were developing. And along the way, I was also observing how media and advertising companies enticed people to buy certain products or services--or elect certain politicians.
All of that sparked my fantasies about what media companies might be like a few decades into the future--and how their methods of shaping public behavior and opinions might change with increasingly sophisticated forms of science and technology.
Your book has elements of science fiction, political drama, and espionage (and so much more!). How do you balance a complicated narrative with so many different "layers" to tell an entertaining story?
It took some doing. (I'm chuckling here.) Especially because I was learning the craft of novel writing as I created THE JUICE.
It took me several years to make sense of all the ideas for characters and storylines that were crowding my head. I would write the book for a while, then put it down, then pick it up months later. In between, I was writing other things. But a few years ago, I just decided, "This Cinderella is going to the ball." At that point, because I'd done so much work before, it crystallized much more clearly in my mind.
You have worked in the entertainment business for a long time, as a journalist, screenwriter, and author. What changes have you noticed over the years? What do you hope to see continue to change?
The changes are enormous, and many of them I couldn't foresee. At one time it was novel to learn of a news channel in the United States that was largely emitting the views of one political party, or one President. Sure, in Italy, Silvio Berlusconi had created a dominate media empire and eventually ran the country as a direct result of that control. But a commercial network that was in large part a mouthpiece for a U.S. President? Didn't see that coming way back when.
Nor did I ever envision the day when I'd find myself writing about the number of journalists violently attacked across America simply for trying to cover the news. (There were 343 last year, according to the U.S. Press Freedom Tracker.)
The rise of social media was another enormous change. I've also watched as people involved with marketing are using increasingly sophisticated techniques to monitor what consumers do and to make predictions about what they'll do tomorrow. There are regulations in place that try to block marketers from peering into our private lives too closely. And we're likely to see more of them enacted. I hope so.
I also hope that our lives will be enriched by increasingly more imaginative forms of entertainment and that we'll be given more tools to understand when lies are being perpetrated—that we can get at the truth either on our own or with the help of tough, honest journalism.
You'll find some nefarious characters who work for media companies in THE JUICE. It was fun to create them. But I've met a lot of really talented and ethical people in the entertainment and news businesses. And I count some of them as my most interesting and amusing friends. So it was also fun to create one of my main characters, Petra. While I see potential dangers involving media in the future--some of which I explore in the novel—I choose to remain optimistic.
I often find that authors give the best pop culture recommendations! What have you been reading/watching/listening to lately?
I just finished reading Octavia E. Butler's PARABLE OF THE SOWER and PARABLE OF THE TALENTS, which were deeply impressive. She didn't just create a futuristic world that seemed believable; she created a religion.
On TV, my husband and I just finished streaming a miniseries called ALIAS GRACE, which was transfixing. It is based on a Margaret Atwood novel that's set in mid-1800's Canada and explores a mysterious double murder, based on a real case. And also, we are caught up in the second season of BROADCHURCH, which is about a mysterious murder in a small seaside town in England, starring a younger Olivia Colman--whom I grew to really admire for her portrayal of Queen Elizabeth in THE CROWN and before that Queen Anne in THE FAVOURITE. For a chaser to the mayhem, we tend to watch Stephen Colbert.
In podcast land, I'm a huge fan of The New Yorker Radio Hour. And I also enjoy Meditative Story, which features stories told by people who are often quite inspiring. There mediation breathing exercises interspersed within the stories, which deepens the experience and can relax the mind. My morning wake-up app is Democracy Now, with Amy Goodman, who often focuses on stories you don't get in mainstream media. And I couple that with the previous night's Rachel Maddow Show (because if I watched her at night I'd never fall asleep)
What can readers expect from you next?
I have something tickling my brain that I've tried out as a short story and also as a TV series pilot that is in the fantasy realm. As with THE JUICE, it involves a search for buried truths.
Rapid Fire Random Questions
Cats or dogs: Cats
Book you recommend the most: Isak Dinesen's short story anthologies, Amor Towles' A GENTLEMAN IN MOSCOW, Gabriel Garcia Marquez's ONE HUNDRED YEARS OF SOLITUDE
Favorite smell: Coffee
Ketchup or mustard: Mustard
You've been invited to a costume party - what do you dress up as?: A chocolate ice cream cone.
What fictional city/location would you visit?: All the places Lyra visited in HIS DARK MATERIALS
Favorite childhood movie: THE WIZARD OF OZ
How do you practice self-care?: Meditation
Breakfast or dinner?: Both. Can't choose.
You have a totally free afternoon - no deadlines, no obligations, no Twitter notifications! What do you do?: Roam through the woods and around the bird sanctuary in Van Cortlandt Park or the gardens of Wave Hill, both in the Bronx.
--
COMMENT TO WIN: For a chance to win a copy of THE JUICE by Janet Stilson, leave a comment below telling us why you enjoy reading science fiction! US Winners only; Good Luck!
--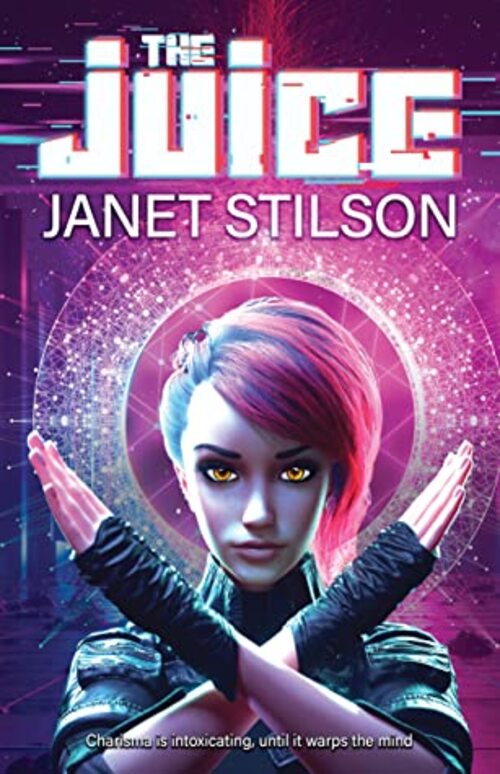 When charisma is a superpower, it's a mind-bending force.
Jarat Ellington was just an exile from Elite society, trying to lead a simple life, when a genius friend dropped an explosive mystery in his lap. The old pal, Thom Tseng, created a priceless chemical substance called the Juice that turns mildly charming people into almost god-like presences, known as Charismites. But the Juice is stolen, and Thom killed.
With the help of a secret organization, Jarat goes on an obsessive quest to uncover the deadly adversary who now controls the Juice. He must fight his intense attraction to a Charismite named Luscious Melada—once a dirt-poor, homely teen who transformed into an extremely magnetic starlet. And he goes up against Petra Cardinale, a powerful, ambitious media executive with a secret agenda.
THE JUICE is at turns an espionage rollercoaster ride and a spellbinding romance. Along the way, it explores the future of America and government control of media.
Don't miss The Juice, by Janet Stilson. If you love the cyberpunk science fiction of William Gibson; the dystopian world of A Handmaid's Tale; or sci-fi detective novels, this story is for you. Come check it out.
Science Fiction | Dystopian [Dragon Moon Press, On Sale: February 9, 2021, e-Book, ISBN: 9781774000229 / ]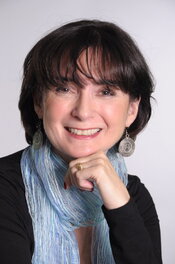 Janet Stilson lives in two worlds. On one hand, she is a journalist. On the other, she writes scripts, novels and short stories that largely fall in the grounded sci-fi and fantasy genres and illuminate the human condition in provocative ways.
Her work has been selected to be part of the Writers' Lab for Women, which is funded by Meryl Streep and Nicole Kidman. Stowe Story Labs also selected one of her scripts to be part of its intensive mentorship program in 2018.
She wrote and produced a short film, "The Beauty of Disaster," which screened in Los Angeles and New York several times; was honored with an award; and licensed to a cable channel.
As a journalist, Janet got her "chops" at the storied showbiz bible "Variety." She has traveled the world, chronicling the business of media and entertainment. It afforded her many busman's holidays in places like Shanghai and Paris, for which she is forever grateful. Along the way, she interviewed lots of executives about many aspects of showbiz – most notably, where the heck we're all going. That work inspired her futuristic novel, "The Juice."
Janet has been an artist in residence at Dorland, a retreat in Southern California; the Julia and David White Artists' Colony in Costa Rica; Odysseys, also in Costa Rica, and La Muse in southern France.
Today, Janet lives in New York with her husband and two opinionated cats. It's a world away from her childhood home in Franklin, a gorgeous upstate New York village. Cars pass through Franklin in almost the blink of an eye, and she hopes it stays that way.
9 comments posted.
I love science fiction because it presents a different world view and often predicts what is to become of our world in the future.
(Linda Gawthrop 7:38am February 11, 2021)