1--What's the name of your latest release?
Conventionally Yours!
2--What is it about?
This is my gamer road trip rivals to lovers story about two tabletop gaming frenemies forced to take a cross-country road trip together to a huge convention. Along the way, they discover the true depth of their feelings for each other. Also, they confront everything from car trouble to hotel rooms with only one bed!
3--What word best describes Alden?
Perplexing. He's driven, determined, complicated, smart, stubborn, and also deeply loyal, moral, and good in a crisis. And he's good at driving Conrad up a tree!
4--What makes Conrad irresistible?
He's handsome in a boy-next-door way, but he's also funny, helpful, kind, principled, spontaneous, and resourceful. And he's everything Alden has never realized he needs.
5--Who are the people your main characters turn to when they need help?
I love the secondary characters in this book. They have a pretty strong cast of characters, from friends like Jasper and Payton to the Professor whose car they are driving and who functions as sort of a surrogate grandpa for the group. Alden's moms are also important to the story, as are people they meet along the journey.
6--What do you love about the setting of your book?
I know it's weird to be talking about road trips and conventions during these trying times, but under normal circumstances, there is nothing I love more than a road trip. Load me up with snacks, put some music on, get me my knitting and I'm ready to be the best navigator. I wanted to showcase that love of the great American road trip here. A lot of the places they stop are places that I've been and loved. And I love big conventions too. I'm very much an introvert but there's nothing quite like being at a huge gathering of people who all share your interests whether its books or fandom or a game.
7--Are you a plotter (follow an outline) or a pantster (write by the seat of your pants)?
Plotter! I like to outline before I start and then I stick pretty closely to the outline, but I always end up surprised along the way too!
8--What is an ideal writing day for you?
Quiet with an early start. An ideal day would actually start the night before with plenty of sleep so that I'm ready when the alarm goes off. I'd get a good breakfast and an iced coffee and get lots of words while my favorite music plays and stop in time to make dinner for the family. I'm pretty easy to please!
9--Do you listen to music while you write, need total silence, or do you have the TV on?
I listen to music! I have a playlist for all of my books and works in progress on Spotify!
10-- How do you approach research?
I love research! I approach it in a couple of different ways. Before a story starts, I like doing background research and background reading to get a feel for the place and the professions and other story elements. Then as the story is underway, I research as needed, and then at the end, in edits, I may do additional research to fact check elements or make changes suggested by beta readers.
11--What is your publishing journey story?
It's a long one. I wrote my first full-length novel in 2003. In 2012-ish, I finally sold a book, TREBLE MAKER, to Kensington and landed my first agent. It was about eight or nine books and some novellas before I finally sold. Since then, I've written about 35+ books, including CONVENTIONALLY YOURS which is the newest one out now. I've been fortunate to work with some amazing publishers, editors, agents, and on my own as well.
12--Do you have critique partners/writing groups you want to give a shout-out to?
I have far too many friends to list here who lift me up daily. I know I'd end up leaving someone important out! My reader group, Annabeth's Angels on Facebook is one of my favorite things and I couldn't do it without my amazing readers. Join us! It's a fun, supportive place for both readers and other authors.
13--What're the most frustrating things about being an author?
I actually like almost everything about being an author other than when the words aren't flowing! I wish there were more hours in the day too! And marketing remains a challenge, but I still love this job.
14--What's your favorite scent?
Coffee + vanilla
15--What movie will you watch no matter what if it's on TV?
Breakfast Club. Runners up: Steel Magnolias, Jerry Maguire, Pitch Perfect.
16--Do you like breakfast, lunch, or dinner best?
Breakfast. Give me a big brunch with omelets, bacon, sausage, fruit… Love breakfast foods!
17--What's one thing you wish you knew more about?
Music. I don't have the sort of brain that works musically, and I wish I knew how to process notes and things about music like musicians can.
18--What's the silliest thing you've recently done?
I got cat ear headphones that light up for when I go live on social media!
19--What can readers expect from you next?
Upcoming, I am continuing my smoke jumper series, Hotshots, with High Heat coming in July and Feel the Fire in October. And the Conventionally Yours universe is continuing in 2021 with a book 2 starring a different couple but same gamer fun! I'm writing it now and I love it. Lots of other fun stuff coming including a busy 2021!
20--How can readers reach you?
My website and social media are all great ways to reach me! I check my DMs regularly on all channels. And my reader group on Facebook, Annabeth's Angels, is always looking for new faces!
True Colors #1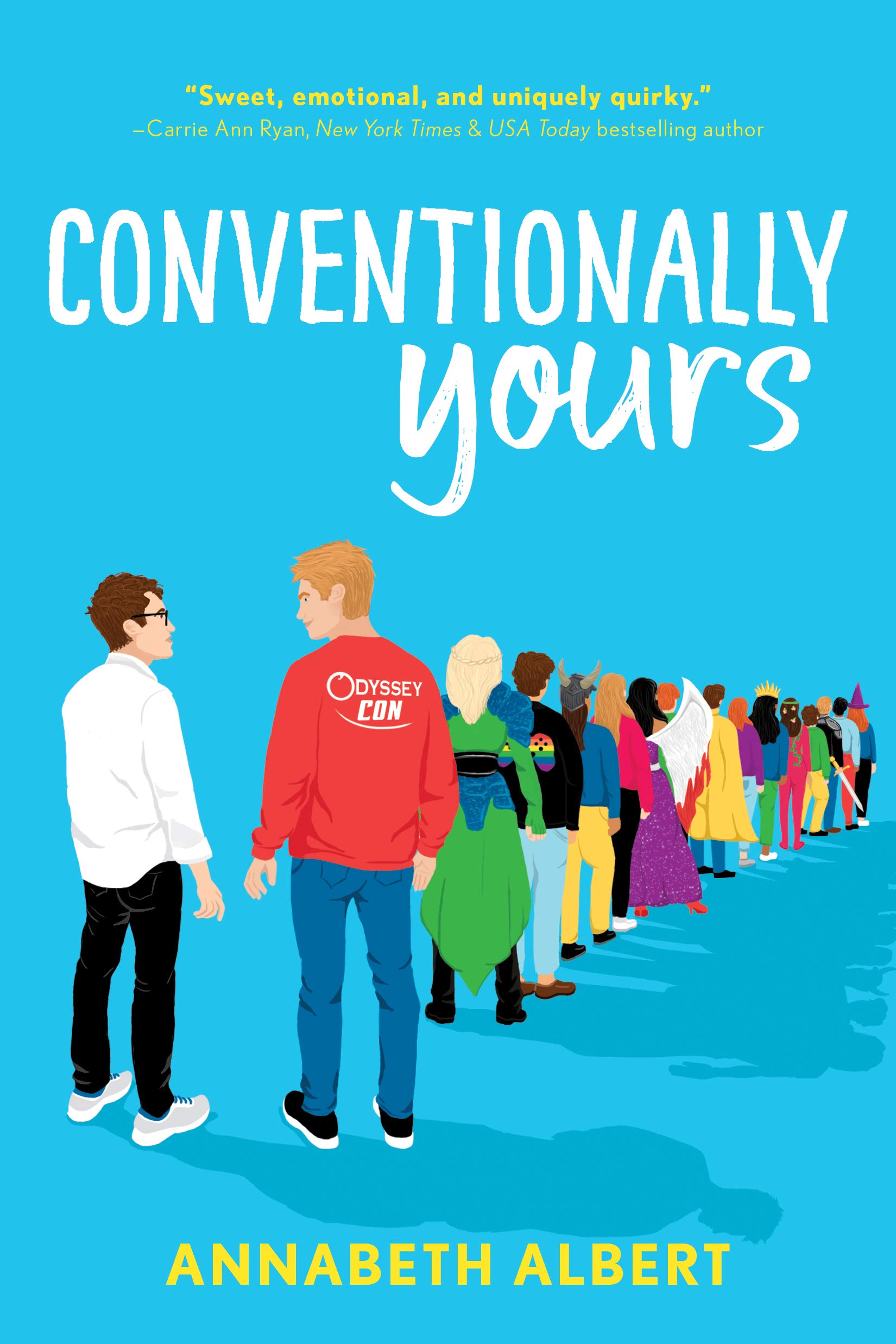 When two "big name fans" go head-to-head at a convention, love isn't the only thing at stake.
Charming, charismatic, and effortlessly popular, Conrad Stewart seems to have it all...but in reality, he's scrambling to keep his life from tumbling out of control.
Brilliant, guarded, and endlessly driven, Alden Roth may as well be the poster boy for perfection...but even he can't help but feel a little broken inside.
When these mortal enemies are stuck together on a cross-country road trip to the biggest fan convention of their lives, their infamous rivalry takes a backseat as an unexpected connection is forged. Yet each has a reason why they have to win the upcoming Odyssey gaming tournament and neither is willing to let emotion get in the way—even if it means giving up their one chance at something truly magical.
Fiction [Sourcebooks Casablanca, On Sale: June 2, 2020, Trade Size / e-Book, ISBN: 9781728200293 / ]
A fun, new adult, road-trip novel... heartfelt and humorous.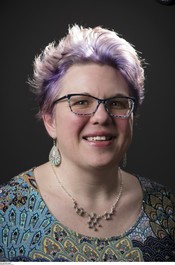 Annabeth Albert grew up sneaking romance novels under the bed covers. Now, she devours all subgenres of romance out in the open—no flashlights required! When she's not adding to her keeper shelf, she's a multi-published Pacific Northwest romance writer. She has penned many critically acclaimed and fan-favorite LGBTQ romance series.
Emotionally complex, sexy, and funny stories are her favorites both to read and to write. Annabeth loves finding happy endings for a variety of pairings and particularly loves uncovering unique main characters. In her personal life, she works a rewarding day job and wrangles two active children. She's a compulsive knitter, late night reader, obsessive gamer, and happy bi-pride flag waver.
No comments posted.