ASHLEY WEAVER is the Technical Services Coordinator for the Allen Parish Libraries in Louisiana. Weaver has worked in libraries since she was 14; she was a page and then a clerk before obtaining her MLIS from Louisiana State University. She lives in Oakdale, Louisiana.
Ashley Weaver was interviewed by our Senior Reviewer, Miranda Owen
Your newest mystery – AN ACT OF VILLAINY – involves actors and the theater world. Was that especially fun to write about?
It was incredibly fun! I have always been fascinated by the theater world. There's something so magical about being transported to another place through the actions of the people onstage. I liked the idea of inserting Amory and Milo into the sphere of bright lights and entertainment and then incorporating a sinister element. A theater is, after all, an excellent backdrop for a dramatic murder mystery!
I love the level of detail you put into each "Amory Ames" story, like with the perfume trivia in your most recent book THE ESSENCE OF MALICE. How much research is involved with each book you write?
Some books, like THE ESSENCE OF MALICE, require more research than others. I didn't know much about the various perfumery processes beforehand, so I did a lot of reading on that subject. For AN ACT OF VILLAINY, I bought some books on the history of British theater. I was also lucky enough to attend Agatha Christie's The Mousetrap at the St. Martin's Theatre on a visit to London a couple of years ago, so that provided some additional inspiration! In general, I have done quite a bit of research on the 1930s, so I start each book with that base knowledge, as well as an overall familiarity with whatever subject might relate to the murder. Anything else that needs to be researched, I do as I go along. And, of course, being a librarian gives me easy access to all the research materials I could ever want!
I love Amory's wardrobe changes. Each outfit is easy to visualize and drool over. Are you a history buff and get your ideas from actual items of clothing? Why write about the 1930s specifically?
I have long been a fan of vintage fashion, and there's just something so elegant about the 1930s. I grew up watching a lot of old movies, and I loved the picture they presented, especially the glamour and sophistication of men in tuxedos and women in evening gowns dancing the night away in Art Deco nightclubs. That initial love for the era proved long-lasting and extended far beyond fashion. I knew immediately when I started the Amory Ames series that Amory belonged in a 1930s setting. When writing about her wardrobe, I find a blend of research and imagination works best. I will often take bits and pieces of actual clothing from that era and then write them in colors and fabrics that are Amory's style.
Amory and Milo Ames have an occasionally tempestuous relationship. Is it difficult balancing their relationship drama with the mystery?
I knew from the start of the series that I wanted Amory and Milo's marriage to be an example of "after happily-ever-after." They had a whirlwind courtship and married before they knew each other well, so the idea of exploring what happens when the honeymoon is over was very appealing to me. I feel that the struggles in their relationship and the ways in which they have begun to grow as a couple coincides nicely with their detecting endeavors; their involvement in mysteries has taught them to communicate and has built their trust in each another. As they work as crime solving partners they are developing the skills to make them better life partners.
Your main characters in this mystery series have been compared to the classic Dashiell Hammett characters Nick and Nora Charles, and your stories make me think of everything I love about Agatha Christie and Dorothy Sayers mysteries – what authors or books have influenced your writing? Who are some of your favorite books and authors?
I am so flattered by these comparisons! Agatha Christie is, of course, the Queen of Crime, and I love her books and admire the way she can simultaneously give you pertinent clues and lead you astray. I also really love Georgette Heyer. Her dialogue, especially, is so enjoyable—always sharp and quick-witted. As for favorite modern authors, lately I have been reading a lot of Liane Moriarty. She has such a distinctive storytelling style and wonderful, relatable characters. I have both laughed out loud and cried during every book of hers I've read.
The covers of your books are beautiful. As artwork they are amazing, and I currently have one as the background on my laptop. How much input do you have into how the covers look?
Thank you so much! All credit for the gorgeous covers goes to David Baldeosingh Rotstein for the jacket designs and John Mattos for the jacket illustrations. They have done an absolutely outstanding job with my covers, and I've loved each one more than the last!
What are you currently working on now?
I actually just finished up the 6th Amory Ames Mystery, so I'm taking a little break before I jump into #7. There is more of Amory and Milo to come!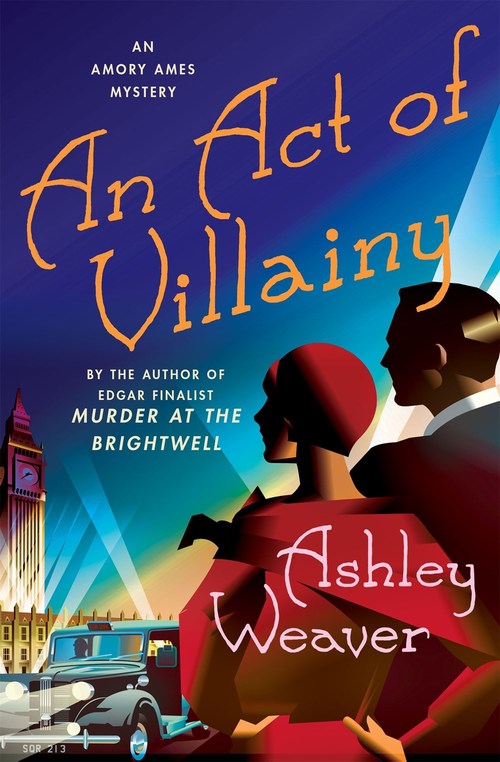 An Act of Villainy is an a gem, set in 1930s London and filled with style, banter, and twists that traditional mystery fans will positively relish.
"So you've gotten yourself involved with another murder, have you?"
Walking through London's West End after a night at the theater, Amory Ames and her husband Milo run into wealthy investor and former actor Gerard Holloway. Holloway and his wife Georgina are old friends of theirs, and when Holloway invites them to the dress rehearsal of a new play he is directing, Amory readily accepts.
However, Amory is shocked to learn that Holloway has cast his mistress, actress Flora Bell, in the lead role. Furthermore, the casual invitation is not what it seems—he admits to Amory and Milo that Flora has been receiving threatening letters, and he needs their help in finding the mysterious sender. Despite Amory's conflicting feelings—not only does she feel loyalty to Georgina, but the disintegration of the Holloways' perfect marriage seems to bode ill for her own sometimes delicate relationship—her curiosity gets the better of her, and she begins to make inquiries.
It quickly becomes clear that each member of the cast has reason to resent Flora—and with a group so skilled in the art of deception, it isn't easy to separate truth from illusion. When vague threats escalate, the scene is set for murder, and Amory and Milo must find the killer before the final curtain falls.
Mystery Historical [Minotaur Books, On Sale: September 4, 2018, Hardcover / e-Book, ISBN: 9781250159755 / eISBN: 9781250159762]
Catch up on the series!
No comments posted.