Nora Roberts' SHELTER IN PLACE will pull out every emotion inside you and leave you speechless. That is precisely what happened to me. Very rarely does a book hold me in its spell like this one did and even fewer keep me reading until 3 a.m.
SHELTER IN PLACE is divided into three parts with the first taking place 14 years prior with "Innocence Lost." In this part, we begin with three girlfriends at the mall going to the movies, though Simone Knox's heart isn't into it as her boyfriend of seven months had just dumped her. Simone had no idea what true devastation really meant until that night. Reed Quartermaine worked at the mall, but at the time was currently trying to get Angie to go on a date with him. He receives a maybe for the late movie, so he is happy and then it happens. Gunfire, people screaming, running. Simone in the bathroom hides and calls 911, Reed going back to work is in the midst of the chaos and finds himself inside of a kiosk with a lost little boy and calling 911 with Angie's blood on his shoes. Life changes for so many people in just those few moments.
Part two and three, "Passion and Purpose" shows the survivors moving on and the happenings of one "survivor" who is not dealing well with what happened and is making others pay. "Proof of Life" is the explosive finale that will have you in tears as Simone finds a way to memorialize those who died that fateful night.
After I finished the last line, and in tears I might add, I wondered how I could possibly write a review that could adequately express what and how I felt reading SHELTER IN PLACE and still I am not sure there are enough words in the dictionary.
Few authors can do what Nora Roberts does. She takes a storyline straight from the news and moves her readers beyond the horror and makes them see what the devastation of such an event can do to the lives of all involved, how it changes them, makes them hopefully a better person or draws out the evil that is already in them.
Some of the survivors try to run away, if they don't think about or don't talk about the actions at the mall, the loss of friends, then the horror will go away. Simone tried that, as she attempted to move on to do what her parents expected, doing what she and her two friends, (only one who survived) had planned to do together, but finally, she had to be true to herself. Reed was drawn to become a police officer following the massacre and after talking to one of the officers who had answered the 911 call and followed up on her own time to check on the survivors.
Simone and Reed will both find their own SHELTER IN PLACE on an island that is a 45-minute ferry ride from Portland, Maine, a sleepy little village that comes to life in the summer when visitors arrive for vacations then returns to normal in the fall and winter. Simone lives there and is now an artist of some renown, with her grandmother CiCi, a never aging hippie with a heart of gold. Reed is appointed the village's new police chief. He is drawn into his new world and Simone and is totally surprised by that. One other person is on the way, someone who has been slowly killing off the survivors, especially those whose names or voices had prominence in the horrific night. That person tries to kill Reed but he survived, but this killer won't be denied.
Please do not believe that there is no laughter, no humor, no freedom in this book because anyone who has ever read a Nora Roberts' book knows better. Simone's grandmother CiCi brings a lot of life back into the people that matter to her the most, and when she meets Reed, she knows he belongs and works her magic to see that he and her granddaughter become an item. He is forever telling Simone that if CiCi ever gave him the nod that she (meaning Simone) was gone. She, of course, kept him on his toes as she was reluctant to move too quickly, but move she was willing to do.
SHELTER IN PLACE is a must read to any Nora Roberts fan but be prepared for the depth of emotion that will be pulled out of you as you watch the survivors thrive.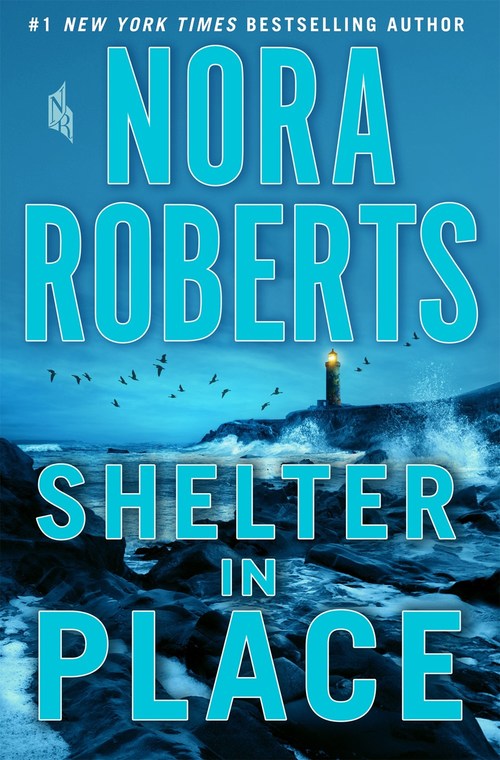 The #1 New York Times bestselling author presents a stunning new novel about an incomprehensible act of violence—and the heroic acts, large and small, that follow in its wake.

It was a typical evening at a mall outside Portland, Maine. Three teenage friends waited for the movie to start. A boy flirted with the girl selling sunglasses. Mothers and children shopped together, and the manager at the video-game store tended to customers. Then the shooters arrived.

The chaos and carnage lasted only eight minutes before the killers were taken down. But for those who lived through it, the effects would last forever. In the years that followed, one would dedicate himself to a law enforcement career. Another would close herself off, trying to bury the memory of huddling in a ladies' room, helplessly clutching her cell phone—until she finally found a way to pour the emotions of that night into her art.

But one person wasn't satisfied with the shockingly high death toll at the DownEast Mall. And as the survivors slowly heal, find shelter, and rebuild, they will discover that another conspirator is lying in wait—and this time, there might be nowhere safe to hide.
Romance Suspense | Thriller Psychological [St. Martin's Press, On Sale: May 29, 2018, Hardcover / e-Book, ISBN: 9781250161598 / eISBN: 9781250161611]
Nora Roberts will rip your heart out with this one!

Only a master can take a terrifying act and turn it into a thrilling suspense with a romantic twists

No comments posted.