Please Bite Me – Cole Gibsen's Top Ten Vampires in Film and Television

April 9, 2018
What a torturous exercise, combing through gorgeous vampire after gorgeous vampire to compile a list of my top ten. As a vampire lover, and now author of my own vampire series, is there anything more sexy than a dark, mysterious man with hypnotic eyes and thirst for blood? Maybe they want to protect you or maybe they just want to bite your neck. Either way, I'm a sucker (pun intended!) for these brooding, mythological creatures of the night. So I took one for the team and created a top ten list of my all time favorites.
Edward Cullen – Twilight
Don't you just want to run your fingers through Robert Pattinson's wavy hair? And don't get me started on those bedroom eyes. Still, the reason Edward ranks lowest on my list is because of his sulking disposition. While I love a good brooding vampire, he takes it too far. I think if we were to go on a date, I'd end up more depressed than turned on.
Henry Fitzroy – Blood Ties
Speaking of gorgeous hair, it doesn't get any better than Kyle Schmid's shoulder-length locks in his portrayal of crime-fighting vampire Henry Fitzroy. The only reason Henry rates so low on the list has nothing to do with his personal sex appeal, but the show itself. It's hard to swoon when you're inwardly cringing over campy dialogue and eye-rolling storylines.
Louis – Interview with a Vampire
I have to wonder if Louis is a long lost cousin to Edward Cullen. While there's no denying Brad Pitt's chiseled cheek bones and ice blue eyes are pleasing to the eyes and other senses—his character Louis possess the same self- loathing and pitiful nature that makes Edward Cullen look like the life of the party.
Dracula – Dracula the 2013 Television Series
This was a tough one for me. While Jonathan Rhys Meyers brought a new sexy spin on Bram Stoker's Dracula, I'm petty enough I couldn't see past that damn mustache. Even while delivering a sexy, swoon-worthy performance, in the back of my mind I was wishing for a razor. And that leads us the age-old question, if a vampire can't see their reflection, how do they shave?
Mick St. John – Moonlight
Like Blood Ties, this show only lasted a season, and that's truly a tragedy. While Mick may share some of the self-loathing that seems to be so common amongst vampires, he doesn't let it interfere when it comes to falling in love. If you're lucky enough to belong to Mick, he'll protect you no matter the cost.
Stefan Salvatore – The Vampire Diaries
Like Mick, Stefan will stop at nothing to protect the woman he loves. And with Paul Wesley's chiseled good jawline and pouty lips, Stefan is definitely high on my list. The only think holding him back from a higher position is his occasional pouting and self-loathing which, again, major turn off in my book.
Angel – Buffy the Vampire Slayer
Oh, David Boreanaz, you made every 90s girl's pulse race. Sure, Angel would brood and sulk like the rest, but he was also very conscious of how strong Buffy was. Instead of treating her like a porcelain doll, Angel was happy to sit back and let Buffy take care of the slaying. An equal rights vampire is a sexy vampire.
Eric Northman – True Blood
What's not to love about a true Alpha Vampire with a soft side? Sure, he'll rip an entire room's throats out, but he'll do it because they offended you. That's love.
Spike – Buffy the Vampire Slayer
I think what makes Spike so refreshing and sexy is, he doesn't brood or sulk. He loves being a vampire and he embraces his darkness with just a touch of humor. What girl doesn't love a vampire who can make her laugh?
Damon Salvatore – The Vampire Diaries
Glossy black hair: check. Chiseled jawline: check. Piercing blue eyes: check. Ian Somerhalder has all those things in spades. But what makes Damon the sexiest is his devil may care attitude. He's the definition of bad boy, but he also has heart. Damon doesn't want to protect his love from his darkness, he wants to share it. Forever.
Fans of Vampire Diaries and Twilight will be thirsting for this latest vampire addiction…
My aunt has been kidnapped by vampires, and it's up to me to save her. Only…I had no idea vampires existed. None. Nada. I'm more of a reader than a fighter, and even though I'd been wishing to escape my boring existence in the middle of nowhere, I'd give anything to have it back now if it meant my aunt was safe.
Then there's the vampire Sebastian, who seems slightly nicer than most of the bloodsuckers I've run into so far. Yes, he's the hottest being I've ever come across, but there's no way I can trust him. He swears he's helping me get answers, but there's more to his story. Now I'm a key pawn in a raging vampire war, and I need to pick the right ally.
But my chances of surviving this war are slim at best, when the side I choose might be the one that wants me dead the most.
Fantasy | Young Adult Paranormal [Entangled Teen, On Sale: March 27, 2018, Trade Size / e-Book, ISBN: 9781633758940 / eISBN: 9781633758940]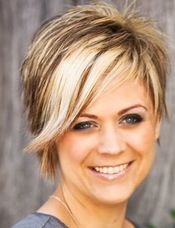 Cole Gibsen first realized she different when, in high school, she was still reading comic books while the other girls were reading fashion magazines.
It was her love of superheroes that first inspired her to pick up a pen. Her favorite things to write about are ordinary girls who find themselves in extraordinary situations.
Comments
No comments posted.

Registered users may leave comments.
Log in or register now!