Elizabeth Reid Boyd | Mindful Reading
Giveaway

February 15, 2018
Thank you for inviting me to speak to your readers about THE SECRETS OF MINDFUL BEAUTY published by Skyhorse Publishing.
I'm Dr Elizabeth Reid Boyd. I'm an author and academic in the field of gender studies. My natural pen name Eliza Redgold is based upon the Gaelic meaning of my full name, Elizabeth Reid Boyd. I write contemporary and historical fiction published by Harlequin and St Martin's Press (as Eliza Redgold) and non-fiction (as Elizabeth Reid Boyd).
I also practice mindfulness and meditation, and teach these practices to my university students. In 2017, The Secrets of Mindful Beauty came out with Skyhorse Publishing, New York. I'm fascinated by how much more creative we are when we slow down and let ideas grow. Our minds are truly magical.
I've developed some life coaching practices for creative women: mixing magic with mindfulness. These exercises based on women's wisdom from the past will enhance your creativity. Here's one to help you slow down and enjoy reading more.
A GRACE FOR BOOKS: MINDFUL READING
'Why have we no grace for books, those spiritual repasts – a grace before Milton – a grace before Shakespeare – a devotional exercise proper to be said before reading the Faeire Queen?'

~ Charles Lamb
How we read has changed so much in the last decades. We read e-books, online and even on our cell phones. We still read, maybe even more than before, but we read differently. It can certainly feel more rushed.
In the Middle Ages, noblewomen used Books of Hours, beautiful books of prayers, to mark their time. Richly illuminated with pictures of saints, Bible stories, and even signs of the Zodiac, they were sometimes encrusted with jewels. Some called girdle books were small enough to be hung from the waist. Books of Hours contained a calendar, gospel lessons, psalms and special prayers to be said at certain hours of the day.
If you want to try some mindful reading, here's how:
Select a book you will use as your Book of Hours. It can be a prayer book, a hymnal, a spiritual text, a motivational book, a book of poetry, or your favorite romance novel. It can be a paper book, or an e-book.
Decide when you will read your Book of Hours. You can choose to read it hourly, daily, or pick certain times of the day (such as upon waking, before meals and before sleep). At the minimum, make it morning and night. If it is an e-book, set an alarm on your device to remind you.
Decide where you will read your Book of Hours. You can keep it with you, and stop whatever you are doing to read for a few moments, or put the book in a certain peaceful place to which you retreat at your appointed time.
Choose how you are going to read your Book of Hours. You can start at the beginning, and read a few paragraphs each time you open the book (don't open it at any other time, or be tempted to read on) or you can open the book by chance and read the first section you see. Whichever method you choose, aim to read for between 1 – 2 minutes at the appointed moment.
Commit to doing this for exactly one week.
Marking time with mindful reading only takes a moment as the clock strikes, but it creates an entirely different sense of time. Try it and see. Our days feel very different when we mark the golden hours.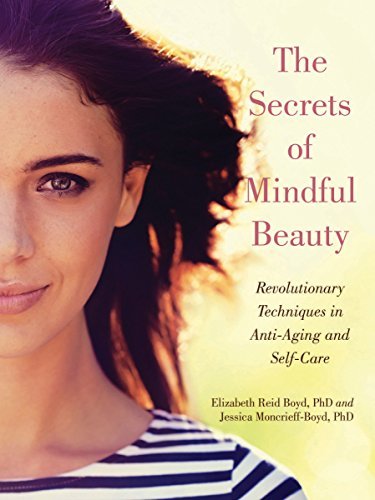 If you think the answer to anti-aging and looking good comes from a jar, a salon, or a surgical procedure: think again. The best beauty treatment is in your own mind.


Did you know....

Depression can give you wrinkles
Insomnia can cause sagging skin
Anxiety can increase reddening and skin rashes
Stress can result in acne and hair loss and much more?
Discover the secrets of mindful beauty. Lose your permanent frown. Smooth your worried brow without Botox. Turn your sag lines into smile lines. These age-defying techniques have been specially created for a happier, more beautiful you.
Mindful beauty is a way of applying the practices of mindfulness to our physical health and well-being. Many of our routines around beauty lend themselves to mindfulness, and this will not only enhance the experience, but also have ongoing positive beautifying effects by reducing the stress and anxiety that can affect how we look and feel.
Non-Fiction [Skyhorse Pubishing, On Sale: March 26, 2017, e-Book, ISBN: 9781510717695 / eISBN: 9781510717701]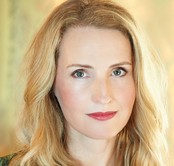 Dr Elizabeth Reid Boyd has degrees in psychology and gender studies. She has taught interpersonal, communication, and personal development skills including meditation, self-awareness, self-care, and mindfulness at university level for almost two decades. She writes fiction as Eliza Redgold.
GIVEAWAY:
You can find more free exercises mixing magic with mindfulness at my Redgold Creativity page
On www.elizaredgold.com you can also find more details about my books. I'm giving away a copy of The Secrets of Mindful Beauty along with an Eliza Redgold fiction novel of your choice to a reader of this blog, so check out my books page too and enter the giveaway below. Good luck!
Win a copy of THE SECRETS OF MINDFUL BEAUTY, leave a comment below
Comments
5 comments posted.
Re: Elizabeth Reid Boyd | Mindful Reading

These are very helpful and wise ideas which I will follow as I
want great health and can learn from this post. Thanks.
(Sharon Berger 11:05am February 16, 2018)
I have daily baths. This is my mindfulness.
(Phyllis Lamken 12:08pm February 16, 2018)
thank you for letting other then usa enter your giveaway.
(Emily Stemp 7:59pm February 16, 2018)
Sounds like a great book. Good luck with it.
(Nancy Reynolds 9:43am February 19, 2018)
Happy Monday
(Emily Stemp 4:23pm February 19, 2018)
Registered users may leave comments.
Log in or register now!