Anya Summers | An Interview with Zoey Mills, heroine of HER HIGHLAND MASTER

April 27, 2016
Curious about the characters in HER HIGHLAND MASTER? Now's your chance to meet Zoey.
What is your name? Do you have a nickname?
My name is Zoey Mills. Sometimes my sister calls me Zoe or Z, but it's rare.
Who is your best friend? What kinds of things do you do when you're together?
Lucy Martin and I have been BFFs since grade school. She's really like a sister to me. We experienced our first boyfriends together, puberty, high school, and college. She was the first person I called the day my parents died. One of our favorite things to do is a girl's night out. We don't worry about finding guys or anything, just go have a blast at a winery or pub.
If you have a family, how do you get along with them? If you don't, are there people in your life that you consider family? How do you get along with them?
My baby sister is my only blood relative. We're the best of friends. I'm not sure if it's because of the fact that our parents died and we had to forge our way, or if it would have always been that way with the two of us.
Do you have a birthmark? Scars? Where is it/are they? How did you get it/them?
No, I don't have any birthmarks. I'm pretty average physically I think.
When you're angry, what do you do? Where do you go? How do you deal with your anger?
I'm more of a fighter. When I'm angry I typically go to the boxing gym near our house and go a few rounds with the bag. It gets it all out of my system and is a great workout to boot.
If you had to make me a meal right now, without going to the store, what would you find in your refrigerator to feed us?
Probably a spinach salad and some fruit. Although I always have my fridge stocked with wine and cheese too.
What's the one thing you're afraid of losing?
My sister. Our parents died in a car wreck six years ago and she's the only family I have left.
What makes you laugh out loud?
British comedies. I love the dry wit and their off-beat humor. I cannot get enough of them.
Has anyone broken your heart? Who was s/he?
No one in the romantic sense, most of my relationships have been fairly bland. There was an event that shattered my heart though, it was the day my parents died. It's something I don't think I will ever fully recover from. As you get older you begin to understand that not all grief dissipates, some grief is so deep you will carry it with you all the days of your life.
What's the one thing you want out of life that you don't think you can have? Why can't you have it?
A life of my own. Since my parents died, I'm the one who has kept the home fires burning, so to speak.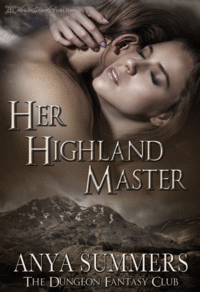 Zoey Mills's life is in shambles. She's been accused of leaking her upper crust Hollywood clients' data to an online magazine for a large payday. After a wine and chocolate-filled evening of drowning her sorrows, she determines that her best course of action is to leave her home in sunny Los Angeles for a week-long vacation in the Scottish Highlands. It's the only way she can escape from the fact that her image is being splashed across the nightly news – and it might actually give her a chance to consider what her next move should be, now that her Great Master Life Plan has disintegrated into dust.
Unfortunately, she's only just landed and is navigating the tiny roads in her rental car when a freak early autumn snow storm hits. Zoey finds herself stranded and winds up on the doorstep of Mullardoch Manor; home of the sexy Scotsman, Declan McDougal, who is her every dark fantasy brought to life.
Declan is one of the founding members of The Dungeon Fantasy Club. As a billionaire businessman and a Dom, he prefers to keep his sexual preferences and tastes away from the boardroom. He's also become bored, not just with the club, but also with his life. None of the subs he meets can hold his interest for more than a night and it's been that way for a long time. He just never wants more than a brief encounter. At least, not since his ex-fiancée cheated on him with another Dom and ran away. However, that all changes when Zoey barrels into his home uninvited and upends his luxurious but stale existence.
When Zoey finds herself without a place to stay, Declan makes her a tantalizing but scandalous offer: Stay in his home for the week, free of charge, and spend each night warming his bed. Or any other time of the day, for that matter. Deciding she doesn't have much to lose and possibly everything to gain, Zoey accepts.
With Zoey's every sweet subsequent cry of ecstasy, Declan uncovers a sub who warms not only his bed, but slowly thaws his frozen, scarred heart. And as Zoey explores her deepest fantasies, even as he spanks her bare bottom for disobeying his rules, she finds herself wanting more than just a week of unmitigated pleasure with the Dom.
Things seem to be progressing perfectly, both in bed and out, when Zoey's past catches up with her. When he feels betrayed once more, and fears the woman he has grown to care for is not who she says she is, will Declan still be willing to risk his heart to become Her Highland Master?
Born in St. Louis, Missouri, Anya grew up listening to Cardinals baseball and reading anything she could get her hands on. She remembers her mother saying if only she would read the right type of books instead binging her way through the romance aisles at the bookstore, she'd have been a doctor. While Anya never did get that doctorate, she graduated cum laude from the University of Missouri-St. Louis with a M.A. in History.
Anya is a Bestselling and Award-Winning Author published in multiple fiction genres. She also writes urban fantasy and paranormal romance under the name, Maggie Mae Gallagher. A total geek at her core, when she is not writing, she adores attending the latest comic con or spending time with her family. She currently lives in the midwest with her two furry felines.
Don't miss these exciting titles by Anya Summers and Blushing Books!
Dungeon Fantasy Club Series
Her Highland Master, Book 1, April 15, 2016
To Master & Defend, Book 2, May 15, 2016
Two Doms for Kara, Book 3, June 12, 2016
His Driven Domme, Book 4, July 2016
Her Country Master, Book 5, August 2016
Love Me, Master Me, Book 6, September 2016
Submit To Me, Book 7, October 2016
Her Wired Dom, Book 8, November 2016
GIVEAWAY
Tell us what you think of this new series and five readers will win an ebook copies of HER HIGHLAND MASTER
Comments
27 comments posted.
Re: Anya Summers | An Interview with Zoey Mills, heroine of HER HIGHLAND MASTER

A new to me author... I am liking what I am seeing... thanks for sharing!
(Colleen Conklin 9:30pm April 27, 2016)
I am really excited and am certain that I shall love it! :)
(Hylla Jackson 9:48pm April 27, 2016)
I haven't read anything by this author but if the cover and
the description are an example of her writing I am
hooked!!! The cover alone grabs my attention!
(Heather Neal 1:47pm April 28, 2016)
I like Highlander books so I'm looking forward reading this book.
(Gwenn Ostman 4:27pm April 28, 2016)
This is a new author to me also and I'd love to read this book but only if it was in paperback. Sadly I do not read e-readers! But I do wish you lots of luck! Just wish it was in paperback also!
(Bonnie Capuano 4:28pm April 28, 2016)
Would love to win!!!
(Ann Chapatte 4:41pm April 28, 2016)
I have not read this author yet, but plan to (win or not). I also love anything with highlanders in it, and after reading what this story is about, it has my blood pumping.
(Therese Abdali 5:07pm April 28, 2016)
This is new I like reading about the characters before the book. Gives a little bit more information.
(Senona Macias 5:26pm April 28, 2016)
Wow. A new to me author, but definitely not the last. What
a great synopsis. Definitely want to read Her Highland
Master whether I win a copy or not. Steaming the pages
already.
(Angela Cramer 5:43pm April 28, 2016)
You are a new Author to me,and I luv me some Highlanders so I
thought I would try to win your book and see what you can do
with Love and a Hunky Highlander. Thank you for the chance to
win!!!!😆
(Joyce Cook 6:02pm April 28, 2016)
I love anything highlander/Scottish and especially a sexy alpha man😍
Can't wait to read this series, thanks for putting it on my radar.
(Bella Franco 7:30pm April 28, 2016)
Your are a new author to me but I love Highlanders and BDSM books so it
is the perfect book for me. Thank you.
(Valerie Miller 9:16pm April 28, 2016)
Thanks for the great interview, its nice to get to know the author of the books that I read.
(Robbie Bauldree 10:20pm April 28, 2016)
New author to me...would love to check out your work.
(Michael Kutan 11:49pm April 28, 2016)
Can't wait to read this author.
(Kari Behune 8:59am April 29, 2016)
This sounds very good! I'd love to read this.
(Cynthia Powers 10:04am April 29, 2016)
You are a new author for me as well. I love Highlander books so I look forward to reading your work.
(Timberlee Ramsey 10:05am April 29, 2016)
I have not read any of your books, YET, but would love to discover a wonderful new author. Your book sounds like it would be an amazing read. Thanks for the chance.
(Sabrina Taylor 12:04pm April 29, 2016)
Sexy highlander~~
Spicy chemistry~~
BDSM~~
Twists and turns~~
What more could a reader ask for? Sounds like my kind of book.
Thanks for the opportunity.
(Danielle Russell 1:45pm April 29, 2016)
This is a new author to me. Thanks for the chance to win one.
(Joan Woods 2:36pm April 29, 2016)
Love anything from Scotland
(Nicole Harris 10:57pm April 29, 2016)
This is a new author for me and I'm looking forward to reading
her books :)
(Lori Harvey 8:37am April 30, 2016)
I'm so excited to get my hands on this! Sounds like a great read!!!
(Jolene Allcock 2:07pm April 30, 2016)
I certainly can't top what Danielle Russell said a few comments ago, so I'm not even going to try!! Just know that I totally agree with her, 100%!!
(Lynn Rettig 2:18pm April 30, 2016)
Sounds like a winner!
(Nancy Ludvik 6:06pm April 30, 2016)
I think the new series will be great! Can't wait to start reading!
(Laurie Bergh 11:09am May 2, 2016)
I love books that feature the Highlands.
(Mary Smith 7:28pm May 2, 2016)
Registered users may leave comments.
Log in or register now!