Have you ever seen Hart of Dixie? I didn't until long after I'd sold COMPULSION and the Heirs of Watson Island series, but I fell in love with it from the first episode. It was as close as anything I'd ever seen of having the world I'd created on Watson Island come to life. All that Southern charm, warmth, romance, intrigue, and beneath the surface, darker secrets. Compulsion is a little darker, think of it is as Hart of Dixie meets Midnight in the Garden of Good and Evil. Hart of Dixie with ghosts, magic, and buried treasure. Hart of Dixie with a teenage girl who has to find herself, find a family, find a way to navigate first love—good thing, I guess, that she has a family gift for finding lost things.
Apart from the characters—and I include the plantations and Watson Island among the characters—the gifts and the curse that haunt the three families in the Heirs of Watson Island trilogy are my favorite aspects of the series.
There are three of them:
1. The Watsons have a gift for finding lost things, but the flip side is that they are compelled to find them. Not that you always want to find them. Barrie finds her missing half, her soulmate, at the most inconvenient time, and she fights her gift and her instincts as she falls in love. She also uncovers a lot of buried secrets that were safer left out of sight.
2. The Beauforts have a gift for knowing what people want most, but they feel compelled to give it to them. Imagine falling in love with someone like that —do they love you for yourself, or do they love you because you want them to love you? Do you love them because they know just what you want to hear? Or are your feelings real?
3. The Colesworths are cursed to always want what the Watsons and the Beauforts want most and never get it. But what happens when what they want keeps changing, and when ultimately what they want most is each other? To what lengths can the curse push someone, and how much of the tragic history of the Colesworths is the curse and how much is the result of poor and purely human decisions?
People ask me where the inspiration for all this magic came from, and I've always said that I wasn't really certain. That it was part of that alchemy that makes me want to believe in Muses or things beyond what our human eyes can see and our human fingers can touch.
I recently did an interview for MTV though, and the reporter asked me some really insightful questions. Some OH DUH questions. And I realized that the inspiration for the gifts comes, as most inspiration does, from my own life, and my own philosophy, from my childhood.
As a child, my parents and I defected from what is now the Czech Republic to escape from communism. To look for freedom. We left with nothing, no money, few possessions, and we went first to Denmark for a year, and then to Norway for a year, and then we finally settled in the United States when I was seven.
I spent a lot of my childhood when we came to this country looking for lost things. The family I had lost and left behind. The friends I lost each time we moved. The lost trust in people and stability. Ultimately, in the series, Barrie is looking for herself, and part of what she has to discover is whether she is the kind of person who trusts the good in people, or the kind of person who protects herself and braces for betrayal each time she meets someone. I do think it takes a decision to see the good, to look for the good. And that's a decision I choose to make.
The Beaufort gift is another thing that comes from my own past. I suspect it comes from not knowing my mother well before we moved to Denmark—I had spent a lot of time with my grandmother and my father—and not knowing my stepfather well at all. Not speaking the languages as we arrived in each place and having to learn to navigate new social structures, I was constantly trying to please people—to see what would please people—and feeling compelled to be whatever those people wanted instead of being myself. After a while, I think you lose yourself. And of course, after a while, you rebel and you come out the other side having arrived at a point where you feel comfortable. But I don't think I've ever lost the need to try to understand people's motives.
The curse. Ah, that one's easy, I think. It comes from a place where you have everything yanked away. My mother and stepfather had a child almost immediately after we left, and while it honestly wasn't their fault, I think I always felt as though I was the ugly duckling who didn't belong in that family nest. Then when we came to the United States, my mother taught at a private school, and I was lucky enough to get to go there—but while we were still quite poor, my classmates decidedly were not. I know what it's like to have that disparity. It makes you hungry. It makes you jealous. It makes you a little ugly. And you have to find your way out of that, because no one can lead you out of it.
For each of us, our childhoods bring us both gifts and curses. Each gift has a drawback, and each curse has a silver lining. It's up to us to learn to mold those and make them work for us instead of work against us.
Martina Boone was born in Prague and spoke several languages before learning English. She fell in love with words and never stopped delighting in them. She's the author of SIBA Book Award nominated Compulsion, book one in the romantic Southern Gothic trilogy, the Heirs of Watson Island, which was a Fall '14 Okra Pick by the Southern Independent Bookstores Alliance, a Kansas State Reading Circle selection, Goodreads Best Book of the Month and YA Best Book of the Month, and an RT Magazine Best of 2014 Editor's Pick. The second book in the trilogy, Persuasion, will be published in October 2015.
She's also the founder of AdventuresInYAPublishing.com, a Writer's Digest 101 Best Websites for Writers site, and YASeriesInsiders.com, a site devoted to the discovery and celebration of young adult literature and encouraging literacy through YA series.
From her home in Virginia, where she lives with her husband, children, and a lopsided cat, she enjoys writing contemporary fantasy set in the kinds of magical places she'd love to visit. When she isn't writing, she's addicted to travel, horses, skiing, chocolate flavored tea, and anything with Nutella on it.
Website | Facebook | Twitter | Tumblr | Goodreads | Blog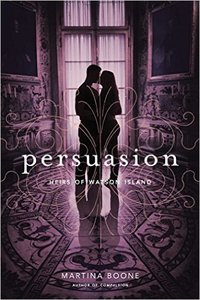 BEAUTIFUL CREATURES meets Gone with the Wind in the spellbinding second novel in the Heirs of Watson Island trilogy that "skillfully blends rich magic and folklore with adventure, sweeping romance, and hidden treasure" (Publishers Weekly, on Compulsion).
Grieving the death of her godfather and haunted by her cousin Cassie's betrayal, Barrie returns from a trip to San Francisco to find the Watson plantation under siege. Ghost-hunters hope to glimpse the ancient spirit who sets the river on fire each night, and reporters chase rumors of a stolen shipment of Civil War gold that may be hidden at Colesworth Place. The chaos turns dangerous as Cassie hires a team of archeologists to excavate beneath the mansion ruins. Because more is buried there than treasure.
A stranger filled with magic arrives at Watson's Landing claiming that the key to the Watson and Beaufort gifts—and the Colesworth curse—also lies beneath the mansion. With a mix of threats and promises, the man convinces Barrie and Cassie to cast a spell there at midnight. But what he conjures may have deadly consequences.
While Barrie struggles to make sense of the escalating peril and her growing feelings for Eight Beaufort, it's impossible to know whom to trust and what to fight for—Eight or herself. Millions of dollars and the fate of the founding families is at stake. Now Barrie must choose between what she feels deep in her heart and what will keep Watson's Landing safe in this stunning addition to a series filled with "decadent settings, mysterious magic, and family histories rife with debauchery" (Kirkus Reviews, on Compulsion).
1 comment posted.