Sara Goff, author of I ALWAYS CRY AT WEDDINGS joins Fresh Fiction to talk weddings, self-discovery, and fate.
Jen: Hi, Sara! Thank you for joining us at Fresh Fiction. I ALWAYS CRY AT WEDDINGS is a story with romance and love, but it's a story about self- discovery. Ava's identity had been subsumed by her fiancé's. She tried to be the Ava he wanted her to be, then she tries a lot of different things to find the Ava she wants to be. (I love red hair!) Why do you think finding love goes hand- in- hand with self-discovery?
Sara: Thank you for having me. I appreciate your insightful and thought- provoking questions, especially looking at the relationship between finding love and knowing yourself! We're always evolving, experiencing new phases and learning about ourselves, but are we making decisions that feed our passions, our needs and beliefs? Or are we putting other people's expectations first?
I think finding love does go hand-in-hand with self-discovery, for two reasons: First, the more you know yourself, the more you'll know what to look for in a life partner, and second, you need to love yourself before you can fully love someone else, without the judgment or expectations you might have been putting upon yourself.
Ava reaches a point where she realizes her wedding, her entire life, meets other people's expectations. Will she start over on her own and get to know the real Ava . . . or will she take the 'safe' route and get married? I think we know that answer!
Jen: Another wonderful part of I ALWAYS CRY AT WEDDINGS is the need to see a person, truly see who they are without judgement. Ava has to see Chris as a person and not just a homeless man living below her stoop. You've worked with the homeless. Can you share your experience working with the homeless?
Sara: I've learned my greatest life-lessons from homeless men and women: The value of self-sufficiency, acceptance (of the things you can't change), humility, and most important, how to freely express yourself without fear of failure or judgment.
Ironically, I learned from the homeless while working as a writing instructor at Holy Apostles Soup Kitchen Writers Workshop in Manhattan. I often wondered who was teaching whom. A group of participants from the soup kitchen, along with two or three instructors, got together in the vestibule of the church on a weekly basis throughout the spring to free write.
While I wrote stories from my life, keeping in mind sentence structure and vocabulary, the participants poured their souls out, lost themselves in the experience of self-expression, and let their creative voice fearlessly guide their pens. Every week I'd walk home from the workshop in awe, wishing I could achieve that level of unfiltered emotion put down in writing. One day, I finally figured out their secret: They were writing for themselves and no one else. By not trying to impress others they were able to be completely open and honest. No fear.
Jen: I for one would like to know what brought Chris to Ava's stoop and what made him stay? Of all the stoops, in all New York…. Do you believe in fate or was their meeting a chance city encounter that changed the course of two lives and rippled out to change others?
Sara: Okay, I have to tell you how I met my husband. Jonas is from Sweden but came to the States to attend high school at United World College in New Mexico. He eventually found his way to New York City, where we met at a party and exchanged numbers. After a week or so, he invited me to another party. We didn't connect and that was the end of that . . . until five years later when he started talking to me at my gym. We went out on three dates before remembering that we had met before! During those five years, I had moved downtown to Gramercy Park, Jonas had left the city for Boston to go to business school, and we both had been in rather serious long-term relationships. We've been married fourteen years now and we complement each other, I have to say, perfectly. In no way do I feel that our meeting twice was pure coincidence.
I won't explain why Chris chooses Ava's stoop to call home, so not to give away any of the story, but to answer your question, I believe God has a plan for us all, a plan which taps into our fullest potential, even beyond what we think we can achieve, but it requires following our heart.
Jen: Your own life follows a similar path as Ava's. You both worked in New York's fashion industry as a merchandiser, want to make a difference in the world, and dedicate yourself to helping others through creative expression. Was it easier or harder to write Ava because you share some common goals and desires?
Sara: Ava and I both go for what we want in life, even if that means stepping outside our comfort zone. In some scenarios, Ava is more reckless than I am. The red hair, for one! But if I had gotten engaged to and planned a wedding with any of my past boyfriends, perhaps even against the calling of my heart, I would have gone through with it. I'm very loyal by nature. In fact, it's my loyalty to writing that has made this moment possible. So, in writing I ALWAYS CRY AT WEDDINGS, I had to ignore my own instincts and check in with Ava before making her decisions. She came to life for me as a friend I didn't always agree with, although I knew she'd figure it out in the end!
Jen: Can you tell us what you're writing now?
Sara: I have a second novel underway, which is set at the Jersey Shore, but I'll leave the rest a secret for now. ;)
Jen: I'm looking forward to it! Thank you so much for stopping by!
Sara Goff is a former New York City fashion designer and merchandiser who, after seven years in the industry, left her career to follow her dreams to make a difference in the world. In 2010, Goff founded the global education charity Lift the Lid, Inc., which supports underprivileged schools and encourages young people to exercise their creative expression through writing.
Website | Facebook | Twitter | Google+ | Pinterest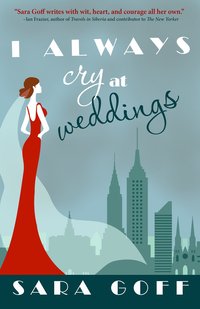 Ava Larson is going to bring all the other brides to tears.
Engaged to a wealthy NYC socialite's son, Ava is ready to set the city abuzz with her glamorous wedding. At least until she realizes her relationship isn't what it should be. Then, in a move as daring as a red satin dress, she does the unthinkable--she calls it all off and makes a promise to God that from now on, she'll save sex for marriage.
She's convinced the future is hers for the taking, especially when an undercover cop promises a new romance...and an unexpected friendship with the homeless guy under her stoop brightens her days.
But when her carefully balanced life teeters out of control, weddings aren't the only thing to make her cry. Ava has to figure out what life she really wants to live...and what in the world love really means.
2 comments posted.