I'll be the first to admit it—I have a deep and abiding love for protector/bodyguard books. HIS LOVER TO PROTECT is evidence enough of that. I don't care if the book is a thriller, light suspense, or straight contemporary—if the hero has to watch over the heroine to keep her safe, I'm all about it.
I knew going into HIS LOVER TO PROTECT that the heroine, Alexis, had up and left her small town without so much as a word to anyone about where she was going. They know she's in Europe and starting her journey in Ireland, but they don't know where she's going next and they have no idea how long she'll be gone or when they'll hear from her next. I think you can understand why her sister and friends decide to coerce the hero, Luke, into going after her and making sure she's safe.
What I didn't expect while writing this book? How freaking resourceful and capable Alexis would be.
Case in point—Alexis's first encounter with Luke basically ends with her knocking him to the ground and threatening to pepper spray him. Suffice to say that neither I nor the hero expected that!
So much of this book is about the journey that Alexis and Luke are on—both physically and emotionally. You see, he's been just as broken by life as she has, and needs healing almost more than she does. It definitely created an interesting dynamic, and turned my expectations regarding him playing protector to her wayward soul on their head!
Katee Robert learned to tell stories at her Grandpa's knee. Her favorites then were the rather epic adventures of The Three Bears, but at age twelve she discovered romance novels and never looked back. Now living in Eastern Washington, she spends her time--in between ogling men and planning for the inevitable zombie apocalypse--writing speculative romance novels.
Website | Facebook | Twitter | Instagram | YouTube | Blog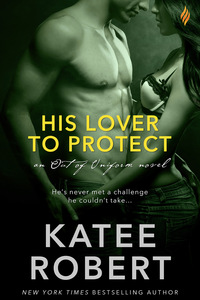 He's never met a challenge he couldn't take...
Alexis Yeung did everything right....only to watch everything go horribly, horribly wrong. Broken and angry, Alexis high-tails it to Europe, determined to face the world on her own terms and without consequence. Which includes a mind-blowing night with a sexy, scarred stranger.
Except, embittered former pararescuer Luke Jackson isn't exactly a stranger. He's supposed to keep an eye on Alexis without her knowing. Ending up in bed together was definitely not the plan. Now he's chasing her (admittedly hot) ass across Europe, a game of cat and mouse that always ends with the two of them tangled up in the sheets.
Something in their scarred, damaged souls calls to each other. And God help them, the sex is unbelievably hot. But if Alexis discovers who Luke really is, he'll lose the one thing that makes him feel whole...
1 comment posted.