Hitting a deadline is stressful for any job, and writing is no different. Those last weeks are a sprint of long hours, constant worry and hammering away on the story to get it into the absolute best shape I can.
And then I hit send.
First there's wild elation that I actually finished, then the seeds of worry begin sprouting. Is the book good enough? Will readers love the hero like I do? Or the heroine I admire? Did I forget something important? The questions ramp up, driving me crazy.
And that's when I know it's time to relax. Here's 5 ways I decompress:
1. Baking! For me, it's both relaxing and satisfying. My family loves it too. After finishing EXPOSING THE HEIRESS, I dove in to a few baking projects, but my most successful one was Chocolate Kahlua Cupcakes with a mousse-ganache topping. Those were a huge hit! The mouse-ganache is light (in texture not calories!) and creamy with just the right amount of sweetness.
2. Walking and listening to audiobooks. I was a gym rat for years and years, but it's getting harder for me to get there. I've taken to walking in the neighborhood while listening to audiobooks and I love it.
3. Laying on a raft in our pool, or hanging out in the Jacuzzi. We don't take many vacations and saved for years to get a pool, and it was one of our best decisions. I do some of my best plotting on that raft. Swimming laps is also a great way to calm my mind. Plus we have crazy-fun family parties.
4. Wine. For my youngest son's college graduation, we took a family wine- tasting trip. It was a blast! All three of our adult sons and their wives and girlfriends enjoy wine too. I learned that I have very expensive taste, LOL!
5. And of course, reading! Romance is my favorite, although I read across all genres. But what I love most about romance is that they are stories about women who become the heroines of their own lives. I think that's a powerful message for any woman.
Okay your turn, how do you decompress after stress?
Jennifer Apodaca went from suburban soccer mom to mystery writer once she realized how much fun it is to kill people off in her books. In real life, she has three wonderful sons and a fabulous husband, all of whom like to help plot her books. She lives in Southern California and is busy working on her next book.
Website | Facebook | Twitter | Goodreads | Blog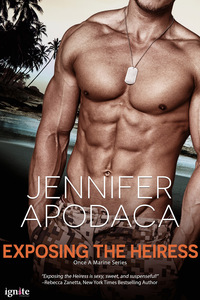 This Marine will protect her at all costs...
When wealthy heiress Alyssa Brooks finds out her stepfather has been paying her fiancé to marry her, she's humiliated and betrayed. She quickly breaks the engagement, only to be blackmailed by her now ex-fiancé, who threatens both Alyssa and the son she gave up for adoption. With nowhere to go, she turns to the one man she can trust.
Former Marine sniper Hunter Reece's lethal skills could save Alyssa's life. But his little sister's best friend has turned into a woman, who is an irresistible mix of secrets and sexiness. And while Hunter can trust himself to protect her, he can't trust himself to keep his attraction hidden...or even pretend to be the man that Alyssa remembers.
Because the only way to keep the lovely heiress safe is to become the one thing he knows she could never love...a killer.
1 comment posted.
There are a few things that I love doing in order to relax. Knitting and crocheting are two things that automatically take my mind off of my worries. Since I volunteer to teach a class every week, I always have some project going, so there's always something that I'm working on. Reading is another one of my ways to relax. I keep the book that I'm reading right next to me at all times, because you never know when you can get a couple of minutes free to read a few sentences - even while you're on the computer!! lol Since I live out in the country, I can always sit out on the deck, and watch the birds, deer, and turkeys. We put out a few bird feeders, and they're always coming to feed. It's very quiet, and sometimes I even take my knitting out, or a good book!! I'm also near one of the Great Lakes, so I can drive up the road to go to the beach and look for beach glass and shells, or just sit for a while and watch the ships and people. My last resort is just to take a nap and sleep it off!! That is my long list of things to do. My absolute resort, which should have been my first, is to get a copy of your latest book and read it. I love the story line, and I'm sure it's going to make for a great read!! Congratulations on your latest book, and it's on my TBR list for sure!!
(Peggy Roberson 3:41pm August 4, 2015)