Hi all you Fresh Fictioners! Julie Ann Walker here, delighted to be hawking... er... introducing my new romantic suspense series, Deep Six! The series follows the stories of six newly retired Navy SEALs who just can't seem to shake their past and the Navy SEAL motto that "the only easy day was yesterday.ā€¯ Leo "The Lion" Anderson is determined to leave the life of flying bullets and deadly missions behind, and instead fulfill his father's dying wish to locate and excavate the holy grail of sunken Spanish shipwrecks. But CIA Agent Olivia Mortier has other plans for him. In a bumbled attempt to locate a CIA mole, Olivia and her boss inadvertently lose a case of deadly chemical weapons at sea. They desperately need a team of deep dive specialists to retrieve it. Enter Leo and the men of Deep Six, throw in some foreign and homegrown terrorists, mix until frothy and explosive and what you get is HELL OR HIGH WATER. It's jam packed with all the good stuff: sand, sun, surf, intrigue, danger, and half-dressed SEAL hotties. And like all my books, I wrote it with a soundtrack playing in the background. Today, I'm delighted to share that soundtrack with you!
1. First up is Son of a Sailor by Jimmy Buffett. I listened to this while writing the opening scene where Leo and the rest of the guys are drinking beer on the beach. It pretty much encapsulates Leo's life and his plans for the future. "As the son of the son of a sailor, I went out on the sea for adventure!"
2. Next is Southern Cross by Crosby, Stills, and Nash. I played this while writing the scene where Olivia and the team are sailing past the Marquesas Keys towards the location of the sunken chemical weapons. Things are about to get dangerous. But for just a while, out on that big blue ocean, there's peace -- and an opportunity for Leo and Olivia to explore their feelings. "Off the wind on this heading lie the Marquesas. We got eighty feet of the waterline nicely making way."
3. You're Going Down by Sick Puppies. I played this while writing the scene where terrorists sink Leo's ship and he, Olivia, and the crew are forced into a skiff and an open ocean gun battle erupts. Super suspenseful. Just take a gander at these lyrics: "Because I'm hyped up, out of control. If it's a fight, I'm ready to go!"
4. Turn Me On by Nora Jones. I played this song when I wrote the scene where the chemistry between Leo and Olivia explodes and they can no longer keep their hands off each other. This song takes sexy to the next level. Don't believe me? Check out these lyrics: "Like a flower waiting to bloom. Like a lightbulb in a dark room. I'm just sitting here waiting for you to come home and turn me on."
0
5. And last but certainly not least is Stay With You by John Legend. I listened to this song while writing the closing scene, where Leo and Olivia finally, finally confess their love and decide to try to make of go of it. These lyrics say it best... "Oh I'll stay with you through the ups and the downs. Oh I'll stay with you when no one else is around. And when the dark clouds arrive, I will stay by your side."
Now don't those tunes make you want to go out and grab a copy of HELL OR HIGH WATER? *wink*
Julie Ann Walker is the New York Times and USA Today bestselling author of award-winning romantic suspense. She has won the Book Buyers Best Award, been nominated for the National Readers Choice Award, the Australian Romance Reader Awards, and the Romance Writers of America's prestigious RITA award. Her latest release was named a Top Ten Romance of 2014 by Booklist. Her books have been described as "alpha, edgy, and downright hot." Most days you can find her on her bicycle along the lake shore in Chicago or blasting away at her keyboard, trying to wrangle her capricious imagination into submission.
Website | Goodreads | Facebook | Twitter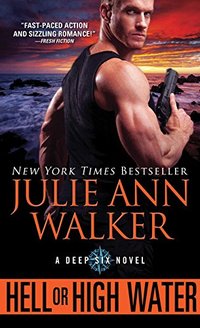 Only two things could make former Navy SEAL Leo Anderson return to the world of weapons and warfare. First, a capsule of chemical weapons lost on the ocean floor, and second, a plea for assistance from the one woman he can't seem to forget-CIA Agent Olivia Mortier.
Now, working together to race against the clock and a deadly terrorist faction, Leo and Olivia must find the missing capsule, all the while battling the intense desire burning between them. If they can survive, can their growing attraction become more than just a momentary flare?
2 comments posted.
To be honest with you, the Author has more draw to me than a song or a Singer does!! I'm looking forward to reading your latest book, and put it on my TBR list. Congratulations on your latest book, and I'm sure it's going to do quite well!! Love the cover and title, too!!
(Peggy Roberson 9:57am July 20, 2015)
Great choice of songs for the scenes you listed. Looks like I'll have to download these songs as I read the scenes.
(Joanne Hicks 8:49pm July 20, 2015)