This week marks the launch of a new trilogy, NotMy1stRodeo.com, I have going with Jenna Bayley- Burke and Sarah M. Anderson. We have a lot of laughs together, and we're a little crazy, and we had a blast putting this together. So today I thought it would be fun to share some fun stuff to celebrate.
First of all, we built a website especially for the series. Since it's based on a fictional dating site, head on over to www.notmy1strodeo.com to read excerpts and check out the dating profiles of our characters. Jenna came up with our "Criteria Key" as far as age and experience go, and we think it's pretty cute!
Like puzzles? Click on the book cover of NOTHING LIKE A COWBOY below to do a click-and-drag jigsaw puzzle of our anthology cover!
Maybe you're just interested in reading the books…in which case, you won't want to miss the contest here on Fresh Fiction, going on until the end of the month!
And just in case you don't believe us about the fun part, you can always see it for yourselves if you're in New York on July 22nd. All three of us will be at the RWA Literacy for Life book signing at the Times Square Marriott. We're seated near each other too – the benefits of last names that begin with A and B. In fact, Sarah and I might actually be together or close to it. I'm pretty sure shenanigans will ensue.
Either way, we want our readers to have as much fun with this as we did.
While bestselling author Donna Alward was busy studying Austen, Eliot and Shakespeare, she was also losing herself in the breathtaking stories created by romance novelists like LaVyrle Spencer, Judith McNaught, and Nora Roberts. Several years after completing her degree she decided to write a romance of her own and it was true love! Five years and ten manuscripts later she sold her first book and launched a new career. While her heartwarming stories of love, hope, and homecoming have been translated into several languages, hit bestseller lists and won awards, her very favorite thing is when she hears from happy readers!
Donna lives on Canada's east coast with her family which includes a husband, a couple of kids, a senior dog and two crazy cats. When she's not writing she enjoys reading (of course!), knitting, gardening, cooking…and is a Masterpiece Theater addict. You can visit her on the website and join her mailing list.
Website | Facebook | Twitter | Pinterest | Goodreads | www.notmy1strodeo.com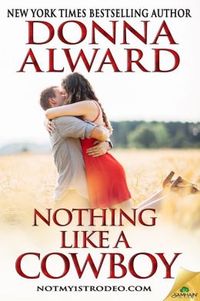 Getting back in the saddle has never felt so good…
A NotMy1stRodeo.com Story
Brett Harrison tried marriage once and isn't anxious for another round. So when his meddling twin sister sets him up on a dating site, he seriously considers strangling her and cancelling. Luckily for him, he's too much of a gentleman to act on those impulses, and when he meets Melly Walker, he wonders if it's time to get back in the saddle.
Melly knows exactly where her previous marriage went wrong. She was dazzled by her ex's big-city charm and strayed too far from her roots. This time, she's going with tried and true—a dyed-in-the-wool cowboy. Her first few dates net her more duds than studs, but when she meets Brett, she's ready to get more than just her feet wet.
The principles of trust and compromise are great in theory, but when Melly discovers Brett has his eye on more than just her curves, she questions her judgment and his motives. Is Brett ready to drop his dreams for something as unreliable as love?
Warning: Contains virtual hat-tipping, real-time kissing and sexy times. Yee haw!
No comments posted.