Book Title: NINE LIVES AND ALIBIS
Character Name: Maddie James
How would you describe your family or your childhood?
I adore my family, even when they drive me crazy. I was lucky enough to grow up on idyllic Daybreak Island off the coast of Massachusetts with my parents and grandparents. I'm the oldest of three, all girls, and I have the best memories of growing up here. We lived with my grandparents for a while in their beautiful historic house on the ocean, and I have the best memories of sitting with Grandpa Leo in the reading nook and hitting the beach with Grandma. My family is the reason I came back a decade after I left. And they are probably the reason I will stay.
What was your greatest talent?
Lately, my greatest talent seems to be solving murders! I'm also really good at business. The Cat Cafe, JJ's House of Purrs, is my second business. My business partner Ethan and I ran a juice bar in San Francisco before I dragged him to the island to do this with me. We're already getting the itch to start something new to supplement the cafe!
Significant other?
I'm seeing Lucas, the hot dog groomer who also happens to be a musician - and the best part about all this is he is NOT a jerk! Usually the guys I pick (always musicians) are jerks. So I'm feeling pretty lucky these days.
Biggest challenge in relationships?
Trusting people enough. Especially in romantic ones!
Where do you live?
I moved back to Daybreak Island last year after my grandma died. Grandpa Leo needed me and I hadn't realized how much I missed my family and friends here, and how much I was craving the crazy community that is Daybreak Island. I live in Grandpa Leo's house, which is now also home to the cat cafe. My sister Val and my business partner Ethan (who are now a couple!) live here too and Lucas just moved in. We live with my cat JJ, our dogs and a whole bunch of adoptable cats!
Do you have any enemies?
I probably have a few after all these crimes that have landed at my feet…but I prefer to think that I don't!
How do you feel about the place where you are now? Is there something you are particularly attached to, or particularly repelled by, in this place?
There's always something about where you grew up that feels like you've outgrown it, but at the same time if I hadn't felt attached when I came back, I never would have stayed. At first it felt like there was too much history - my ex-boyfriend Craig, all the people who knew me as a kid - but now I've come to embrace being around people who know my whole history.
Do you have children, pets, both, or neither?
Pets! I think of all the cafe cats as mine - plus of course JJ, my cat.
What do you do for a living?
I run JJ's House of Purrs, our cat cafe, and spend a LOT of time volunteering for lots of community events and shindigs around the island because I'm a James, and that's what's expected of our family….
Greatest disappointment?
Before Lucas, it was not finding the right guy. But now, I can't really think of anything!
Greatest source of joy?
My life. Even with all its little quirks and weirdness (and the murders!) it's pretty great.
What do you do to entertain yourself or have fun?
I love to sing - so when I can get away, I love to join Lucas's band and jump in on a few songs with him.
What keeps you awake at night?
Finding purrfect homes for all my cat charges.
What is the most pressing problem you have at the moment?
Well, this psychic came to the island for our big Halloween event and ended up dead. So that's kind of a problem for me right now…
Is there something that you need or want that you don't have? For yourself or for someone important to you?
I want to be able to help more animals, and I want to figure out a way to scale it. I love helping the cats of Daybreak Island, but I can see this turning into something way bigger and maybe even nationwide. I don't do things halfway!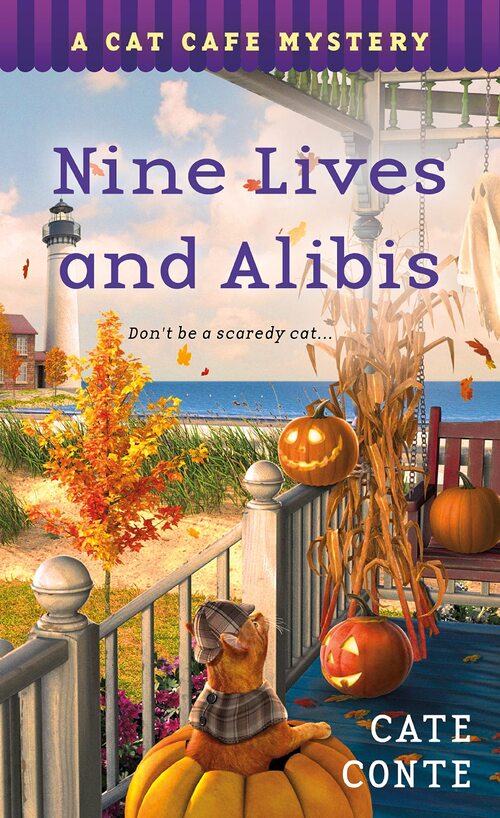 In Nine Lives and Alibis, the seventh in Cate Conte's Cat Café beloved cozy mystery series, Daybreak Island is gearing up for Halloween—but this year it seems like it'll be all tricks and no treats.
It's October in Daybreak Harbor, which means everything Halloween. The town is going all out for the holiday, hoping to one-up the festivities in neighboring Salem, Massachusetts, and Maddie James is delighted to be part of the planning for the annual happenings.
But trouble brews when Maddie's youngest sister, Sam, books a famous medium, Balfour Dempsey, to come to town for the celebrations and stay in the local haunted inn—along with his equally famous black cat. The town busybody books a secret reading with Balfour and doesn't want anyone to know why. Maddie's best friend Becky is hell-bent on getting Balfour to help her solve two 40-year-old mysteries—a murder and a missing maid. And the psychic has a stalker who's followed him here to the island, demanding he connect with her dead husband.
When Balfour is pushed off the cliffs behind the inn to his death and his beloved cat goes missing, it throws the whole town into a frenzy. And Maddie and her family find themselves in the middle of a murder mystery straight out of a Halloween movie.
Mystery Cozy | Holiday [Minotaur Books, On Sale: August 22, 2023, Mass Market Paperback / e-Book, ISBN: 9781250883933 / eISBN: 9781250883940]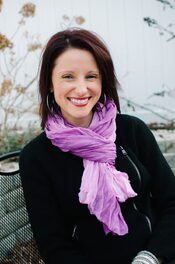 CATE CONTE serves on the Sisters in Crime New England board; she is also a member of Sisters in Crime, National Mystery Writers of America, and the Cat Writers' Association. She currently lives in Connecticut with her cats and one dog.
7 comments posted.