Lorelei rang the doorbell again, waited some more and was ready to go looking out back for him when she heard the sound of what appeared to be someone dropping or bumping into something. Male muttered profanity followed. Then, hobbled footsteps. And a naked Dax Buchanan finally opened the door.
Well, almost naked, anyway.
All he wore were black boxers that dipped low on his hips. So low that if they dipped even slightly lower, then she was going to get an eyeful. Or perhaps even a look at the infamous tat if he turned around.
Of course, the eyeful had already happened with the rumpled dark brown hair, the dreamy green eyes and the body. Yes, that body. Toned, lean. Perfect, like one of those calendars filled with hot guys for each month. And the face. Mercy, oh, mercy. He'd clearly gotten some amazing genes that blended together to create that equally amazing face.
A definite eyeful.
It was easy to see why so many women had wanted to take Dax for a spin. Even if that spin had a shorter shelf life than an already-ripe avocado.
"Yeah?" he said, rubbing his knee, swearing and yawning at the same time.
There was a red splotch on the knee that he'd obviously banged. Beneath the splotch was a white scar that appeared to be from a surgery.
"Oh," he added when he fully opened his eyes. "Lorelei."
Of course, he knew who she was. He'd known her for years, since Dax and his brothers had moved to Last Ride when he was a kid. Other than the family link with Nola and Wyatt, there was another "connection," too. Once when she'd been sixteen and Dax had been eleven, Lorelei had sort of babysat, or rather supervised him, when she'd worked in the after-school program.
Thinking about that now made her feel old and somewhat icky. Not icky enough, though, to quit noticing that he was hot.
And confused.
Since this was the first time she'd ever been to Sunset Creek Ranch, that probably accounted for the confusion she saw in his eyes. Maybe a hangover was playing into this, too, because she seriously doubted it'd been a no-booze bachelor party.
"I need to talk to you," she said to get her mouth working again before drool could accumulate.
"Yeah," he repeated, and he scrubbed his hand over his chin that was sporting plenty of stubble. "Look, if this is about the red panties and the stripper, I didn't invite her. Tiffany Carver just heard about the bachelor party and thought she'd provide entertainment. I didn't manage to get her out of here, though, before she shoved red edible panties in Wyatt's jeans."
Lorelei just stared at him. "Uh, I'm not here about that." And she had no doubts, none, that Wyatt had resisted both the panties and the stripper. Nola and he were soul mates. Well, soul mates with complications, anyway, but they'd finally worked out their path so they could be together.
"Oh," Dax said, yawning again. He stepped back, motioning for her to come in. "Is this about Wyatt and Nola?"
"No," she answered, stepping inside. Though that was a good assumption since Wyatt and Nola were expecting a baby, and there'd been talk of maybe doing a joint family baby shower with both the Parkmans and the Buchanans. "It's something else."
Dax didn't question what that something else might be. "All right, then hold on while I locate some clothes. Help yourself to anything in the kitchen, and if you want to take mercy on me, please make some coffee."
With that plea, he headed toward a hall, and with his exit, Lorelei got a really good look at his back and shoulders. Since she was a woman with normal eyesight, normal urges, too, she had to get past the kick delivered by all that testosterone. The man threw it off like a high-powered lawn sprinkler. Setting testosterone and toned muscles aside, she tried to compare his backside to the photo, but the best she could manage was maybe it was a match.
Lorelei stayed put a moment and glanced around. Since this was an open-concept floorplan, she had no trouble seeing the living room, dining room and kitchen. She'd expected to see tables and counters cluttered with beer bottles and party debris, but it was surprisingly clean.
She made her way to the kitchen, located the coffeepot. Not one of those single-serving machines that she'd imagined a guy like Dax would have because of the convenience of it. This one was the old-fashioned drip sort. Lorelei found the coffee in a nearby cupboard and got a pot started while she continued to look around.
No red panties.
In fact, nothing like the bachelor-cave vibe that she'd expected, but she saw a "vibe" of a different sort. There were three flyers on the counter. Apparently, mock-ups for the Last Ride Charity Rodeo that Dax had hosted for the past couple of years. This year's rodeo was due to take place in about six weeks.
Talk had it that Dax did the event so he could bring in his drinking, womanizing pals under the guise of doing something good for the town. Other talk claimed it was Dax's attempt to make amends for his wild and rowdy past. Lorelei knew that many went just to get a look at the hot rodeo star in action.
And speaking of hot rodeo stars, Dax came back in while the coffee maker was still sputtering out the brew.
He'd pulled on a shirt that he hadn't bothered to button and jeans he hadn't fully zipped. Apparently, he was a man accustomed to being only partially dressed around women. Or maybe he simply didn't see her as a woman he wished to impress.
That made sense since she so wasn't his type.
Even though he was thirty, barely—she'd checked that on his National Rodeo Association profile—talk was that he went for women in their early twenties. Buckle bunnies and those fresh out of college. Lorelei was thirty-five, and while that was only five years older than Dax, she was pretty sure there was a generation of difference between them and that showed in their dating habits.
Excerpted from A Texas Kind of Cowboy by Delores Fossen. Copyright © 2023 by Delores Fossen. Published by arrangement with Harlequin Books S.A.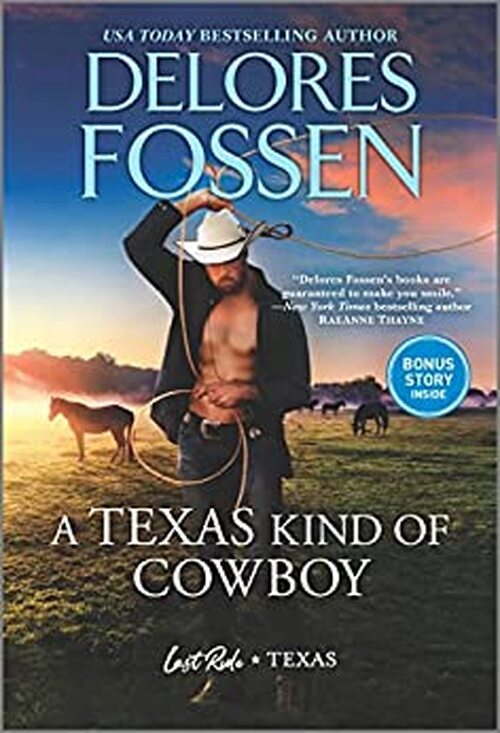 Last Ride, Texas
They're in for the ride of their lives
When single mom Lorelei Parkman discovers the biological father of her adopted daughter could be Dax Buchanan—the Dax Buchanan—she's shocked. Of all the men in Last Ride, Texas, the bull-riding bad boy doesn't quite fit the bill of…parent. But as Lorelei learns more about Stellie's mysterious birth mother, she realizes she'll have to trust the reckless rodeo star…or risk losing her baby forever.
Dax is normally up for any kind of challenge. Daddy duty, however, is best left to the pros. Still, being with the little girl, and the gorgeous Lorelei, unlocks something inside—a completeness he's been chasing his whole life. And now that he has it, he's sure as hell not about to let it go.
Bonus novella! While doing research for the Last Ride Society, Alana Parkman runs into cowboy Gray Russell, and while she's still attracted to her former flame, ghosts from the past might interfere with their steamy reunion…
Romance Small Town | Romance Western [HQN, On Sale: March 7, 2023, Mass Market Paperback / e-Book, ISBN: 9781335623997 / eISBN: 9780369720115]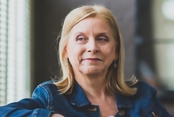 USA Today bestselling author Delores Fossen is a former Air Force officer who's sold over 100 novels. She's received the Booksellers' Best Award for romantic suspense, the Romantic Times Reviewers' Choice Award and was a finalist for the Rita ®.
No comments posted.