Jennifer Vido: What inspired your new release, THE SWEET SPOT?
Amy Poeppel: I was inspired in part by the iconic brownstones in my beautiful neighborhood of Greenwich Village, an area that is in many ways the sweet spot of New York City. I wanted to write about a family that is lucky enough to move into a home very near Washington Square Park, although it must be said that this new home is in dire need of renovation! I was also inspired by my many friends who always manage to keep their senses of humor, even in the face of hardship, women whom I admire more and more the older I get.
Jen: Who is Lauren Aston, and what's going on in her life?
Amy: Lauren is an artist, a mother of three, a wife, a daughter, and a sister. Her career as a ceramist, which was already important to her, has suddenly taken off, thanks to the attention of a home design guru named Felicity who commissions a big order of Lauren's porcelain pieces. Now that Lauren has so much work to get done, the Aston family finds itself with a childcare problem that they temporarily solve by inviting Lauren's mother for a visit … a visit that somehow becomes an extended stay.
Jen: How does Lauren's show of support for her friend Felicity turn their lives upside down?
Amy: With an offhand remark, Lauren inadvertently sparks the divorce of a couple she has never even met, making a mortal enemy in the process. That enemy – a woman named Melinda – works at the school where Lauren's children go, and from her position at the reception desk, she proceeds to make Lauren's life as miserable as possible. I had a wonderful time coming up with all manner of revenge schemes that Melinda dreams up to make Lauren pay for her role in the death of her marriage.
Jen: Who is Melinda, and how is she involved in the drama with Lauren and Felicity?
Amy: Melinda is a woman my age—late fifties—who has just gotten divorced a few weeks shy of what would have been her thirtieth wedding anniversary. She is enraged, and her anger is directed both at Felicity, the younger woman who has run off with her husband, and at Lauren who Melinda feels is also responsible. Throughout the book, Melinda comes to terms with the fact that her marriage was not what she thought it was and that she needs to find a new (possibly even better?) way forward with her life.
Jen: What do you hope readers take away from the story?
Amy: I hope readers will find hope in the ability women have of reinventing themselves after discovering their life is not what it seemed. I find that idea of reinvention endlessly fascinating.
Jen: What's the best way for readers to stay connected with you?
Amy: Readers can follow me on Instagram and Facebook to see posts about books … and endless pictures of my adorable dog. Also they can sign up on my website to receive my very occasional newsletter. My website has book club guides, and I'm happy to Zoom into discussions when I can!
Jen: Sneak peek! What's your current work in progress?
Amy: I'm currently working on a book about two families, one in Texas and one in Germany, who swap houses for a summer. The reader will soon find out that the various family members have many reasons for wanting to flee their respective lives … and a few reasons to never want to return home.
Jen: What's on your TBR stack?
Amy: I just finished Remarkably Bright Creatures by Shelby Van Pelt and loved it! What a remarkably original story! I'm currently reading Heather Webb's Strangers in the Night, a novel about Frank Sinatra and Ava Gardner. I am really looking forward to reading Elinor Lipman's Ms. Demeanor, Jessica George's Maame, and Susan Coll's Bookish People.
Jen: Please share the inside scoop behind your group of writer friends, The Thursday Authors.
Amy: I've been lucky enough to befriend many wonderful authors over the past few years. Some of these women and I began Zooming during the pandemic to keep in touch, to maintain our sense of community, to support each other's writing, and to discuss our publishing journeys. I am still Zooming with these women—Jamie Brenner, Lynda Cohen Loigman, Nicola Harrison, Fiona Davis, Susie Orman Schnall, and Suzy Leopold—most Thursdays! Sometimes we open up our conversations to the wider reader community. You can follow us: @thethursdayauthors to find out what we're reading and writing and to tune in to one of our live Facebook episodes.
Jen: Thank you for stopping by to chat about The Sweet Spot. Best of luck with your delightful new release.
Amy: Thank you so much for having me!! I hope your readers enjoy The Sweet Spot!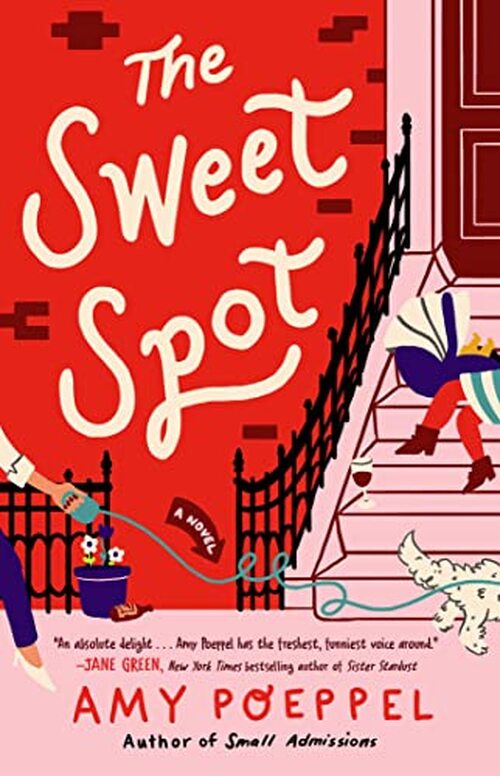 A Novel
In the heart of Greenwich Village, three women form an accidental sorority when a baby - belonging to exactly none of them - lands on their collective doorstep.
Lauren and her family - lucky bastards - have been granted the use of a spectacular brownstone, teeming with history and dizzyingly unattractive 70s wallpaper. Adding to the home's bohemian, grungy splendor is the bar occupying the basement, a (mostly) beloved dive called The Sweet Spot. Within days of moving in, Lauren discovers that she has already made an enemy in the neighborhood by inadvertently sparking the divorce of a couple she has never actually met.
When Melinda's ex follows his lover across the country, leaving their squalling baby behind, the three women rise to the occasion in order to forgive, to forget, to Ferberize, and to track down the wayward parents. But can their little village find a way toward the happily ever afters they all desire? Welcome to The Sweet Spot.
Women's Fiction [Atria/Emily Bestler Books, On Sale: January 31, 2023, Paperback / e-Book, ISBN: 9781982176457 / eISBN: 9781982176471]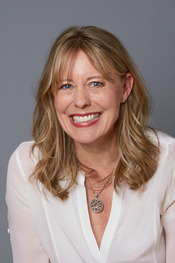 Amy Poeppel lives with her husband and three sons in New York City, where she once worked in the admissions department of an independent school. She workshopped a theatrical version of Small Admissions at the Actors Studio Playwrights/Directors Unit. She later expanded it into this novel.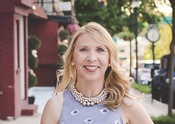 Jennifer Vido writes sweet romances set in the Lowcountry filled with southern charm and hospitality. In between chapters, she interviews authors for her bi-weekly Jen's Jewels column on FreshFiction.com. Most mornings, she teaches an arthritis-friendly water exercise class for seniors before heading to the office to serve as the executive director of a legal non-profit. A New Jersey native, she currently lives in Maryland with her husband and two rescue dogs and is the proud parent of two sons who miss her home-cooked meals. To learn more, please visit her website.
No comments posted.