1--What is the title of your latest release?
2--What's the "elevator pitch" for your new book?
War of the Wicked is a fast paced, steamy, MM Mafia romance. Brutal enemies and a hot love story. In the War of the Wicked no one gets out unscathed.
3--How did you decide where your book was going to take place?
All my books are written in fictional universes but they all are familiar in my mind as pieces of places I've actually been. Lucifer's Landing for example is mirrored after the five boroughs of New York.
4--Would you hang out with your protagonist in real life?
So Dante is terrifying and dangerous but super loyal and would die for Rainn. And Rainn is a firecracker so yeah, I suppose I would.
5--What are three words that describe your protagonist?
Dante would be loyal, dangerous, and morally ambiguous (yeah that last one was 2 words but come on they go together)
6--What's something you learned while writing this book?
That just when I think I can't write darker, I can.
7--Do you edit as you draft or wait until you are totally done?
I write until I feel I've hit my halfway mark, stop and read from the beginning. It has helped me keep the story from falling into deep plot holes. I will edit that and then when it's done, I read from the beginning and self-edit that draft.
8--What's your favorite foodie indulgence?
Tacos. I love them far too much.
9--Describe your writing space/office!
I'm all about calmness. I have ADHD and anxiety, so I need my space to be safe space that also inspires. I have three whiteboards, fairy lights, aromatherapy infuser, candles, pictures my children have drawn me their childhood, figurines from people I love. These are all important.
10--Who is an author you admire?
Mary Calmes. Easiest answer ever.
11--Is there a book that changed your life?
Lord of the Flies. I wasn't a huge reader as a kid mostly because books are too often selected for kids to read. I ended up resenting books because none were ever my cup of tea. Then a teacher said, "I think you'll like this just try it." And that was the book that made me fall in love with reading.
12--Tell us about when you got "the call." (when you found out your book was going to be published)/Or, for indie authors, when you decided to self-publish.
I am an Indie author and I had written Snow Falling but was like, "Nah, no one wants this, it's armature. Then I told a couple friends who are also authors and they asked if they could read it. I was shocked by how in love they were with it, and they pushed me to publish it. When I held that book in my hands the first time, I cried.
13--What's your favorite genre to read?
Romantic suspense
14--What's your favorite movie?
I have a lot of favorites. Like books, it all depends on mood. V for Vendetta is one I love but then I also love Hot Rod. Totally different sides of the spectrum.
15--What is your favorite season?
Autumn
16--How do you like to celebrate your birthday?
Not cooking, being with my family while we eat whatever our hearts desire, watching a movie together.
17--What's a recent tv show/movie/book/podcast you highly recommend?
Wednesday, Reacher, and The Peacemaker were my favorite shows of the year so I will highly recommend people watch those.
18--What's your favorite type of cuisine?
Italian or Chinese or Mexican…dang it I can't choose!
19--What do you do when you have free time?
Read, crochet, or sit on the beach.
20--What can readers expect from you next?
I have a lot coming out this year. I have a sweet novella next month followed by another mafia romance and then it's all uphill from there with a paranormal romance and a shared world series. There's a lot happening.
Lucifer's Landing #1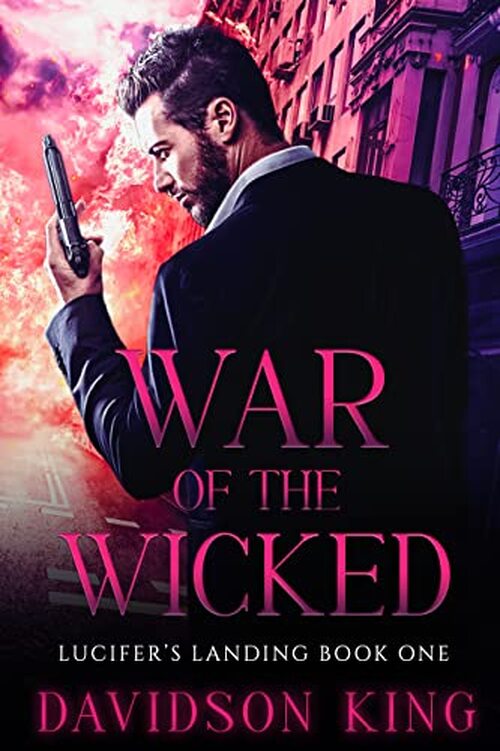 Lucifer's Landing is full of unscrupulous people: five families desperate to own every inch. For years, under the watchful and most powerful eye, there has been peace. With the murder of the most powerful man, it's as if the gates of Hell have opened.
Dante Scavo is trying to fill his father's shoes, find the person responsible for killing him, and stop Lucifer's Landing from becoming a war zone. He has to focus, find out who the traitor among his ranks is, and end them. The last thing he needs is a distraction, but when he meets Rainn, one look, one touch, takes his breath away.
Rainn Blessings is no stranger to strong and powerful men. His life is about survival and getting to a place where he finds his peace, though sometimes that means being the fantasy of others. Working as a high-class escort he's seen a lot…done a lot…and not much surprises him. Then Dante walks into The Magic Mirror and turns his world upside down.
With an unlikely ally, Rainn and Dante try to survive the storm, but no one is bulletproof or untouchable in the game of violent delights. Getting out unscathed is impossible; the question is: will they get out alive?
Please see start of book for trigger warning
(This was previously released through Maple House Publishing. War of the Wicked has been reedited and minor changes have been made from the original content)
Romance Mafia | Romance LGBTQ [Self Published, On Sale: January 4, 2023, e-Book, ISBN: 9798372438330 / eISBN: 9798372438330]
Davidson King, always had a hope that someday her daydreams would become real-life stories. As a child, you would often find her in her own world, thinking up the most insane situations. It may have taken her awhile, but she made her dream come true with her first published work, Snow Falling.
She managed to wrangle herself a husband who matched her crazy and they hatched three wonderful children.
If you were to ask her what gave her the courage to finally publish, she'd tell you it was her amazing family and friends. Support is vital in all things and when you're afraid of your dreams, it will be your cheering section that will lift you up.
No comments posted.