Jennifer Vido: For readers new to the Campers & Criminals Cozy Mysteries, please share with us the premise behind this quirky and highly addictive series.
Tonya Kappes: Thank you so much for having me! I'm excited to share all about Mae West and the Laundry Club Ladies with your readers.
Mae West is a high society socialite from New York who loses everything after her husband is convicted of a Ponzi scheme. The only thing to her name is a run-down camper van and a run-down campground set in the middle of the Daniel Boone National Forest in Kentucky. A far cry from her glitz and glamour social life.
In her mind, she's going to drive that awful camper van to Kentucky and sell the campground, but she realizes once she gets there, that's not going to be the case. The campground is run down and in much need of renovations. Not to mention the nasty mucky lake where she was standing.
Not too long after she shows up, the FBI rolls into the campground, accusing her of hiding her husband now that he's broken out of jail.
She informs them that they better find him before she does because if she gets to him first, she will kill him. About that time, her husband bubbles up to the top of the lake, dead, making her the number one suspect.
The series is so much fun. She finds a group of side sleuths and ends up making the campground a dream place to camp and stays in Kentucky throughout the series.
Jen: What inspired your new release, Gifts, Glamping & Glocks?
Tonya: Cozy Mystery readers love holiday mysteries. This book in the series delivers exactly that!
Jen: What role do the Laundry Club Ladies play in Mae's quest to find the killer?
Tonya: Four Laundry Club Ladies have different jobs in town. One owns the local laundromat, hence the name of their group, because it's here they all put the clues and red herrings together. Another is a Jazzercise instructor, another is a local librarian, and the last is the campground manager. Each one has different interactions with community members and can finagle their way into funny situations that'll help them get closer to who's the killer.
Jen: How is Mae adjusting to the changes in her personal life?
Tonya: Mae has snagged the most eligible bachelor in Normal, Kentucky. They got engaged in book 26 of the series. She will get down the aisle, but not without a dead body showing up on wedding week! She's a little leery and so is his mama, making this a fun subplot.
Jen: Sneak peek! What is your current work in progress?
Tonya: I'm currently writing a book in A Killer Coffee Cozy Mystery with a barista amateur sleuth. It's a lot of fun to be hanging out in a coffee shop where the gossip is as hot as the coffee.
Jen: What's the best way for readers to stay connected with you?
Tonya: My website, Facebook, YouTube, Instagram, Podcast, and TikTok
Jen: What are a few of your favorite holiday traditions?
Tonya: Christmas Eve! I have four grown men and their partners, along with my parents, my sister, and her family all make ugly Christmas sweaters. We don't buy them; we make them. And we go to hibachi for supper. There's a one-hundred-dollar cash prize, and the restaurant's hostess picks the winner. After supper, we go to my house for dessert and more games for cash! But the fun is just being with everyone.
Jen: What's on your TBR stack?
Tonya: I'm in charge of a cozy mystery promotion with Prolific Works. There are over 60 authors in the promotion, and I have been reading all their books as well as interviewing each author. It's been a ton of fun.
Jen: Thank you for stopping by to chat about your festive new release, GIFTS, GLAMPING & GLOCKS. Merry Christmas and Happy New Year!
Tonya: Merry Christmas and Happy New Year to you!!! Thank you so much for having me. I'm so grateful.
A Camper & Criminals Cozy Mystery #29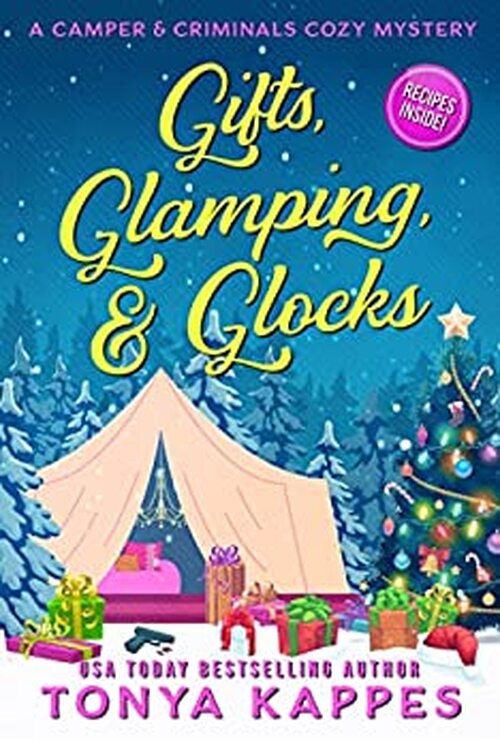 SOUTHERN HOSPITALITY WITH A SMIDGEN OF HOMICIDE
Welcome to Normal, Kentucky, a small town in the Daniel Boone National Forest and Happy Trails Campground, where the annual Christmas activities are in full swing. But behind the twinkling lights and festive cheer lies a sinister secret.
When a local delivery driver is found murdered in Seymore's Candy Cane Factory, suspicion quickly falls on the eccentric cast of characters who call Normal home. From the grumpy old man who own's the candy cane factory, to the bubbly town fiddle player, Otis Gullett, who is secretly in a rendezvous with the factory owner's wife. No one is above suspicion.
As the investigation heats up, the town's residents begin to turn on each other, and the killer's true identity becomes more and more elusive. As the body count rises, Mae West and the Laundry Club Ladies must race against the clock to uncover the truth before the killer strikes again.
With a southern twist and plenty of red herrings, Gifts, Glamping, & Glocks is a holiday thriller that will keep you on the edge of your seat until the very end.
Mystery Cozy [Self-Published, On Sale: December 15, 2022, e-Book, / ]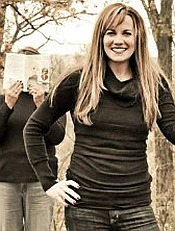 For years, USA Today bestselling author Tonya Kappes has been publishing numerous mystery and romance titles with unprecedented success. She is famous not only for her hilarious plot lines and quirky characters, but her tremendous marketing efforts that have earned her thousands of followers and a devoted street team of fans.
No comments posted.