Instead of trying to find your perfect match in a dating app, we bring you the "Author-Reader Match" where we introduce you to authors you may fall in love with. It's our great pleasure to present Darci Hannah!
Writes:
I cut my teeth writing Scottish historical fiction, but now I'm indulging my passion for cozy mysteries by writing the Beacon Bakeshop Mystery Series. My third book in the series, MURDER AT THE BLUEBERRY FESTIVAL, will be out on July 26th.
What is a cozy mystery you ask? To me it's a lot like visiting a favorite, welcoming, happy place. I set my cozy mystery series in the beautiful yet fictitious lakeside village of Beacon Harbor, Michigan. It's such a delightful place that I (and hopefully readers) want to visit it again and again.
The characters in cozy mysteries can be a bit quirky, but often they're a hoot. They're they type of people you want to hang out with and invite to dinner, because you know the conversations are going to be entertaining. I love writing feisty, interesting, and endearing protagonists. I also delight in giving them a host of interesting family and friends who both challenge and help them along their journey. I have a thing for strong, handsome, and charming male characters, especially ones who have their eyes set on my feisty protagonist. I truly believe that romance plays a part in every good story, including a mystery. However, the cozy mystery genre is not a romance. I may push the limits a bit, but you'll not find any steamy sex scenes in my books. I give you a sprinkle. Your imagination can do the rest.
The cozy mystery genre is also famous for having a dead body or two showing up unexpectedly. Gruesome as that sounds, it's all part of the fun. The best part about writing cozy mysteries is that my protagonist, Lindsey Bakewell, is not a professional crime solver. She runs a bakery in an old, refurbished lighthouse right on the shores of Lake Michigan. And yet whenever a body shows up in Beacon Harbor, Lindsey is compelled to put on her sleuthing cap and find the killer before the professionals do. It's all about solving the mystery, and I love it!
About:
This fun-loving, food-loving, dog-loving cozy mystery author is looking for a reader who longs for adventure, mystery, and a touch of romance. My ideal reader will have a sense of humor (honestly, it helps if you do!). They'll also love dogs, especially big fluffy Newfies that may tend to beg for food and drool while begging. A fascination with lighthouses is a must…or, really, just a mild interest will do. My ideal reader will also enjoy reading about delicious food, especially baked goods. I even provide recipes, because I want my dear reader to try the yummy treats I write about. Also, and I hate to even mention this, but in the name of full disclosure I must. Ghosts. That's right. My ideal reader will not be afraid if while reading they stumble across a lingering spirit, one who is rather attached to the old lighthouse.
What I'm looking for in my ideal reader match:
My ideal reader for MURDER AT THE BLUEBERRY FESTIVAL will enjoy:
Small town festivals, especially ones that revolve around the delicious blueberry
Hunky ex-Navy SEAL boyfriend who's in the midst of a career crisis
A fashionista best friend with an eye for bedazzlement and the local hot cop
A former 80's supermodel mother who loves wearing matching outfits with her dogs and believes everyone else should too
Animals, dogs particularly, and hopefully goats
Delicious blueberry baked goods
Shenanigans, mischievous pranks, and a challenging mystery
What to expect if we're compatible:
A fabulous time
And, of course, delicious blueberry inspired recipes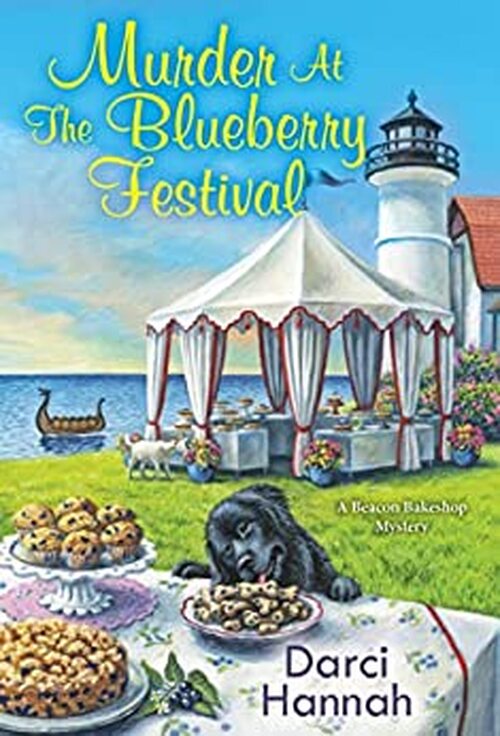 After a career on Wall Street, Lindsey is making a different kind of dough in a pretty lakeside village, and the upcoming blueberry festival—including the pie-eating contest her bakery is hosting—is the highlight of the summer. But soon Beacon Harbor runs into a patch of trouble.
A local real estate agent gets pranked. A parade float gets pelted with water balloons. It's all laughed off until the stunts start escalating—and looking more like sabotage. As the event turns into a debacle complete with rampaging goats, Lindsey's sweetheart, a former SEAL, starts investigating. But the juicy mystery takes a bitter turn when a man—dressed up as a Viking—is found dead in a boat, and it's no longer mischief but murder . . .
Mystery Cozy | Mystery Culinary [Kensington, On Sale: July 26, 2022, Mass Market Paperback / e-Book, ISBN: 9781496731746 / eISBN: 9781496731777]
Darci Hannah, born and raised in the suburbs of Chicago and a graduate of Indiana University, has skied, paddled, sailed and hiked a good chunk of North America while toting her favorite, dog-eared works of historical fiction along with her. As a self-proclaimed student of life who is "far from passing the test," Darci continued her self-education after college by indulging her passion for travel, history (Scottish history in particular), as well as her interest in those mysterious happenings, myths and tales that challenge the imagination. Shortly after graduation, Darci married her college sweetheart. It wasn't until after the birth of the couple's third son that she finally decided to combine her adventurous spirit with her life-long passions and put pen to paper. Many years and rejection slips later, The Exile of Sara Stevenson, was finally published in 2010 by Ballantine Books, a division of Random House, followed by, The Angel of Blythe Hall, published in 2011.
It isn't surprising that Darci Hannah's works, combining her unique interests and storytelling ability, don't fit neatly into any one genera. While being firmly rooted in history, they are unwinding journeys of adventure, romance, mystery and suspense that deftly bring the reader to the edge of belief and beyond. Hannah's stories are filled with palpable emotion, richly drawn characters, evocative settings, visceral historical detail and intriguing, unpredictable plots. They speak to the romantic—to the adventurous soul looking to be whisked from the twenty-first century and transported to Scotland of the past. Whether to a forlorn lighthouse teetering on the edge of Cape Wrath, or to the tumultuous Borders in the reign of James IV, Darci Hannah's inspired historical tales will continue to linger in the imagination long after the last page is turned.
Darci Hannah currently lives in Michigan with her husband and three teen-aged sons.
No comments posted.