1--What is the title of your latest release?
THE PERFECT CRIMES OF MARIAN HAYES
2--What's the "elevator pitch" for THE PERFECT CRIMES OF MARIAN HAYES?
A man falls in love with the woman he's attempting to blackmail
3--How did you decide where your book was going to take place?
Well, I knew this series was going to involve highwaymen, so I was looking roughly at the 1700s. The fashions of the 1750s were one factor that helped me narrow it down to that decade—you have wonderful lace cuffs and boots and shoes with heels but the wig situation isn't as dire as it was earlier in the century. I really didn't think I could write about men in truly enormous wigs.
4--Would you hang out with your Marian or Rob in real life?
Only with my back against the wall. Actually, they'd both be easy to spend time with in different ways. Rob is charming and would make conversation easy, but Marian would be content to sit quietly.
5--What are three words that describe Marian?
Prickly, loyal, dangerous
6--What's something you learned while writing this book?
I learned so much about how long it takes to travel in various parts of England by foot, horse, or coach. I had charts! And then as soon as I turned the book in, I forgot everything.
7--Do you edit as you draft or wait until you are totally done?
I do a combination of both—sometimes when I hit a roadblock, I go back to the beginning and start revising. But I still have to edit the whole thing again when I'm done.
8--What's your favorite foodie indulgence?
I have a few fancy mayonnaises (technically they say "aioli" on the jars but we all know it's just mayo).
9--Describe your writing space/office!
Last year I moved into a house where there actually is a dedicated office, instead of just a corner of my bedroom, and I'm still pretty thrilled about it. It's just a small room with bookshelves, an armchair, and a desk. I still haven't gotten around to putting anything on the walls so it's a really boring beige box but it's still cozy.
10--Who is an author you admire?
Talia Hibbert—I always look forward to her next book.
11--Is there a book that changed your life?
I can't think of one!
12--Tell us about when you got "the call." (when you found out your book was going to be published)/Or, for indie authors, when you decided to self-publish.
This is such a terrible answer but…I can't remember? I know it was early 2016, and I know I was really pleased (and more than a little surprised) but I remember exactly zero of the details. (This is about the third time this week that I've wished I kept a journal.)
13--What's your favorite genre to read?
I read a lot of romance, but fantasy and mystery are tied for second place.
14--What's your favorite movie?
The Shop Around the Corner. I never get tired of watching it.
15--What is your favorite season?
Fall, because it's such a relief after the super hot summers we get where I live.
16--How do you like to celebrate your birthday?
I prefer to not celebrate my birthday at all, not because I have anything against it but because I don't love being the center of attention.
17--What's a recent tv show/movie/book/podcast you highly recommend?
I loved Our Flag Means Death so much.
18--What's your favorite type of cuisine?
This is so hard. At the moment, Thai food, and that's partly because I can't make it at home (mostly due to laziness) and so I've been thinking nonstop about it.
19--What do you do when you have free time?
I really wish I had a more interesting answer but mostly I read. I'd mention my abundance of houseplants but that's somehow even less interesting.
20--What can readers expect from you next?
I'm currently working on a book set at a newspaper in 1950s New York.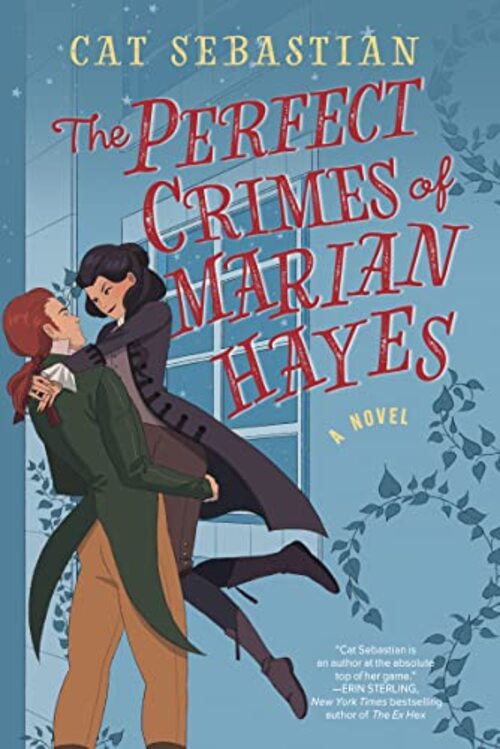 A Novel
Marian Hayes, the Duchess of Clare, just shot her husband. Of course, the evil, murderous man deserved what was coming to him, but now she must flee to the countryside. Unfortunately, the only person she can ask for help is the charismatic criminal who is blackmailing her—and who she may have left tied up a few hours before…
A highwayman, con artist, and all-around cheerful villain, Rob Brooks is no stranger to the wrong side of the law or the right side of anybody's bed. He never meant to fall for the woman whose secrets he promised to keep for the low price of five hundred pounds, but how could he resist someone who led him on a merry chase all over London, left him tied up in a seedy inn, and then arrived covered in her husband's blood and in desperate need of his help?
As they flee across the country—stopping to pick pockets, drink to excess, and rescue invalid cats—they discover more true joy and peace than either has felt in ages. But when the truth of Rob's past catches up to him, they must decide if they are willing to reshape their lives in order to forge a future together.
LGBTQ | Historical [Avon, On Sale: June 7, 2022, Paperback / e-Book, ISBN: 9780063026254 / eISBN: 9780063026261]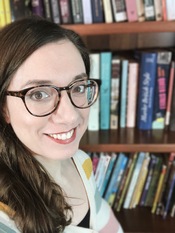 Cat writes steamy, upbeat historical romances. They usually take place in the Regency, generally have at least one LGBTQ+ main character, and always have happy endings. Before writing, Cat was a lawyer and a teacher. She enjoys crossword puzzles, geeking out over birds, gardening badly, and–of course–reading. In high school, her parents went away for a week, and instead of throwing raucous parties, Cat read Middlemarch. Even worse, Cat remembers little of a trip through Europe because she was busy reading Mansfield Park. Her proudest moment was when she realized her kids were shaping up to be hopeless bookworms too. Currently, her favorite genres are romance, mystery and fantasy. Cat lives with her husband, three kids, and dog in an improbably small house. After growing up in the northeast, she now lives in a part of the south where every body of water seems to contain alligators or sharks, and every restaurant serves biscuits and gravy. She likes the biscuits, but not so much the alligators.
1 comment posted.