Faye, your female protagonist, is half-faerie. As a writer, what is your fascination with all things fae? (I ask as somebody who is more interested in vampires and werewolves).
Honestly, my obsession with the fae started when I was about four or five…with the movie Thumbelina. I know I burnt through at least one of those VHS tapes. But it wasn't enough. I started searching for books on faerie tales–I was very much a library kid. I got hooked on the old school stuff, especially The Six Swans, East o' the Sun, West o' the Moon, and The Ballad of Tamlin. I liked that the fae weren't really heroes or villains, but somehow both. And that to survive them you had to be very, very clever.
But I'm also a fan of vampires and werewolves! Anything mythological or lore based, I'm usually 100% in.
How would you describe Faye?
Faye is first and foremost, a protector. That's who she is at her core. She has a good head on her shoulders but has a tendency to make rash decisions when the fate of those she loves is hanging in the balance. She tends to shield herself with sarcasm and snarky remarks, but inside she's just a young woman who lost her mother at an early age and desperately doesn't want to lose anyone else. But her darkest secret is the way she has always longed to disappear into the fae realm. It puts herself and the people she loves at risk, and she has trouble reconciling those sides of herself.
As a romance fan, I must ask about the possible romance element in this book. Can you say whether there is an ongoing love triangle involving the "brooding king" and "nymph-turned-knight"? And, if so, do you plan on stretching it out over the course of the series? Are you a fan of love triangles?
So, I've actually had one reader describe it as a love rectangle, which is kind of fitting. There's a Seelie prince in there that turned out more charming than I ever intended him to be.
I'm actually not a fan of love triangles myself, although I'm sure I swooned over them as a teenager. Her story didn't start out this way, so Faye's choices are kind of stressing me out. I think ultimately though, she'll wind up with the person who is a match for her true self, not just her idea of who she wants to be. We're definitely exploring more of those options in the next book, for sure, especially as she grows into her power.
As an author, what inspires you?
I think inspiration is such a complex consideration, but for me it always boiled down to the question, "What if?" I'll see something or hear something that catches my interest and get caught up wondering about the different ways the story can go. That's actually how OF BEAST AND BURDEN came to be. I watched the movie Labyrinth for the first time when I was in college–much older than the movie's intended audience, I think–and spent the rest of my year wondering what would have happened if Sarah had traded herself for her brother and stayed with the Goblin King.
How do you select the names of your characters? Any inspiration from classic literature?
I have a tendency to focus on name meanings when choosing character names, especially when I'm writing about the fae. One part of fae lore I always loved was the importance they placed on names. But bless poor Faye's heart, she doesn't even know her real name yet.
What part of writing is your favorite – dialogue, setting, action, character development?
Snappy dialogue is usually my favorite. I love clever banter, both in my books and my own life. But I'm also invested in a character's journey, their emotions, and how they view the world. I think the true beauty of literature lies in exposing ourselves to the experiences of others and having the chance to develop our own empathy for them.
A few previous authors I've interviewed have surprised me by telling me that the kind of books they enjoy reading are different from the kind of books they enjoy writing. What type of things do you enjoy reading? Favorite titles or authors?
I'm pretty invested in the fantasy genre, and I like a mixture of fantasy set in our world and completely reimagined ones. I've loved anything by Holly Black, Julie Kagawa, Kendare Blake, and Sabaa Tahir. I adored the Abhorsen trilogy by Garth Nix growing up; Lirael is a big part of why I became a librarian myself. But my favorite books of all time are hands-down the Sevenwaters series by Juliet Marillier. One of my most treasured possessions is an old, battered copy of Daughter of the Forest that was gifted to me in high school by my librarian. I'd read it so many times that it fell apart. It's currently held together by twine, even though now that I'm a librarian myself, I have the tools I'd need to fix it. It just doesn't feel right to do so.
What are you currently working on?
I'm trying to finish up the sequel to OF BEAST AND BURDEN, but I've also been jotting down ideas for a side project. It's a sci-fi fantasy that's a mixture of Greek mythology and Sailor Moon, and a little bit space opera. It's wildly out of my comfort zone, and I absolutely can't wait to dig into it.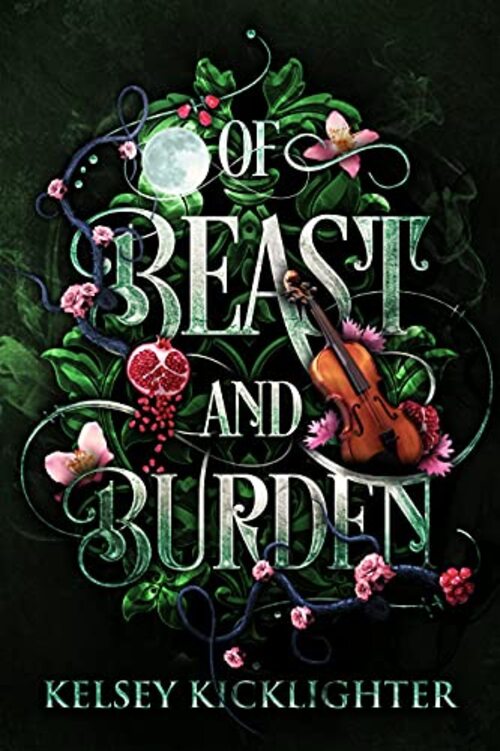 For fans of Holly Black's Cruel Prince.
A fae girl with a human heart.
A Seelie Queen with a penchant for stealing mortals.
And an Unseelie King who will have to give up his throne.
On the coast of Georgia, there's a small southern town where faeries still take changelings. Faye lost her mother to the Folk, but has spent her whole life longing for a glimpse - however brief - behind the veil.
When Faye finds her way in, she also finds the truth of why the dark and alluring world of the Folk has always called to her: she's half-faerie, and heir to the Dark Court's throne.
When the rival court steals her best friend, she'll have to claim her crown to get her back. But that means learning how to use her glamour so she can face three deadly trials - and not falling for the dark and brooding king she's meant to be replacing, or the nymph-turned-knight teaching her to fight.
Fantasy [The Parliament House, On Sale: May 10, 2022, Paperback / e-Book, ISBN: 9781956136272 / ]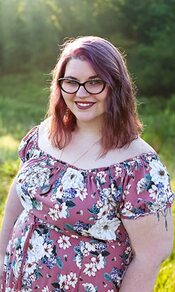 Kelsey Kicklighter grew up in libraries. She built forts in the only section of her mother's college library that was even vaguely set up for children: Non-fiction section 398.2. Fairy tales.
She was raised in a small southern town on the coast of Georgia with an absurd amount of sisters, and misses midnight trips to the beach.
She has an excessive amount of tattoos with plans for more and has never met a hair color she doesn't like. She loves to read, grow things, and eats an unreasonable amount of jalapeños.
She is a librarian living in another small town with the love of her life, their abnormally cute kid, two cats, and one three-legged dog. She writes stories for anyone who still believes in 398.2.
No comments posted.