Your heroine in RULES FOR ENGAGING THE EARL is a businesswoman, among other things. What made you decide you create this type of heroine? Any real-life inspiration?
This is a great question; one I'm delighted to answer. It's a common misconception that women didn't work during the Regency period. They did. Let's look at a few.
One of the most familiar examples is Jane Austen. Yet, poor Jane didn't make enough from her beloved novels to make ends meet. Since she never married, she had to rely on the generosity of her brother after her father passed away.
There were other trailblazers. Let me introduce you to Harriett Mellon. Have you ever heard of her? Probably not, though her influence on society during the Regency period was great. An actress of moderate accomplishment, part of her fame and biggest success came from her career as a banker and major partner at Coutts & Co. It's still in business, and it's where Queen Elizabeth banks.
Let's not forget Eleanor Coade who purchased a stoneware company and turned it into a successful business by supplying neoclassical statues and garden ornaments for the Prince Regent and others during this period. Her pieces are still found throughout the UK and the world. Oh, she never married.
Another business dynamo was Madame Marie Tussaud. Her famous wax museum is still in existence today! The woman was a marketing genius and knew how to entertain the masses.
Back then, both single and married women were experts at multitasking. They ran households, managed businesses and finances, and entertained their families and friends. Some even raised children on top of it all. It was all in a day's work. Much like today, don't you think?
It's only natural that Constance Lysander would work and own a business. Since the story is set in Portsmouth, home of the Royal Navy, it made sense that she would own and operate a ship refitting business.
How much, if any, research do you do for your books? Are you a history buff?
I do a fair amount of research when I'm writing and editing a book. Plus, I love to read about history and law during the Regency period. But I do have a lot of help. I'm the president of Regency Fiction Writers, a nonprofit organization that helps advance the professional interests and education of writers of the extended Regency period of England (1780 to 1840.) Their class offerings are always interesting.
There are a few different tropes in this book. One of my favorites is friends-to-lovers. Because Constance and Jonathan are friends and have a history together, how would you describe their dynamic?
They are a unique couple. When they first separate during the prologue, they're young but on the cusp of falling in love together. After being separated for ten years, they're reunited. Their chemistry is still there, but as adults, they've had their fair share of disappointments that gets in their way. The journey to find their way back to each another is sweet, steamy, and well-worth the effort.
The description for this book says that Constance has "an enemy skulking about". Is there anything more you can say about that? Is there a bit of mystery thrown in the mix with this romance?
Jonathan and Constance both face an enemy in this book and it's part of their character arc that they learn to work together. But the overarching mystery is what did Lord Meriwether Vareck, Constance's first husband, do with all three wives' dowries? You'll have to read to discover what's happened. I've never written an overarching mystery in a book series, but I had a blast with this one.
Other authors have told me that they don't read the same type of books that they read. What do you enjoy reading? Favorite books? Favorite authors?
I love reading romance. It's just so relaxing in my opinion. It puts me in a happy place. I do read historical romances, but I also love fantasy and contemporary romances. Some of my top picks are the Four Horsemen series by Laura Thalassa. Katee Robert's Dark Olympus is another favorite. Anything Eloisa James writes is on my kindle. I'm currently reading Lorraine Heath's Girls of Flight City. Her romances are divine. So are Tessa Dare's books.
I just finished Beauty and the Baller by Ilsa Madden-Mills and The Secret by Max Monroe. So, so good. I highly recommend both reads. Whenever Kylie Scott has a release, I drop everything to read it.
If you could only recommend one of your books to romance fans unfamiliar with your work, which one would you pick? And why?
I would probably suggest readers start with my free short story Where There's a Will (WTaW.) It sets up the entire Widow Rules series. After they finish WTaW, they should read A DUKE IN TIME followed by RULES FOR ENGAGING THE EARL. Of course, I highly recommend that they read THE BAD LUCK BRIDE, THE BRIDE WHO GOT LUCKY, and the rest of the Cavensham Heiresses' series. So many of the characters from that first series appear in my current Widow Rules series. It's fun to continue to create stories in that world.
What are you currently working on?
I'm finishing edits on HOW TO BEST THE MARQUESS, the third book in the Widow Rules series. In early June, I'm releasing a short story in Sunflower Season, a charity anthology with over seventy historical romance authors. All proceeds are going to humanitarian aid for the victims of the war in Ukraine. I'm currently working on several new series concepts, so stay tuned!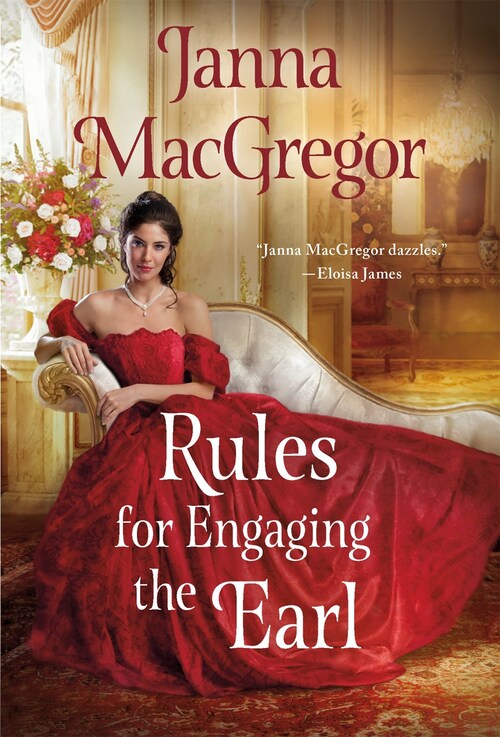 Get ready for lost wills, broody dukes, and scorching hot kissing all over London in Rules for Engaging the Earl by Janna MacGregor.

Constance Lysander needs a husband. Or, so society says. She's about to give birth to her late husband's child—a man who left her with zero money, and two other wives she didn't know about. Thankfully, she has her Aunt by her side, and the two other wives have become close friends. But still—with a baby on the way, her shipping business to run, and an enemy skulking about, she has no time to find the perfect match.

Enter Jonathan, Earl of Sykeston. Returned war hero and Constance's childhood best friend, his reentry into society has been harsh. Maligned for an injury he received in the line of duty, Jonathan prefers to stay out of sight. It's the only way to keep his heart from completely crumbling. But when a missive from Constance requests his presence—to their marriage ceremony—Jonathan is on board. His feelings for Constance run deep, and he'll do anything to make her happy, though it means risking his already bruised heart.

With Constance, Jonathan, and the new baby all together, it's clear the wounds—both on the surface and in their relationship—run deep. But when the nights come, their wounds begin to heal, and both come to realize that their marriage of convenience is so much more than just a bargain.
Romance Historical [St. Martin's Paperbacks, On Sale: April 26, 2022, Mass Market Paperback / e-Book, ISBN: 9781250761613 / eISBN: 9781250761620]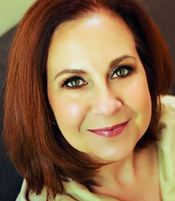 Janna MacGregor is the author of the beloved Cavensham Heiresses series. Before she wrote romance, Janna practiced law in Missouri and Kansas. Her latest, A Duke in Time, the first in her new series, The Widow Rules, is out now and published by St. Martin's Press.
1 comment posted.