CHAPTER EIGHT
Sam
She takes him to In-N-Out, the two of them sitting outside on rubber-coated benches in the yellow light of the neon sign. The waffle weave digs into his ass. It's a warm night, the smell of car exhaust and fryer oil hanging densely in the air.
"Can I ask you something?" Fiona says, dragging a fry through a puddle of secret sauce. She ordered without looking at the menu, coming back to the table with a cardboard box full of cheeseburgers and fries; she also paid, which he appreciates, though he doesn't say that out loud. "How do you even know all those people?"
Sam takes a sip of his milkshake. "All those people, like, my friends?"
"Sure." Fiona looks dubious.
"They're industry people, mostly." He shrugs. "Kimmeree does something with social media."
"Of course she does."
Sam frowns. The truth is they're not actually his good friends, those guys back in the bar. Erin in particular hates that whole crowd; she heard who all was coming out tonight and bailed so hard and so fast Sam was surprised she didn't pull a muscle. They're a lot, he gets it. But he's also not about to sit here and let Fiona shit on a bunch of perfectly nice people she didn't even bother to talk to. "Look," he tells her, "whatever she said to you back there. She didn't mean anything by it."
"Didn't she?" Fiona huffs a laugh.
"No," Sam replies, "she didn't. She was trying to be friendly." Fiona eyes him over her cheeseburger like he's too stupid to breathe air. "That is emphatically not what was happening
there."
"Fine," he admits, "maybe not. But—but—"
"But what, exactly?" Fiona raises her eyebrows, gestures with her chin toward the car. "Go back to the bar and hang out with her, if she's such a sweetheart. Honestly, I don't even know what you're doing out here eating french fries with me when your girlfriend is—"
"She's not my girlfriend."
"Okay," Fiona says, setting the rest of her burger down on its waxed paper envelope. "The person you have casual recreational sex with. Whatever."
"Isn't all sex recreational?" Sam points out. "You know what I mean."
Sam doesn't, not really. "I'm not having any kind of sex with Kimmeree," he tells her, "not that it's any of your business. And I don't have a girlfriend, either, if that's the information you were trying to get."
That gets under her skin, which was the point. Sam watches the temper flare in her dark, witchy eyes, like someone blowing on a campfire. He can almost see the sparks flying off her skin and out into the night. "It wasn't," is all she says.
"Okay." Sam shrugs, affecting carelessness. "Fine. I'm just saying, you don't have to go around hating everyone for fun. There are plenty of other ways to spend your time." He pops a fry into his mouth. "You could join an Ultimate Frisbee league, for example." Fiona laughs, not nicely, and loud enough that a delivery driver glances over at them as he climbs back into his car with a giant bag of food. "First of all," she snaps, "I'd rather perform my own root canal. Second of all, I don't hate everyone for fun—I hate most people, because they deserve it. And third of all, I was in a psych
hospital, not rehab. It's different."
That shocks him—not the information itself, necessarily, but the sound of her saying it. Sam is quiet for a moment before eventually he nods. "I wasn't going to ask."
"No, you were going to google it," she fires back. "Or maybe you already googled it, I don't know."
He did google it, actually, the day he went to see her at the copy shop, so he doesn't say anything. He tries to imagine her there, sitting in her sweatpants with the door locked playing checkers with the other patients. Everything he knows about psych hospitals he learned from watching movies and TV.
"I'm not embarrassed," she continues, her voice all brass and bluster. "Frankly, more people in this business should spend some quality time in a mental health facility."
"Hey, you won't hear me arguing," Sam says. Then, before he quite knows he's going to ask her: "What was it like?"
He fully expects her to tell him to mind his own business, but instead Fiona seems to stop and consider it, like possibly nobody's ever asked her to describe it before. "It was quiet," she finally says. Sam nods. The sound of her voice is almost nostalgic, like his mom when she talks about going out to the bars with her girlfriends
at UW-Madison in the eighties. "Seems about right." "Everybody expected me to fight it," she continues. She's
gazing across the patio at the cars whizzing by on the busy street, their headlights gleaming in the dark. "But, like, why would I have fought it? I was messed up, obviously. I never said I wasn't messed up. I wanted to be, like, less messed up, so I went to the place and I did the fucking thing, and still for the rest of my life nobody is ever going to let me—" She breaks off, looking almost startled to realize he's still listening. She shakes her head. "Forget it."
Sam gazes at her across the table, her jaw set and her expression haughty. She looks like a queen facing down a losing war. It's the most she's said about her past—the most she's said at once, period—since he walked into the copy shop the other morning. Just for a moment, it occurs to him to wonder what else she might be keeping to herself.
"People are taking our picture," she announces suddenly, nod- ding across the patio at a couple of teenage girls in babydoll dresses faking the world's least-convincing selfie; they look away when he glances over, muffling giggles behind cupped hands. Sam shrugs. "I hadn't noticed," he says, which is bullshit, and he and Fiona both know it. The truth is he's got a sixth sense for people looking at him, and he never stops worrying that one day they won't care enough to do it anymore. Sometimes it feels like he's got a perpetual leaderboard in his head: Does he have fewer Instagram mentions than he did a couple months ago? Did fewer girls check him out at the gym? How many search results come up when you google his name? Isn't that exhausting? Erin asked him once, and the answer is yes, of course it is, but also he doesn't know how he'd possibly stop. "Quick, you better do something weird for the camera."
"Gotta preserve that personal brand," Fiona agrees. "Any thoughts?"
"Could scale the side of the building and perform the first act of 1776 as a one-woman show, maybe."
"Slather a bunch of animal sauce on my face like a mud mask and lie down by the dumpsters so the raccoons can lick it off."
"Take my car," he suggests, "and I'll start screaming about how you stole it."
Fiona smiles. One of the selfie girls lights up a cigarette, the match flaring like an old-fashioned camera bulb. "Do you still smoke?" Fiona asks him.
"Huh?" Sam frowns. "I never smoked." Fiona frowns back. "Yes you did."
"I definitely didn't."
"At the wrap party, you told me you did."
"What wrap party?"
Fiona makes a face. "You know which one," she accuses. "The last one."
"Refresh my memory."
"The one where we—" Fiona gestures vaguely with her cup, tipping it back and forth between them. "You know."
"The one where we what, exactly?" Sam tilts his face to the side. He's fucking with her, obviously. He just wants to see if she'll say it. He remembers standing outside in the alley beside her, the cigarette burning down between his fingers and the safety light catching the neon streak in her hair.
Fiona shakes her head, popping the last fry into her mouth and gathering up their garbage. "Okay, you know what?" she says. "Fuck you."
"I'm kidding, I'm kidding. I remember." He smiles. "No rea- son to get defensive just because I was your first kiss."
Fiona scoffs. "Oh, is that what you think?" Sam raises his eyebrows. "Was I not?"
"I was nineteen, asshole."
"No shame in being a late bloomer." Sam grins. "Who was your first kiss, then?" he asks, surprised to find he's actually curious. His first kiss was his neighbor Mallory back in Wisconsin, which he would tell Fiona if she seemed at all interested, which she does not. She did something different with her hair tonight, he can't help but notice. When she walked into the bar he did an actual double take—her tan shoulders and the sharp cliffs of her collarbone, the hourglass curve of her body—then purposely talked to his friend Anto for an extra two minutes before he went over to her so that he wouldn't look eager and pathetic and like he was waiting for her to show up, which he had been. His mom would slap his face if she knew that.
Fiona stuffs the last of their trash into the paper bag, standing up and waving to the girls across the patio. "Come on," is all she says.
BIRDS OF CALIFORNIA. Copyright © 2022 by Katie Cotugno
Reprinted here with permission from Harper Perennial, an imprint of HarperCollins Publishers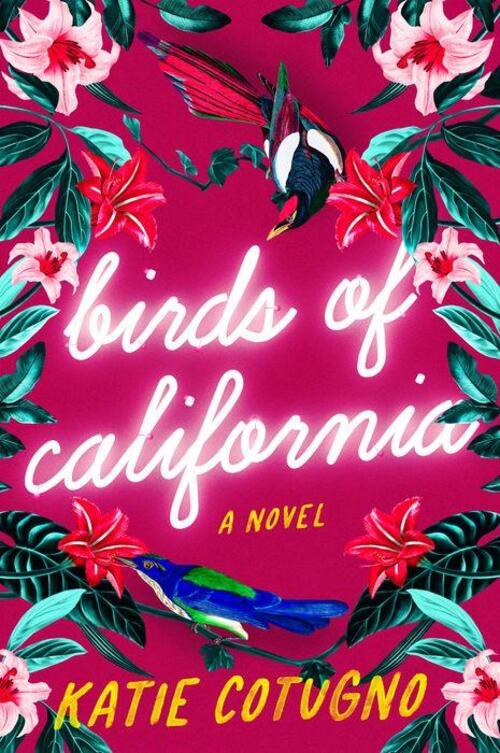 A Novel
Sparks fly and things get real in this sharply sexy and whip-smart romantic comedy set against the backdrop of a post #metoo Hollywood from New York Times bestselling author Katie Cotugno
Former child actor Fiona St. James dropped out of the spotlight after a spectacularly public crash and burn. The tabloids called her crazy and self-destructive and said she'd lost her mind. Now in her late twenties, Fiona believes her humiliating past is firmly behind her. She's finally regained a modicum of privacy, and she won't let anything—or anyone—mess it up.
Unlike Fiona, Sam Fox, who played her older brother on the popular television show Birds of California, loves the perks that come with being a successful Hollywood actor: fame, women, parties, money. When his current show gets cancelled and his agent starts to avoid his calls, the desperate actor enthusiastically signs on for a Birds of California revival. But to make it happen, he needs Fiona St. James.
Against her better judgment, Fiona agrees to have lunch with Sam. What happens next takes them both by surprise. Sam is enthralled by Fiona's take-no-prisoners attitude, and Fiona discovers a lovable goofball behind Sam's close-up-ready face. Long drives to the beach, late nights at dive bars . . . theirs is the kind of kitschy romance Hollywood sells. But just like in the rom-coms Fiona despises, there's a twist that threatens her new love. Sam doesn't know the full story behind her breakdown. What happens when she reveals the truth?
Women's Fiction | Romance Comedy [HarperCollins Publishers, On Sale: April 26, 2022, Paperback / e-Book, ISBN: 9780063159143 / eISBN: 9780063159150]
Katie Cotugno went to Catholic school for thirteen years which makes her, as an adult, both extremely superstitious and prone to crushes on boys wearing blazers. She routinely finds herself talking about the romantic endeavors of characters on TV shows as if they actually exist in the world.
Katie is a Pushcart Prize nominee whose work has appeared in The Iowa Review, The Broadkill Review, The Apalachee Review, and Argestes, as well as on Nerve.com. Her first novel, HOW TO LOVE, is out now from Balzer + Bray/HarperCollins.
The great loves of Katie's life include child's pose, her little sister, and mozzarella and honey sandwiches. She lives in Boston with her husband, Tom.
1 comment posted.